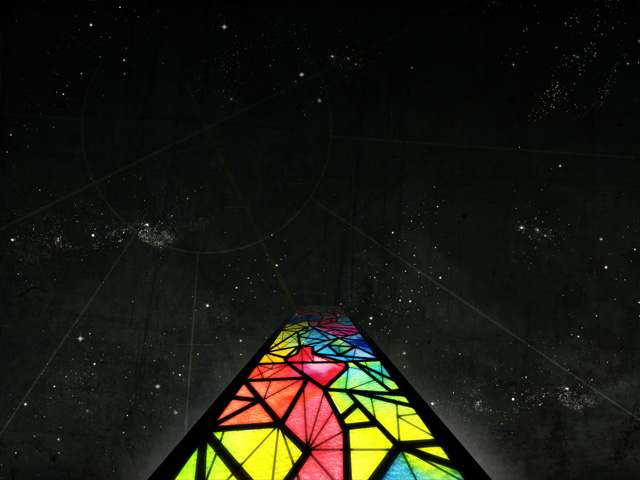 I do hope he decides to help us… the infirmary would be awfully lonely without the murderous fluffetic around.

…miss Tosaka.

Yes?

We've got company.
!
Greetings, travelers.

Geez, we've already decided to go home!
No one likes a host who tries to lock you in their house and make you stay forever!
How many of these vague, see-through citizens are there, anyway?

You all should try talking to The King, too! Only a tyrant would try to stop visitors from leaving, right?

Have you all been here with that King forever?

No, we haven't.

We are the same as you.

So you came from outside?

You must have been the same.
We were very afraid, and we came here.

Afraid…?
Nageki and I had a nice time coming here on a comfortable train with a friendly conductor.
I don't remember being afraid of anything…

If you came from outside, you have homes to return to, right?
Why are you staying here?

Because we don't have to worry about anything.

Because there's nothing scary here.
The King said, The King is all.
And all are The King.
!!!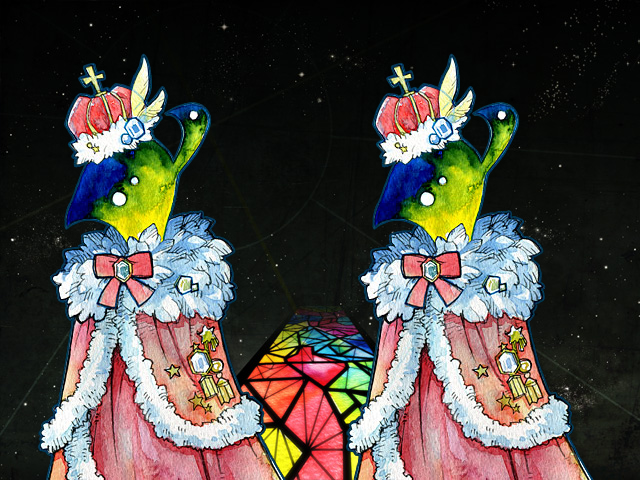 Soon you guests from away will be The King, too.
All are The King.

So there is nothing scary here.
Everyone is together.
Let's be together.
The King is waiting on his royal throne.

But… The King–
The King glances nervously at Nageki.

The King does not want to be friends with that mourning dove.
You don't have to come.

…that's not very nice of you.

The King commanded, you shall stay away.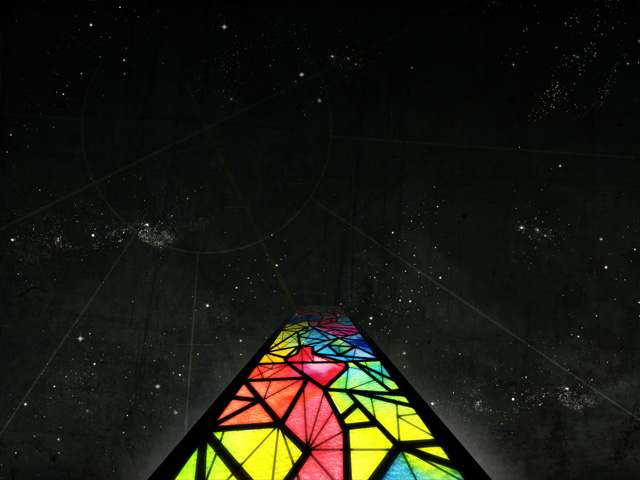 The King fades into the darkness, leaving their selfish command behind.

Wow, Nageki!
From the look on his face, I bet The King is changing his royal underwear right about now!

He's a bit of a crybaby.
I don't think scaring him is very hard.
I do wonder about it, though…
Why was he so afraid of Nageki?

The Migrant said something about that, too.
Maybe you're The King's natural enemy?

…Let's hope so.

And–
Those vague citizens turned into The King, and disappeared.
If what they said is true–

Perhaps everyone who stays here ends up turning into The King?

That's a bit much! What is this, a horror movie?!
At least it sounds like he's waiting for us.
We've got to go find the others and then teach him a thing or two about international travel laws!


…not much variety in the decor here. I must say I'm getting a little sick of it.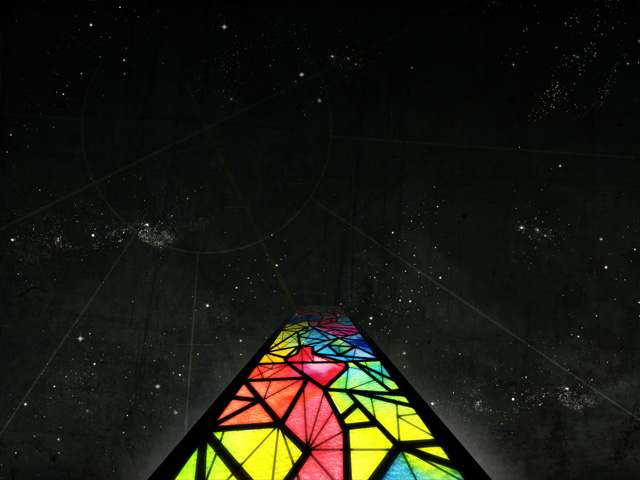 Wonder how things are going on the roof.
I can probably trust Mister One– Leone, rather, to keep my body from spontaneously combusting or anything like that.
That artistic scientist fellow's probably cleared the clouds away… but the king of this place has blocked the moonlight.

A search-and-rescue mission in a zone of total surrealism, eh?
This is new even to me.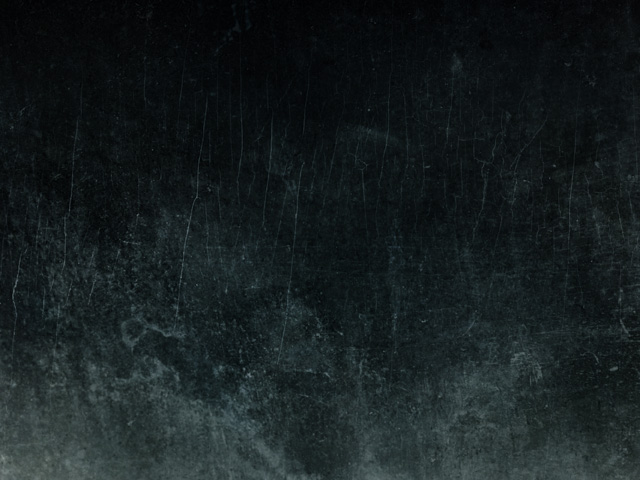 "The Decorated Picture Book."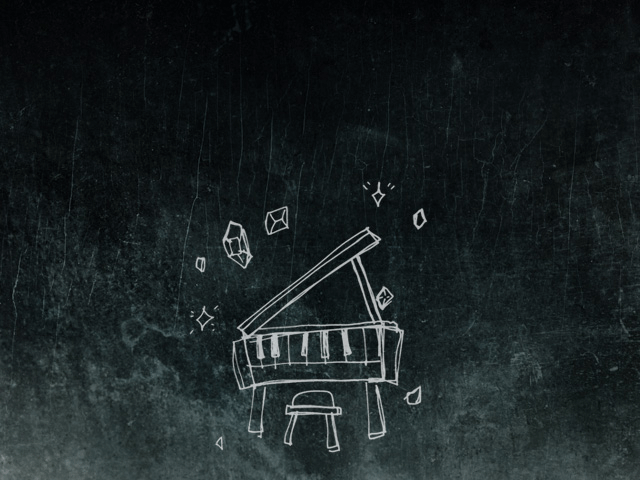 Once, there was a beautiful piano.
The piano was decorated with gemstones in all the colours of the rainbow.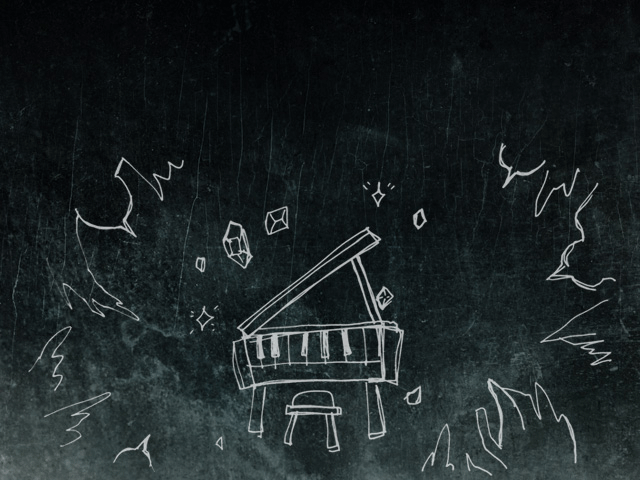 Oh, how it sparkled and glittered! Everyone told it how it was beautiful.
What a beautiful piano!
No one had ever seen such a wonderful piano before.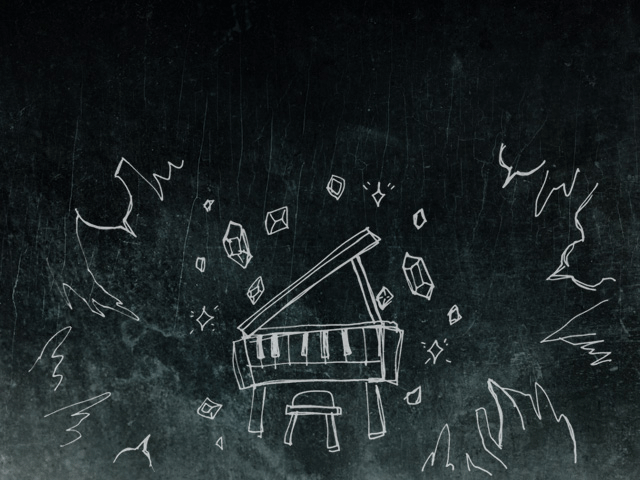 The piano's owner was very pleased, and decorated the piano even more.
Everyone, in all the land, praised the piano's beauty.
No one, from anywhere, wanted to hear it's voice.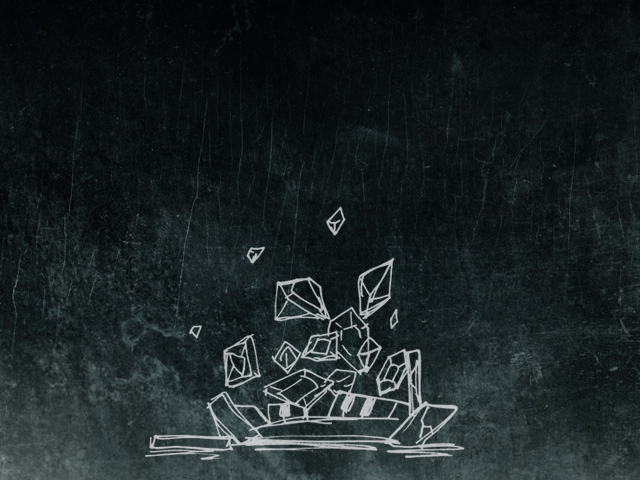 But the gemstones were heavy, so heavy, and one day they crushed the piano flat.
Poor piano.
Poor piano.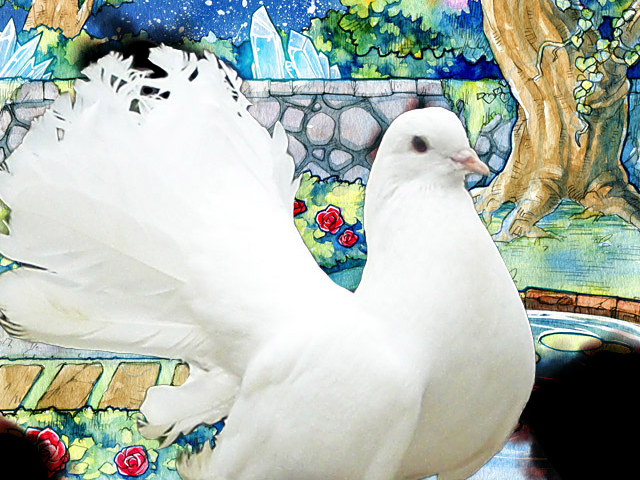 What is this trash?!
Is there no limit to its vulgarity?!
The composition is poor, the story juvenile, and the art messy!
I open the door to find a fantail angrily beating a book on the floor.

Salut, Sakuya.
I'm glad to see you're still yourself.

Wha… is there no getting rid of you?
What now? The tea party's already over.

Is it? That's too bad.
I was really looking forward to drinking some of your tea, too.

I wouldn't have given you anything even if you had showed up on time!
Don't get full of yourself, mongrel.

I'll be expecting an invitation card next time, too.
Sakuya sticks his beak in the air and coos irritatedly.

By the way, what were you reading just now?
I pick up the book, which Sakuya had thrown on the floor.

I haven't the slightest!

Do you remember where you found it?

Do not treat me like a child!
The King gave it to me.

I do not mean to insult a gift of loyalty, but… that thing is amazing.
It is like the scribbles of a deranged child.

A picture book, eh?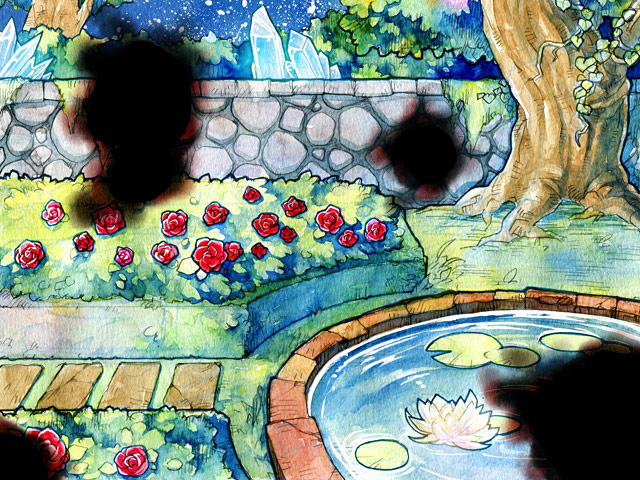 So this is a little flirtation from the King– or rather, an invitation to stay here.
I suppose it's meant to paint reality in a poor light to flatter the world of dreams.
…alas, it's message appears to have been lost on Sakuya.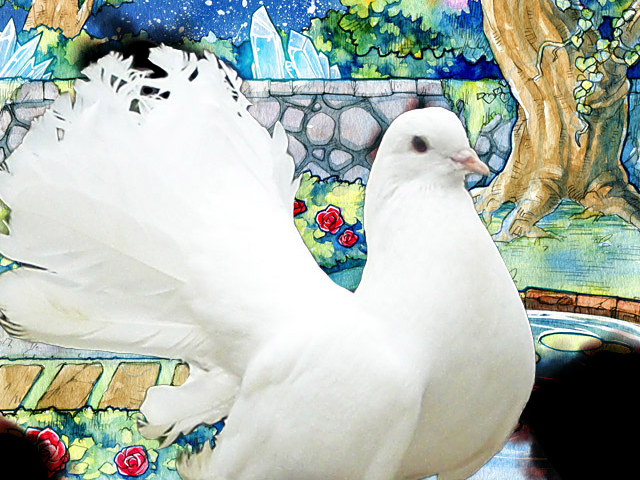 Something is wrong with someone who dresses a musical instrument up like a Christmas Tree!
Instruments come with their beauty already built-in.

Gaudiness is hardly the deciding factor in an instruments' value.
Indeed, an instrument covered in sparkly gew-gaws to impress uncultured fools is the epitome of crassness!

Decorating an instrument to the detriment of its tone is absurd! Ludicrous!
If the author of this drivel was here now I would sit him down and lecture him for three days, without break.
He continues on, angrily expounding the qualities of musical timbre.
I wonder if he realizes just how much he cares about his music?
As his brother, I can only hope to see the magnificent blooming of that enthusiasm one day… in the real world.

Very true. Visual flair is hardly what an instrument is there for!
The piano here should have used his voice to let everyone know that before he got crushed.

"I wasn't created to be decorated.
Let me sing." Something like that.

…why are you smirking like that?
What a distasteful cretin you are.

I love how thick-headed you are, Sakuya.
It'll save me a lot of trouble.

Wha… what is this?
Do you mock me?!

No, quite the opposite.
That was praise.

I doubt it!
Your ridiculous facial expression is proof of your deceit!

Forgive me, I was born with it.
What am I to do?

Now, then… I can't spend too much time here.
I doubt whoever I run into next will be as easy as you, after all.

…I knew you didn't just wander here by chance.
Tell me what is happening.

You're always good at keeping things moving. Thanks, Sakuya.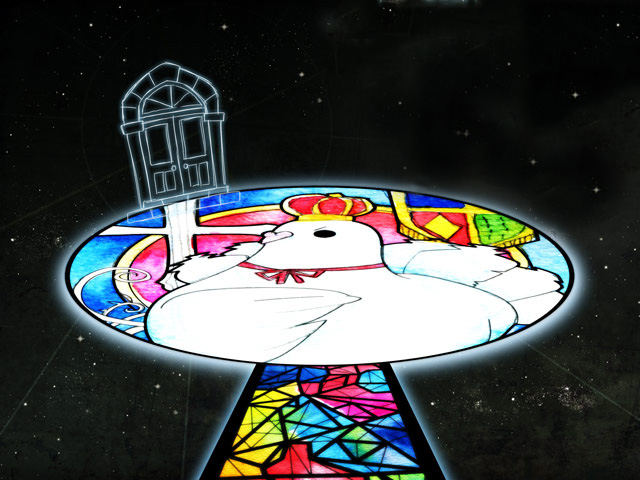 Wha… you do not jest?!

It's hard to believe, but unfortunately, it's true.
You and I are hooked together with a whole pile of electrical wires right now.

You cad! Without my permission?!

You weren't exactly being responsive.
And it's an emergency, anyway. Easier to ask forgiveness than approval, right?

Agh…!

Now then, Sakuya.
Will you spend eternity having tea here with that cheerful, artistically challenged King?

Inconceivable! I will not stand for it!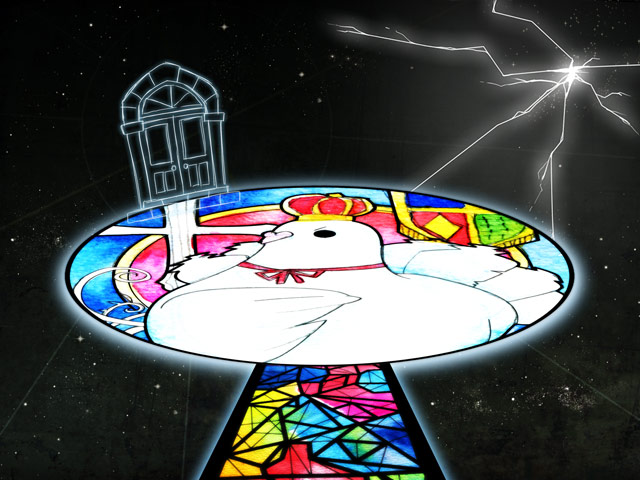 Just who do you think I am?!
I am Shirogane Sakuya Le Bel!
It is completely out of the question.

I demand to see the man responsible for this idiocy, at once!
I shall have recompense for his gross discourtesy towards me!
Sakuya runs off into the darkness, an aura of unusual proactivity about him.

No one gets the better of my little brother.
Now then… who's next?