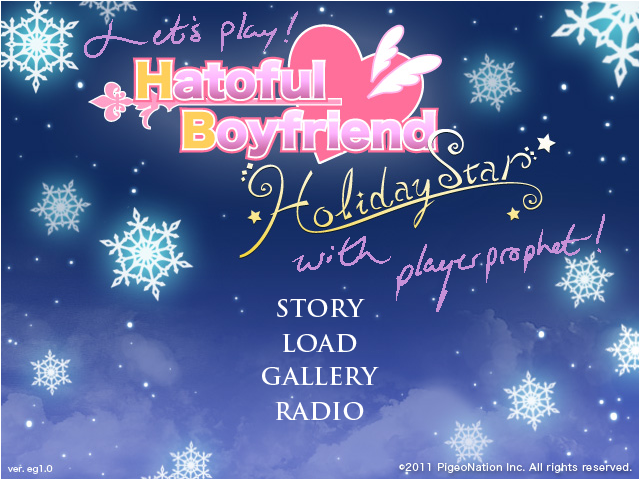 Welcome back! Today let's read one of the next great extras featured in Holiday Star, the New Year Holiday!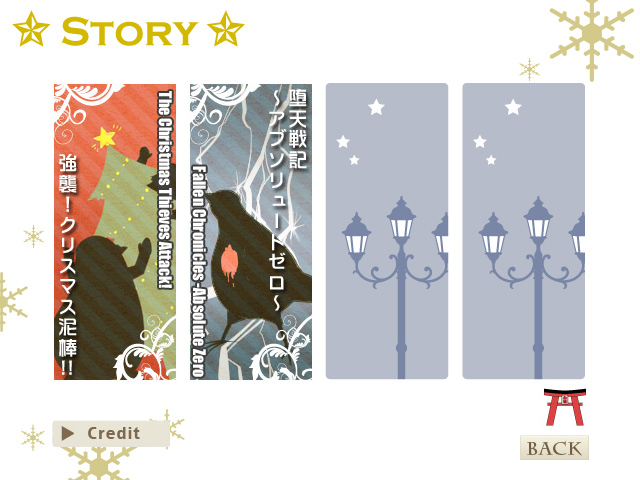 In the story menu we can now see the main plot Chapter 2 has appeared! And yes our beloved Bleeding Heart is the focus. But something new also is the little shrine gate in the corner, which is where we're going now!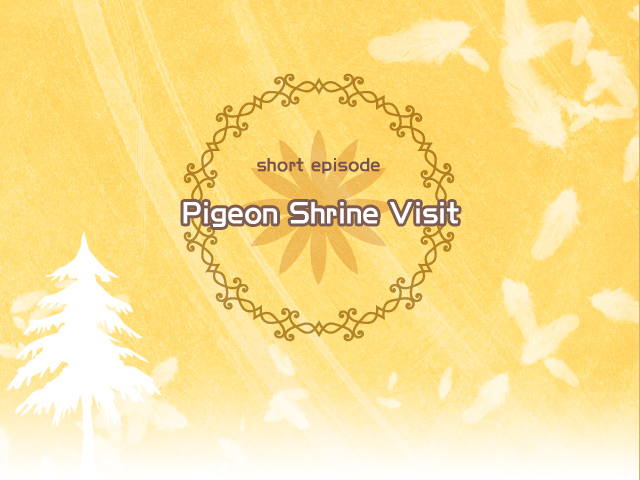 A new year comes to Littledove Hachiman City.
Everybirdie heads for the shrine, some for their New Year's visits, others with very different goals in mind. 
This episode allows you to pick from eight routes.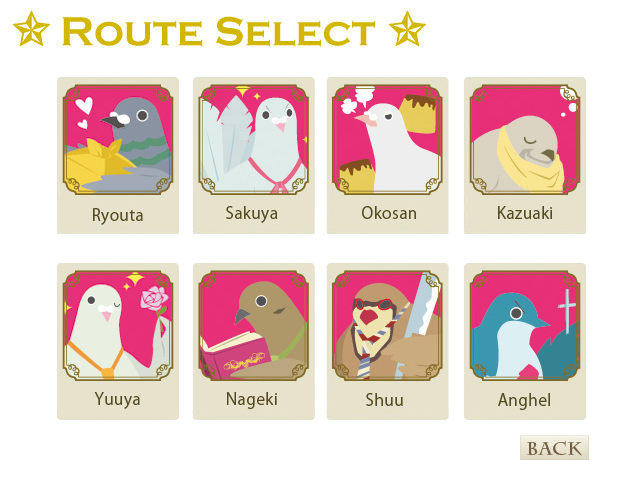 I'm gonna start with Ryouta!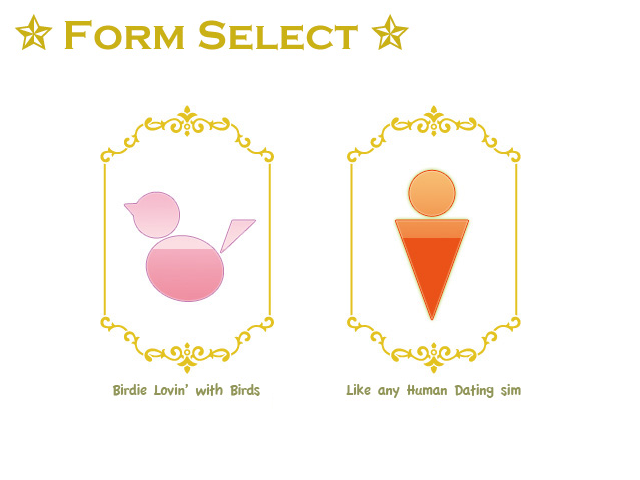 When the original game came out a lot of us expected that the routes with their human forms would mean they looked human through the whole thing, instead of just the profile image. Well, here's where we actually get that! We usually see the bird forms, so I'll be doing these episodes all in human form, just for fun.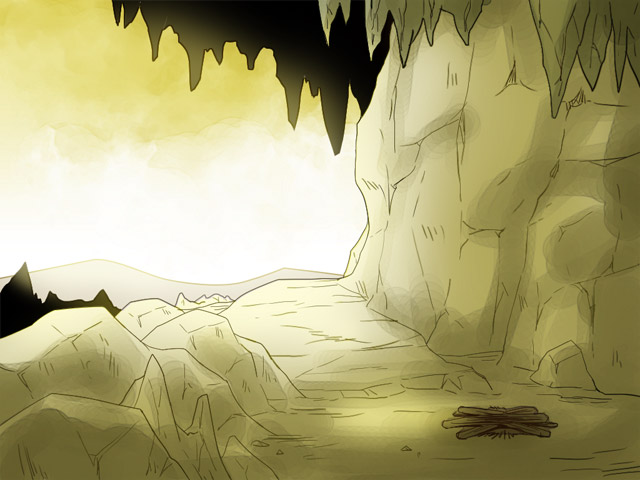 Today is the last day of Ryouta's job.
Job meaning the usual work as a miko.
It barely even needs saying by now!
A miko, you may remember from the original game, is a temple priestess.
I'd like to try wearing a miko outfit sometime.
I feel like it would give me so much fighting spirit!
Evil, disperse! Evil, disperse!
Anyway, Ryouta invited me out for lunch after work.
When I think about it, he's been really busy with jobs since the end of the year.
I don't feel like I've had the chance to talk to him since Christmas…
He says this time of year always has the best opportunities to make money.
It's the natural hunting season!
Aah, my wild spirit stirs!
…oh dear, just look at the time. I'd better go!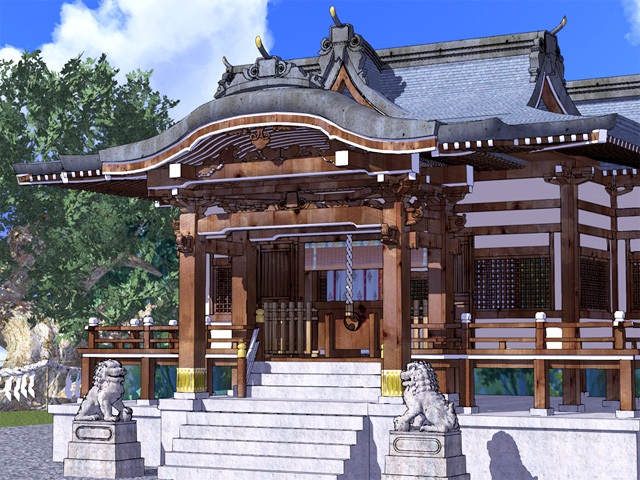 New Year's is a few days gone, so the shrine is practically empty now.
Umm, Ryouta is–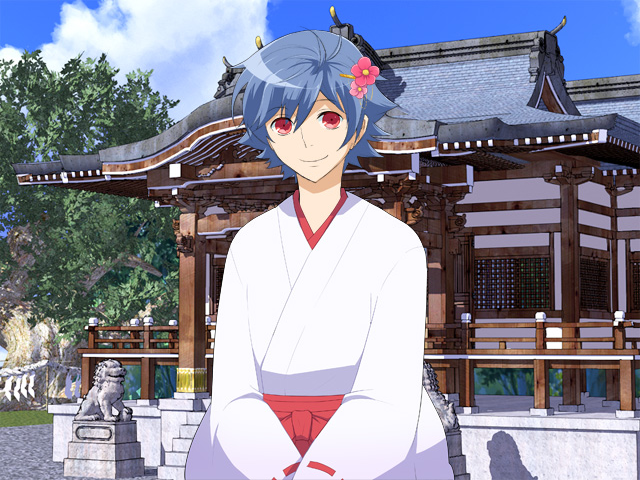 Oh, Hiyoko!

Ryouta!
…wait, you're still in your battle gear!

I guess the uniform is battle gear to the part-time worker, but I don't think that's how people usually refer to miko costumes…

Oh… is it time already?!

Yup! You said to come a little after three, right?
And I did!

S-sorry! I didn't notice!
I'll be done as soon as I finish cleaning around back, so would you mind waiting just a few minutes?

There's a little lounge next to the office.
They have warm tea and stuff, so why don't you go rest in there and–

No, I'll help you!
Many hands (and feathers) make light work, right?

That's really nice of you, Hiyoko.
…thank you!
Of course!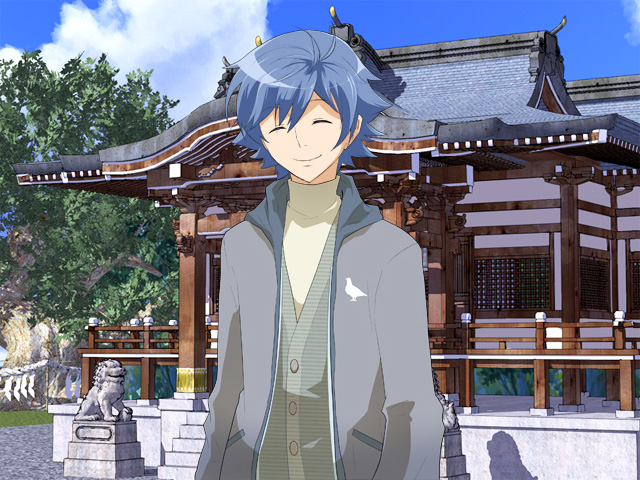 SWEET PRECIOUS BABY BIRD

Thanks, Hiyoko!
The priest said to thank you, too.
Opening the new year with a good deed!
Karma payoff please!

Let's head into town, then.
What would you like to eat?
I got my pay, so I'll treat you.

Really? Are you sure?!
New Years' generosity?!

It's my thanks for helping with the cleaning.
And I got to work a lot this year, so I've got a little to spare.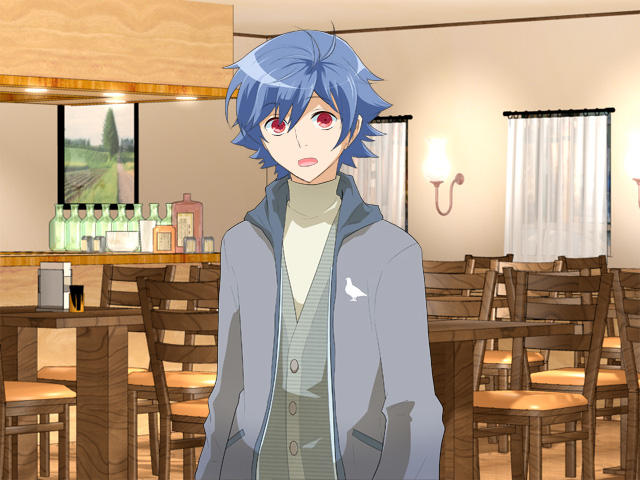 …

…you sure do like udon, Hiyoko.

It's good!

Yeah, it is.
I'm really impressed that you get it even when we're eating out at a family restaurant, though. I can feel the strength of your conviction from here.

Don't make me sound like some weird cultist that only ever eats udon!

I have days where I don't eat udon, too!
Maybe once every six months or so!

That often?!
Sorry, I figured it was more like once every three years or so! I guess you don't eat it all that often, after all!
Stop profiling me!

How is it?

It's really good!
It's different from when I make it at home.

I'm glad you're enjoying yourself, Hiyoko.

Seeing you eating so happily makes me happy, too.
I hope I can learn to cook to make you that happy someda–

Mmm, that was great!

That was fast! Almost unbelievably fast!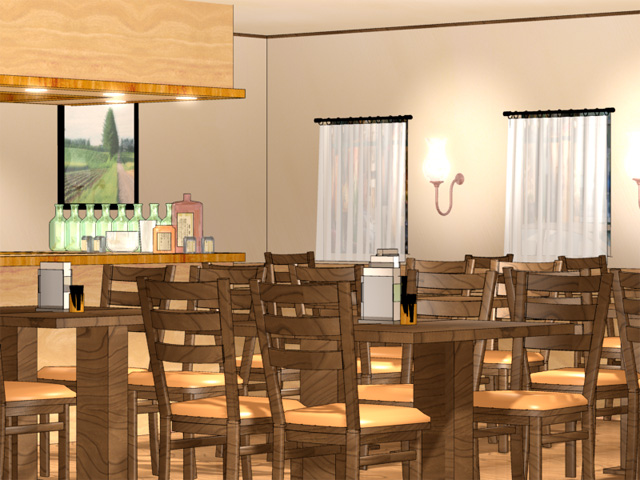 Ryouta and I spent a while after that, chatting about whatever came to mind.
School, friends, udon, Sunday Morning TV, udon… talking with Ryouta is always so relaxing.
I hope I can learn to be as iyashikei as him someday!
I always wondered why they didn't translate this, but I guess it's because it has its own TVtropes page, and therefore some people might actually know it. Iyashikei is "healing", basically, as an effect. So talking to Ryouta helps her to relax and recharge, like one might get out of, according to TVtropes, watching K-On! What a lovely concept.
---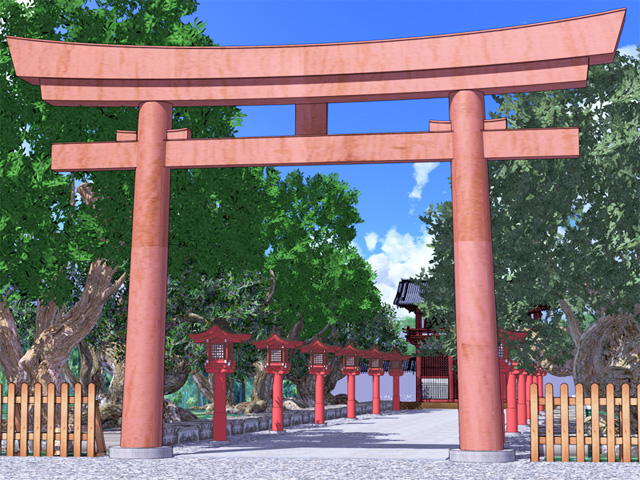 Happy New Year!
I got called out early to go to White Dove Shrine with Sakuya.
Why did he ask me to come…?
Maybe I should check his e-mail again.
It seems that New Years' Day is regarded with the foremost importance in Japan.
My mother informed me of many bizarre traditions having to do with this day.

As an aristocrat, I wish to study the ways of the locals most closely.
Such knowledge might well be useful in a diplomatic mission, or the like.

I designate you as my personal guide.
Be grateful.
Be at White Dove Shrine at nine AM on January first.
How can he manage to type so well when he can't pry his eyes away from his own nose?
I wonder what he's planning.
Le Bel things, probably.
I don't think much of being treated like an underling by my own classmate, but I don't have any other plans…
And this is his first New Years' in Japan. so maybe he's nervous.
I guess I can lend him a hand.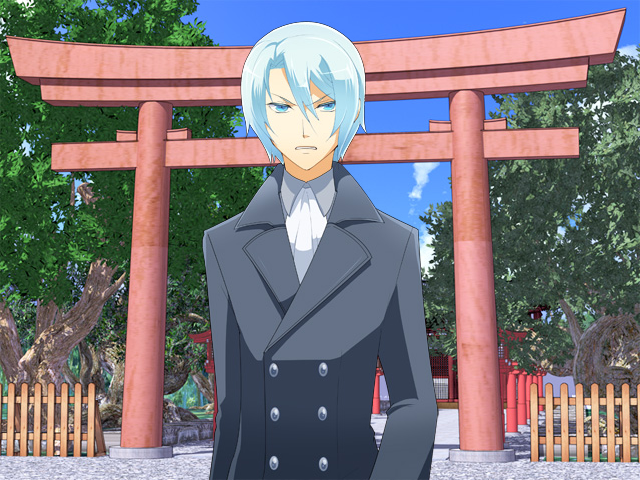 Finally here, are you?
It is a terrible thing for a commoner like you to keep me waiting, you know.

Oh, sorry, Sakuya!
So you got here already?

Unlike you yokels, I have a busy schedule.
A true aristocrat must always plan his schedule out down to the very last second.

Okay, I'll be more careful next time… hey, it's barely twenty seconds after nine o'clock!

Did I not just say that I plan my schedule down to the very last second?

Gosh, if you keep nitpicking like that people will end up calling you a bickery old spinster!

How dare you question my masculinity?!
That's not the part you should be objecting to!

Hmph… let it be.
I shall forgive you this time.
Be grateful!

Yeah, yeah… come on, let's go in.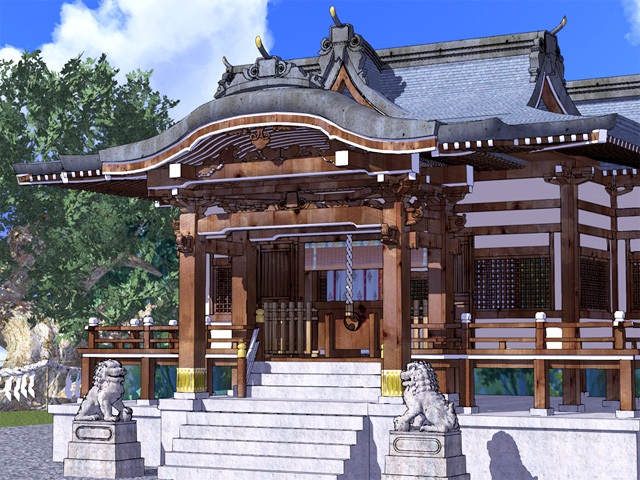 Umm… this is the White Dove Shrine.
Maybe you should think of it as being kind of like a Church?

I know that much already. I did not come completely unprepared, after all.

I also know that Japanese Shrines are inhabited by Witch Doctors called Onmyouji, and that every night they crawl out of wells and appear on television screens in various places.

Any who see their image on the screen will meet a terrible and bizarre death before long.
A terrifying tale, indeed.
And yet, all these people gather at the shrine once a year… Japan is a mysterious country indeed.
I'm sure you can already tell how many Japanese movies Sakuya has bungled together. Truly, he is a cultural expert. Onmyouji were certainly a real thing, a court magician of sorts, but I put my money he knows about it because of a particularly popular movie. "Crawling out of wells and appearing on television screens", I'm sure most of you know certainly comes from The Ring. I'm not sure about people meeting their death when they see each other on the TV. That's not in the Ring, is it? Could it be… Persona 4?

…and you heard that story from–

My mother.

Yeah, I thought so…
Oh, no, I'm getting terribly interested in Sakuya's mother!
What kind of person is she?
Did she tell him these things in honest misunderstanding, or was she just setting him up to embarrass himself later in life?!

Unfortunately, I don't think there are any Onmyouji around anymore.
They show up in old stories, but I've never seen one.

I have heard that they are special beings who live in the world behind our own.
It does not surprise me that a mere high school student like yourself has never seen one.

I wonder about that…

Your mother taught you most of what you know about Japan, right?
Have you ever tried asking your butler about things?

Albert?
He has never left France before now.
I do not think him a reliable source of information on foreign cultures.
I dunno, he seems like the serious type.
Maybe if he'd been well-informed about Japan, Sakuya wouldn't have come here with all these strange ideas…

Anyway, I wish to throw some coin.
Where is the target?
Direct me.

Th-throw some coin…?
You mean, give an offering, right?

You Japanese celebrate the new year by throwing coins at evildoers, do you not?
I wish to try it.
Where do we go to take part?

Sakuya, no!
Nobirdie throws money at people now!
If you put it like that it's like the offering box is some sort of criminal!

I have brought with me some heavy silver coins, of classical Roman manufacture.
I believe we will find them impressively lethal.
Hoh hoh hoh!

Sakuya, I'm trying to tell you, you don't throw the money at anybirdie!
I bet he gets "please listen carefully!" written on all his report cards.
Explaining ethics to him from the ground up is going to be hard, but he did ask me for this.
I'd better do my best!
Shirogane Okaasan for hardest troll of 2012. It's funny to think about her doing it all as a prank and Yuuya running to his rescue.
---
---

 Okosan's story is next and his is just a liiiittle bit different.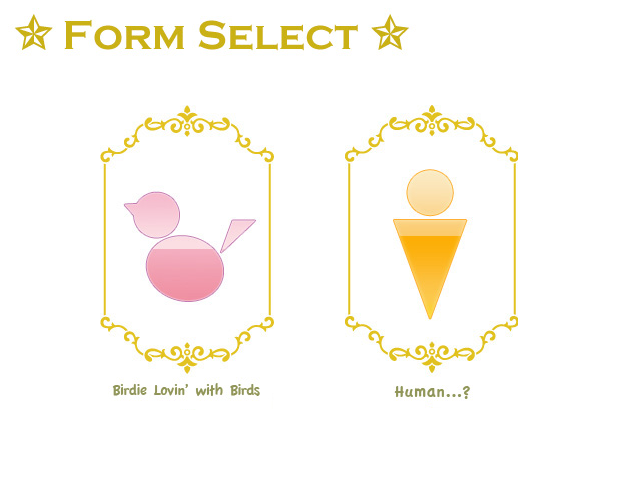 Human…?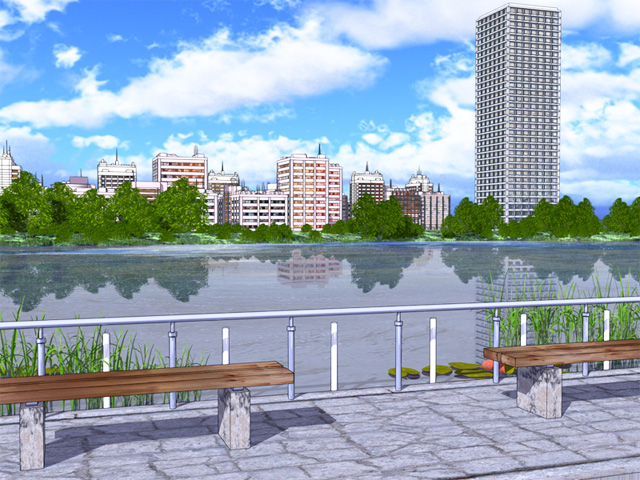 Today's the track team's first training day of the new year!
Okosan suggested we do independent training over the break, but…

Okosan, it's cold!
It's way too cold for my featherless human skin!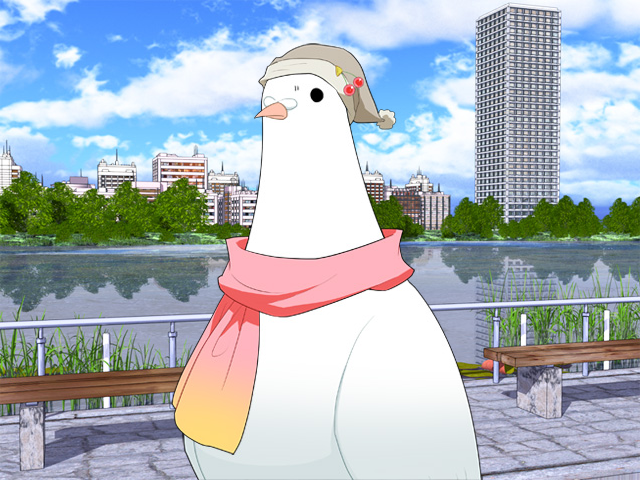 Coooooo!
(You shall not whine! Whining is bad!
Lazing around in your heated room all through January will make your body and heart alike soft and weak!)

But Okosan, my house is completely unheated!

Coo!
(Okosan said, no complaining!
Neglecting your training is bad!
You will RUN!)

Ah, Okosan, wait!
You're too fast!
I can't keep up with you if you go that faaaast!
There's a little montage of different settings as Okosan and Hiyoko go running, just like the old jogging scene in the original when you meet Azami. This time though there's no ominously destroyed buildings. No foreshadowing needed at this point.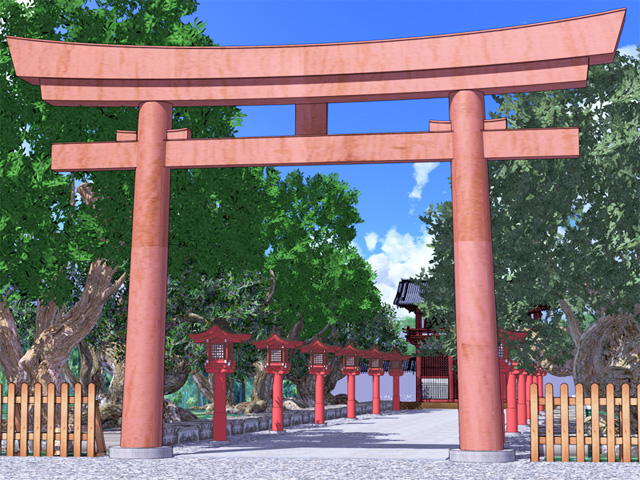 -pant-… -pant-…

Coo, coooooo!
(Hiyoko has become slow!
Okosan is disappointed!)

Aaah… I'm sorry, Okosan…
I did give in to the cold and skip training a little over the past few weeks, so like Okosan said, my body has gotten soft and weak.
But what is his heart made of?
He went shooting off out of the blue all the way to here, and now he's bouncing around energetically while I'm completely winded.
I don't think all the cruelest roads and tracks in the world could stand in defiance to Okosan's steel-plated cardiovascular system.

Coo!
(Can you not run any more?
Then we have no choice! It's time for a break!)

Thank you, Okosan…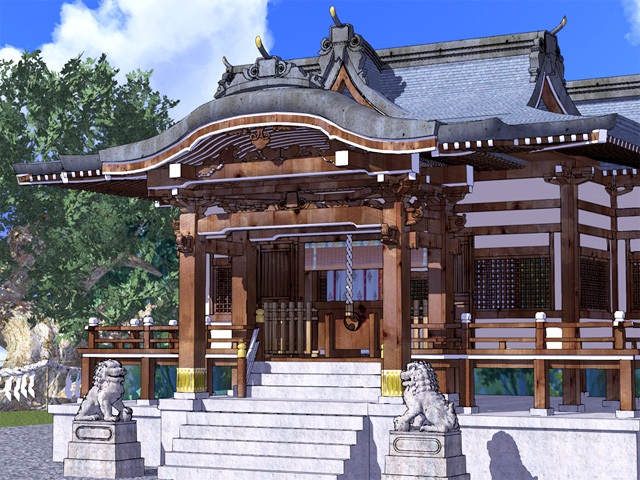 And so we took a break at the White Dove Shrine.
It's still really early, so there aren't too many other people here.

Did you come here to make your offering on New Year's Day, Okosan?

Cooooo!
(Okosan believes only in the Pudding God!)
Oh, right.

Ummm… and does the Pudding God have a shrine?
Do you make offerings to him?
Coo, coooooo!
(Unnecessary frivolity!
The spirit of Lord Puddi is with Okosan at all times, in all places!)

Huh…?
So if he's with you all the time, you don't need to go out on New Year's to say hello to him?
Doesn't he have a home?

Cooooo!
(Of course he does!
His home is in the Lost Ruins of Pudding!)
But I don't understand!
Coo, coooooo!
(The God of True Pudding sleeps in the Lost Ruins of Pudding, somewhere in this world.
Okosan trains himself so that one day he may find the ruins!)

Oh, I see.
I wonder if I could find a certain goal like you and get more serious about my training that way.
Coooooo!
(The only limit to your ambitions is Heaven above! Okosan flaps his wings!)
Okosan flaps agitatedly about for a little while.
He does get awfully excited about pudding.
But I still don't understand what his idea of pudding is. It certainly isn't the pudding I know…

Hey, Okosan.
The god of this shrine is supposed to be a brilliant white dove who flies to faraway places.

Doesn't that sound a little like you?
…well, you run to faraway places, rather than fly.

You're like a god yourself, Okosan! I know you'll get to meet the pudding god someday.
Cooooooo!
(Okosan will never give up!
Okosan will arrive before the Pudding God!!!)
---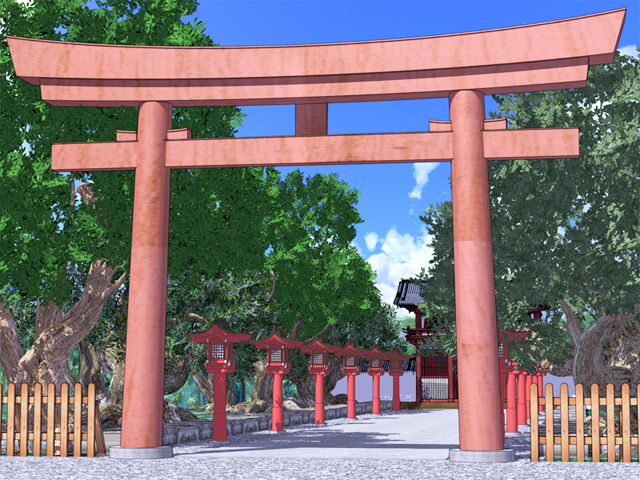 Happy New Year!
It snowed last night and I think I almost froze to death, but in the end I survived okay.
I'm glad it didn't pile up, though.
It seems like I have a near-death experience or two every winter. Maybe I should do something about that.
The White Dove Shrine, where everybirdie comes for their New Year's visit, is in a hilly area a little ways away from the center of town, but it doesn't look like the snow piled up much here, either.
There are little drifts here and there, but the sun's out now so it'll all melt pretty soon.

Here for the new year and gone within a day.
Very wabisabi!
Ugh I love Japan's religious aesthetics.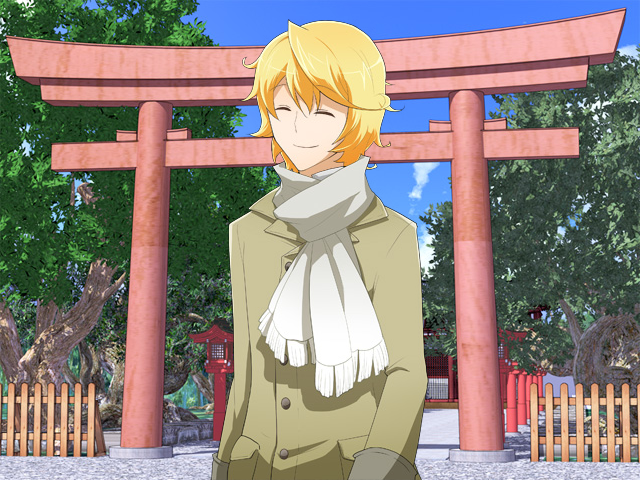 Yes, yes.
Leftover snow is very elegant.

Plum blossoms in snow
Soon they shall wither and fall
Even if it melts.

Oh, Mister Nanaki!
Happy New Year!
But what's with the weird incantation?

It's not an incantation, it's from the Manyoushuu!
Didn't we do that poem in class just a month or two ago?
The Manyoushuu is the oldest collection of Japanese poetry. The part he recited a moment ago you might recognize as a haiku, a syllabic poem conventionally written about nature. 
Umm, did we…?
I forgot everything I learned in the entire semester as soon as I turned in my last final!

I-I do not recall, sir…

Oh… maybe the problem is with my instruction. I'm sorry…
He seems incredibly disheartened.
You need more emotional brawn, sir!

Please don't look so down, Mister Nanaki! I feel like I'm bullying you or something!

I'm just not diligent enough.
Please don't be sad!
You do just fine!

You're so nice, Tosaka… but don't forget to review. You might have proficiency tests coming up soon.
If you make me start thinking about proficiency tests first thing in the new year, then I'll be the one who's sad!

Anyway, are you here to visit the shrine, too, sir?
Want to go together?

Would that be okay?
Are you sure you'd like to go with me?

I'm alone today, too!

Oh, I see… okay, then. Let's go.

Thank you, Tosaka!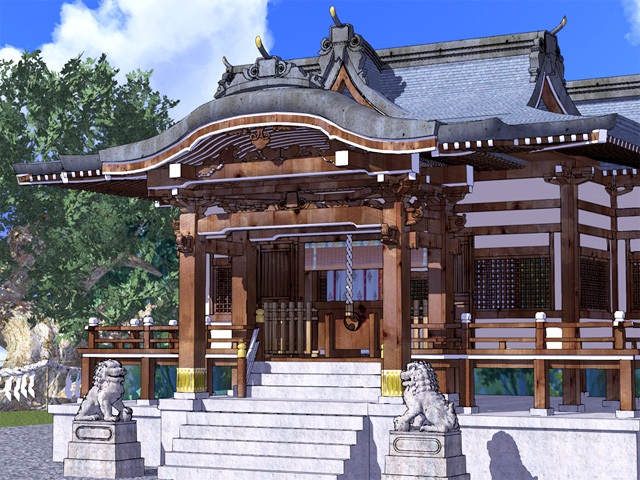 May my proficiency tests not end in total, heartbreaking, dream crushing failure!

May I become a little, even just a tiny little bit would be okay, less emotionally delicate…

Geez… you can't go making a puny wish like that, sir! That's why you're emotionally delicate!

Wish for something tougher! Like, "I wish to attain the spirit of a mighty, conquering emperor!" or something!
R-really…?
I'm not a hunter-gatherer like you, Tosaka, I wouldn't want that…
I'd be happy to be just a little more average…

Mister Uzune said so, too!
He complains about how you get offended easily and always start crying and it's way too hard to pick his words that carefully so he wishes you'd shape up a little!

Aaah… he does always point that out to me, too…

And Doctor Iwamine said he's never seen someone as delicate as you before, and he'd like to use you for some experiments!

What…?! Th-that's scary!
Did Iwamine really say that…?!

He did his creepy laugh, so I don't think he was too much more than half serious.

Waaaahhhh…
There are tears in his eyes already.
We pick on you because you cry this easily, sir!
I'll be spending a lot of good time with you all, so I do need to get better…

And I'll do my best on the proficiency tests!
So you can try hard on your mental training, right?
Maybe you'll at least harden your tear ducts a little!

-sniff-
Thank you, Tosaka.
I'll do my best…
There are a few people in my life like this, so… it's a bit weird.

No, come on, don't cry!
I hope your reputation for total uselessness recovers fully!

That's not right, Tosaka!
If it did that I'd be useless again!
---