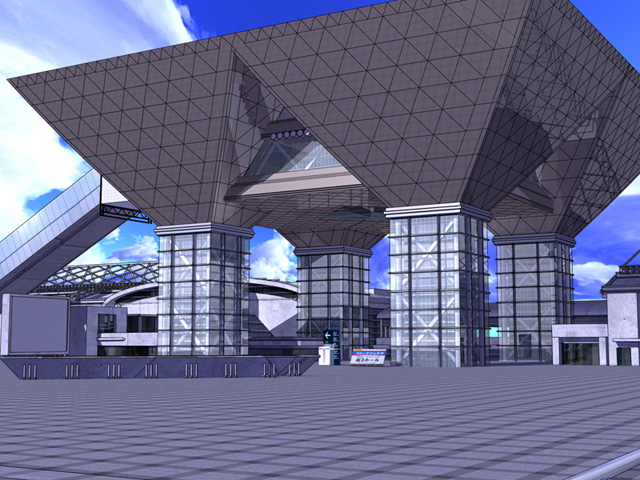 This music………….
Today's the thirty-first!
I am up at dawn, so that I may meet the lonely… I mean, the brave Anghel who throws himself into the fray of the Holy War!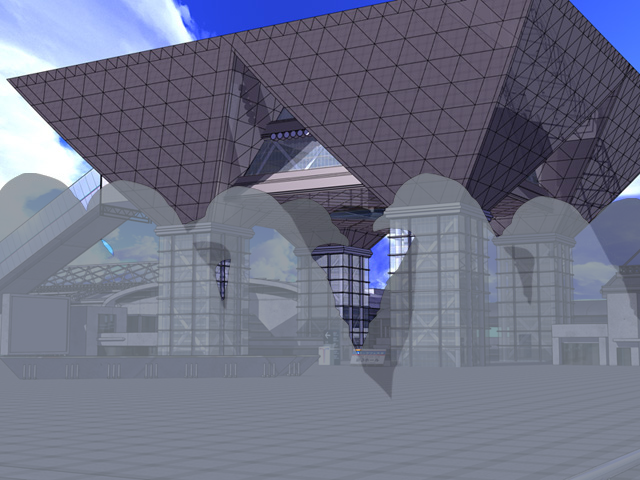 Waaah! What a crowd!

Is everybirdie here going to Comiket?!

Correct, Edel Blau!

Oh! Anghel!

See you, Edel Blau? The Holy Land of the Chosen! The Abyss of Madness!
Tokyo Big Sight!
So that's the Big Sight?
It's an even more bizarre building than my investigation had led me to believe!

Let's go inside, Anghel!
It's cold out here.

Be not in haste, Edel Blau!
The time is not yet come.
Wait for the Nightmare Sage, who shall guide us!

Who where???
Does he have a second helper?
???
Good morning… chilly out, isn't it?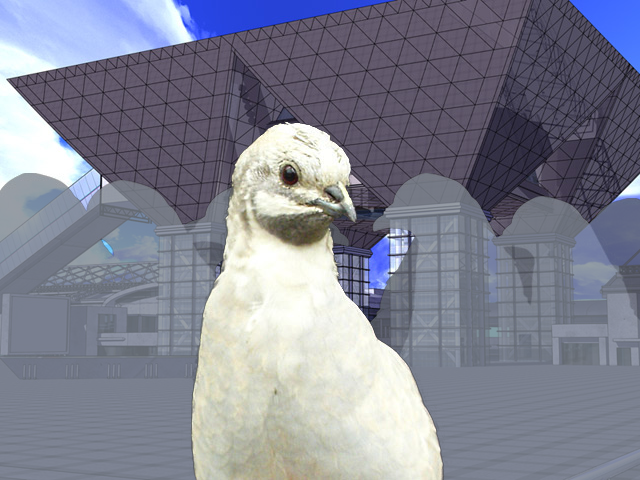 Mister Nanaki?!

We have awaited you, Sage of Nightmares!

Wh-why are you here, sir…?

The manga club's advisor asked me to look after Higure…

So you're standing in?
I suppose he's busy with winter cleaning and everything…

No, no.
The advisor is here, too.

???
He's here, but he wants you to be Anghel's chaperone?

Yes, that's right. Apparently, he's busy… he said he's helping at a company booth.
A company booth?!
I feel like the internet said those can be swamped from the start of the convention until closing time!

Each bird must do battle with himself in this Holy Land.
I do not blame him.

How mature of you!
It looks like I'll be selling Anghel's manga with Mister Nanaki all day.
Better do my best!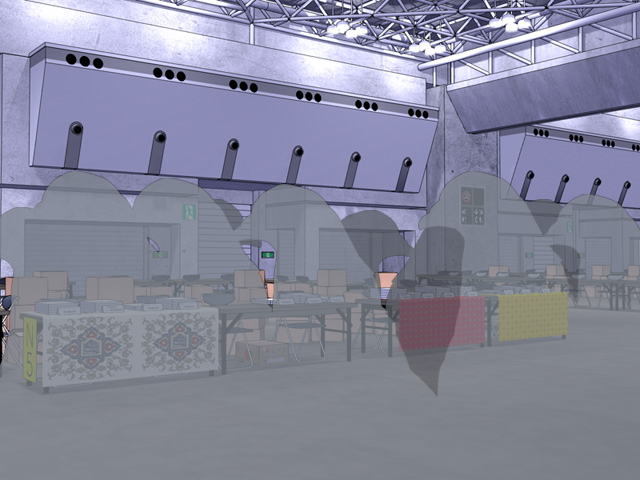 It was pretty crowded outside, but if anything it's even worse in here!
I'm a little worried that somebirdie's tender foot or wing bone might get broken with this many birds crowded together…

What kind of manga did you draw, Anghel?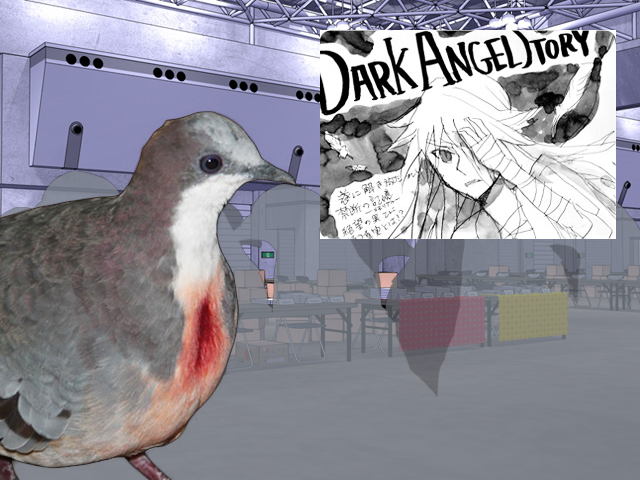 The Tales of the Dark Anghel…
The forbidden, epic saga.
Oooh!
Sounds… pretty Goth!!!
The picture that accompanies Anghel above is actually from a short comic piece that appears in the Official Hatoful Boyfriend Fanbook (sold out here, but you can almost always find it on sale on ebay.) You can find a more in-depth version of the tale for about $2 here on gumroad, "Absolute Zero". 

Mm, mmm… yes?
That's nice, very like you.

I studied a lot to prepare for today! I'll show these idolaters my super salesgirl moves!

Let us ride to battle side by side, Edel Blau, as dictated by the contract of old!
The shadows of the pigeons churn on the screen, and the music stops.
…
……
Umm…
……………
What should I do?
Time is passing worryingly by.
The epic poem of the Dark Angel is stacked on the table exactly as we placed it when we set up.

Umm, Anghel… should I maybe use my voice a little?
Like they do in markets.

It is well, Edel Blau.
Needless effort will only raise more barriers before us.

O-okay…
Retail is tough.

It's rather chilly in here.
Why don't I get us something warm?

Oh! Yes, please!
…
……
What kind of expression should I have right now?
A sea of birds floats by on clicking feet.
The far wall is lined with enormous queues.
Those must be for the "big circles".
Some of them have even started packing up. Have they sold out already?
Just how many books were in those stacked-up boxes?
It's like looking into another world.

Hiyoko!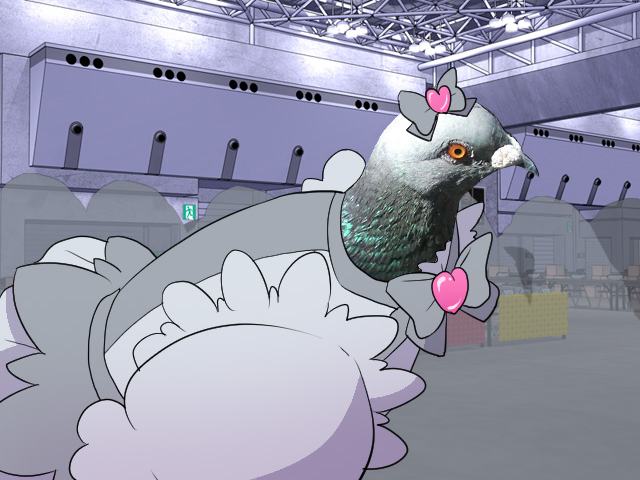 !

P-Pretty Coore?!

You know Pretty Coore, too?

Yes! I do!
HatoCatch Pretty Coore!
It's the one that's on Sunday mornings, right?
Aaah, you're so cute!

Hey, can you do that… thing?
The signature line!

Uhhhh… it's embarrassing…

Just once!
I just want to see it once!

Um… okay.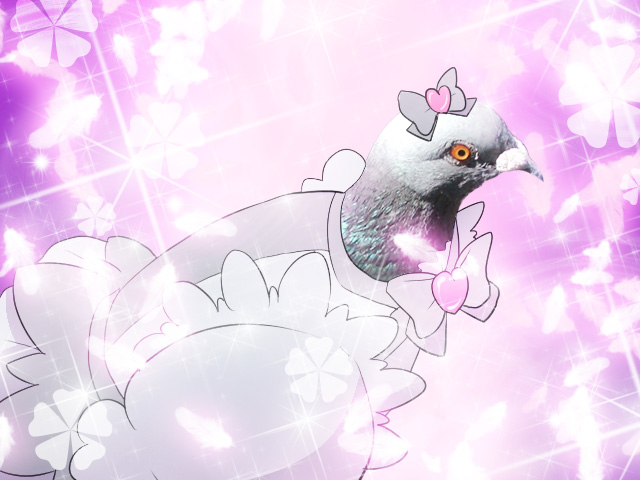 A single flower blooming in the asphalt road!
Coore Grey!

Yes! Yes!
That's so cute!
Just like in the anime!
The anime they're spoofing here is the extremely popular Pretty Cure. HeartCatch Pretty Cure ran through 2010-2011 so it was current to when this game's original Japanese release. In fact there was a study done in 2014 that said the #7 job girls age 2-7 in Japan want to be when they grow up, is a PreCure. I always wanted to be a magical girl, too…

Ahahaha… I'm just wearing it because I was helping out today.

Do salesgirls cosplay?

Sometimes.
Not everybirdie does, but they always tell me to make sure I come in costume.

The circle I'm with just sold out. We're cleaning up now, so I'd better go back and help.
Good luck, Hiyoko!
Coore Grey… err, Ryouta strides gallantly off with some sales slips and duct tape.
Aah, the aura of an old veteran hangs about his shoulders.
I've never seen Ryouta looking so competent!
I think you mean confident…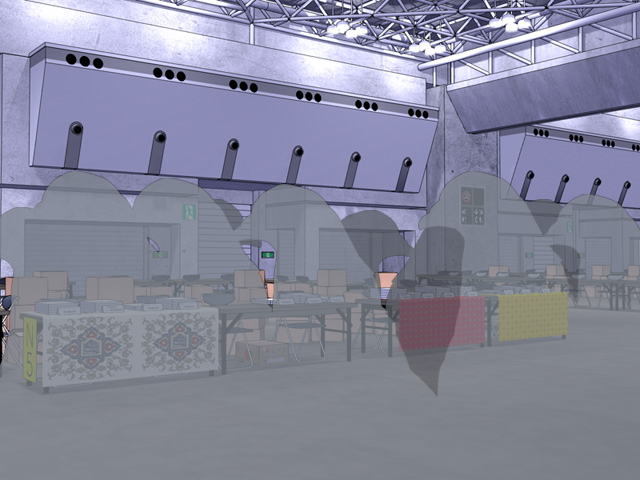 …
……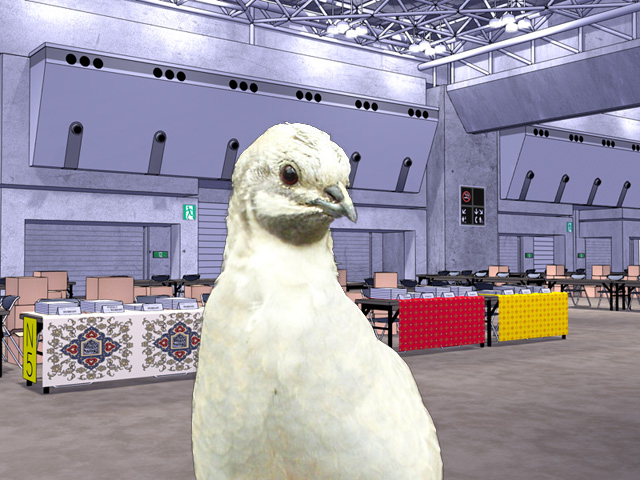 It's almost closing time…

…
Anghel remains silent, looking mildly tortured.

I didn't realize salesgirls were supposed to cosplay, Anghel… next time I'll pour my tribal blood into a costume!

Do not blame yourself, Edel Blau.
This sin… is mine alone.

Don't say that!
You did your best, Anghel!

An unerasable sin…
I am carved with my black past.
That is my punishment.
The unescapable cross I must-
???
Excuse me… which of you is representing the circle?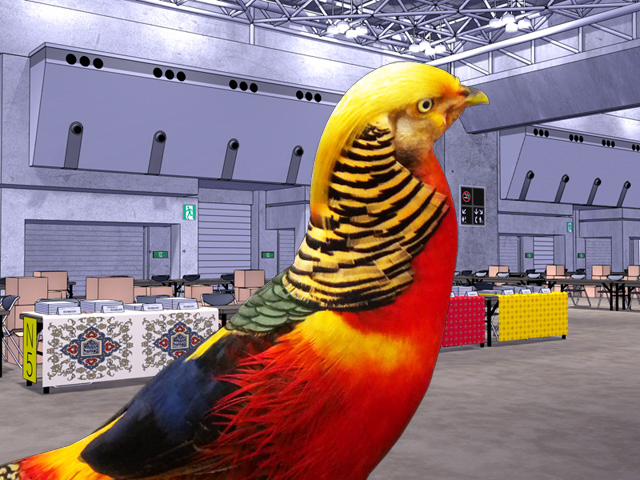 A rather gaudily upholstered bird appears before us.

Waah, colourful!

He's a golden pheasant.
A phasianid like the doctor and myself, you know.
I'd never have thought something with such extreme plumage was related to them!

I am sovereign of this domain.
And you are…?
This piece is gorgeous. Impressive, since it's Kevin MacLeod's. Sorry Kevin.

Ah, it's you?
I thought as much! Your bearing, your countenance — so artistic!
I can feel your aura… so unlike any other here.
He certainly is unlike any other, yes.

Forgive me, I haven't introduced myself.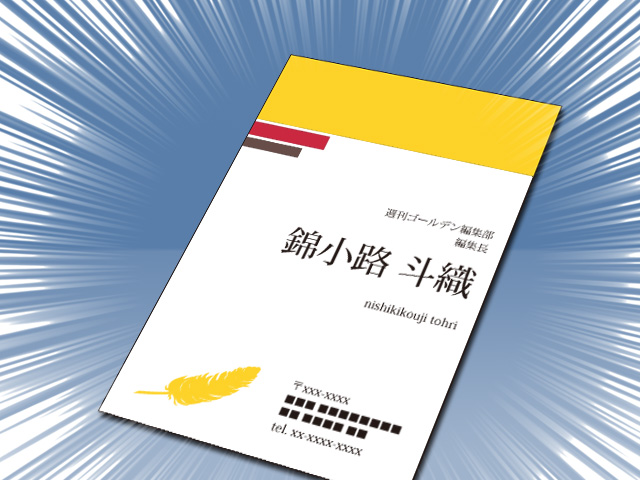 Mister… Bishikikouji Toshiki?

Nishikikouji Tohri.

Not, I might add, a pen name.
It has been mine since hatching.
I am rather proud of it.
It is a good name, yes?

…and the next time you get it wrong, I will make you wish you had never crawled your miserable way into this world.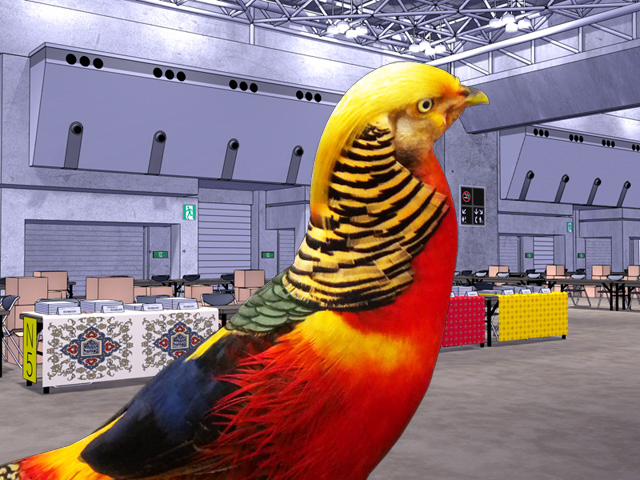 Oh, dear me. What am I saying?
Please, pay it no mind.

Golden Weekly… that's the new splash-hit magazine!

So you know of it!
I am flattered.
I am the editor-in-chief, and I am here looking for new talent.

I noticed you from far away.
Aah, your unparalleled artistry!
Your vast imagination!
Yes… these are the attributes of one who will change the world!

Golden-Winged Messenger… could you be the one written of in the Crimson Tome of Augury!?

Precisely. I am here to aid you.
There is yet much talent that sleeps within you!
Is it not so?

A great power, locked within…

Yes! Exactly!
I am here to tell you that I can help wake your powers.

My firm's location is shown on the back of this card.
Please, come talk to me in the New Year, Anghel… sir.

I thank you, Golden-Winged Messenger.
Let us enter a Pact of Blood.
Wow, Anghel looks so happy!
He's grinning.
I guess he has a pretty worldly side to him, too.

Imagine a world painted with your ability!
Aah, how I long to see it…

I shall take my leave now.
I pray your New Year will be abundant with artistry.
The golden pheasant walks smartly off through the crowd.
What impressive colouration!

Mister Bishikikouji was a… very strange fellow, wasn't he?

"Nishikikouji", Tosaka.
It's a confusing name…
You're so sharp you'll cut yourself one of these days, Mister Nanaki!

Mmm… then again…
Mister Nanaki looks Anghel up and down, and then tilts his head, staring off after the Golden Pheasant.

I don't know very much about manga, but… hmm… maybe I'm worrying too much.
He looks like he wants to say something, but falls silent.

I'm a little worried, too.
But I can't say anything in front of Anghel like this…
Didn't someone once say that a serpent speaks with a silver tongue?
And Mister Nishikikouji was very suspicious.
I hope he was just a normal editor here to scout talent…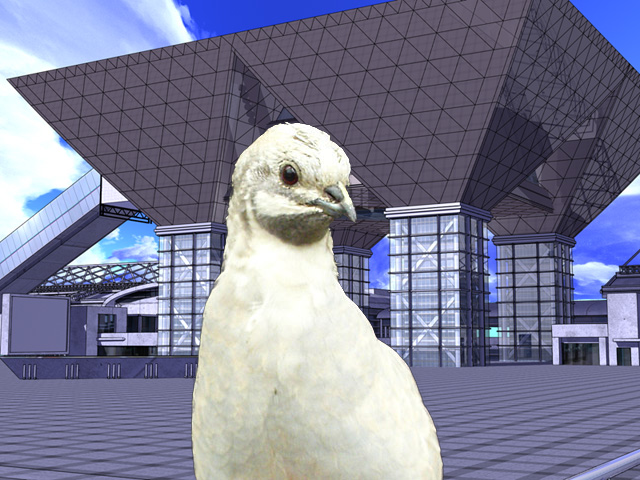 Hmm…

Anghel… none of us mentioned your name to him, did we…?
The mysterious pheasant in the convention hall crowd.
Who is he, really?
And so they left the Holy Land, Anghel full of zeal… Kazuaki and Hiyoko full of doubt.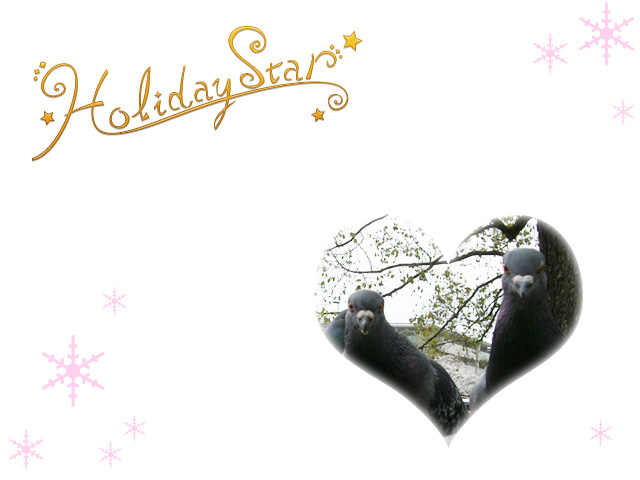 Part 3>