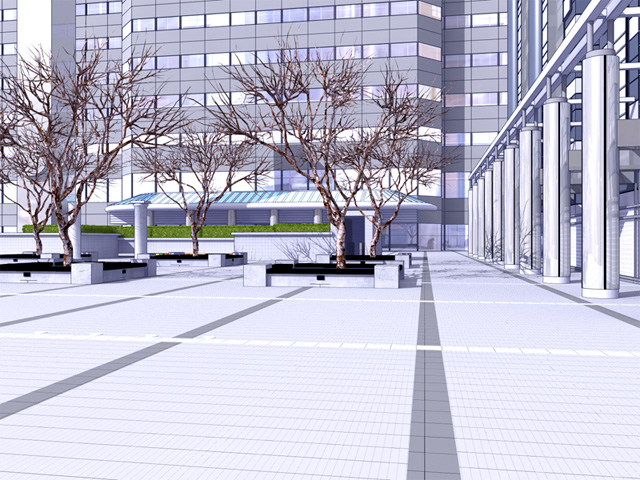 I'm going to the shrine for a New Year's visit with Yuuya!
…even though New Year's was a few days ago already
He hasn't come to school much since sometime last semester.
He seems really busy, but what has he been doing?
Maybe he's been job-hunting?
Anyway, he said he didn't have any time over the holidays, so he asked me to wait.
And then he texted me out of the blue last night to say he was free today, so–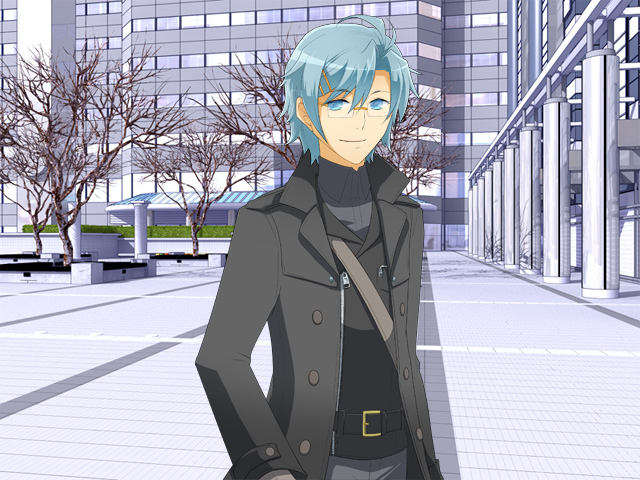 Happy New Year's salut, mon amie! ~✩

Oh, Yuuya!
Happy Holiday salut! ~✩

Sorry to keep you waiting, Hiyoko.

I always try my utmost to never keep a lady waiting, but alas I wasn't able to get away until just now.

You're still really busy, aren't you?
I shouldn't have pushed you so hard to take me…

Non non, don't make that unhappy face!
It doesn't suit you at all, mon amie.

I cannot express with mere words how much I have looked forward to seeing you again, Hiyoko.
Time with you always flies by at the speed of light, so let's go.
Yuuya takes my hand and leads me off to the shrine.
He seems like he's in even more of a hurry than usual.
He must be really busy…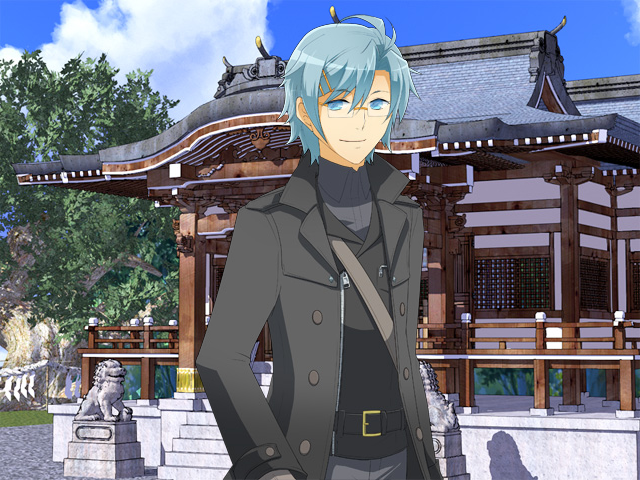 How long has it been since I came for a New Year's visit? Quite some time indeed.
…and the season is practically over now, anyway.
It's true. The shrine was crowded during the first three days of the new year, but now it's practically empty.

I don't mind a lively crowd, but I'm glad there's no one to disturb us here now.

I'm not falling for that, Yuuya!
How many other girls have you used that line on by now?

Ahaha, you're as cruel as ever, mon amie.

No, you're the only one.
You're the only one I've made time this winter to meet.
He whispers to me, an unusually serious expression on his face.
Stop it! You're gonna make me melt!
I already know you're not completely made of cheap pickup lines and flashy foppishness!

I haven't met privately with anyone at all recently, in fact.

Third years like you are really unimaginably busy, aren't they…

Don't worry, mon amie. You won't end up like me.
I'm just having to work extra hard now because I've been an unusually total failure.

So you're studying like crazy for exams now?

No, not quite.
Let me give you a hint, mon amie.

Lots of important corporations have parties during the holidays.
Many well-known people go to those parties.
Each one is a potential jackpot for the villains who skulk around behind the curtains of society.

And if you turn that around, every potential jackpot for a villain is an extra busy assignment for a hero of justice.
See what I'm saying?
So… so what?!

–I had a dream like that, anyway.

It was a dream?!

Hahaha, sorry.
Just kidding, just kidding.
Like you said, I'm just having to make up for all the slacking off I did earlier as exams draw near.

Geez, don't tease me like that!
I hadn't realized you were planning on going on to University, though.
Where are you thinking of going?

That's… a secret, I guess.
I'm leaving the school, and it's probably best if you don't know where I go after that.

D-don't tell me you're going somewhere so seedy and low-end you don't even want to say…?!

Well, I wonder.
My lifestyle is certainly seedy enough.
He did it again.
Sometimes he says stuff in that self-deriding, or maybe even despairing way.
I LOVE HIM!!!!
He's usually so cheerful, so whenever he does it, I don't know how to respond!

I think you're a better person than you think you are, Yuuya!

Sakuya and the Doctor are always chewing you out, but you shouldn't let that get you down!
Just do your thing and be yourself!

Aah, that makes me happy.
Hearing you say that puts some pride back in my little dove heart, mon amie.

…I'm glad we could meet today.
And very grateful.
Thank you, Hiyoko.
---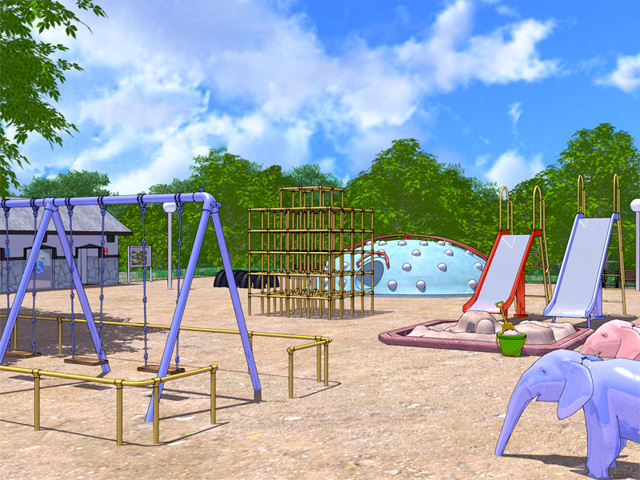 I'm going out with Nageki today!
He said he wanted to try going for a New Year's visit, so we're planning to go to the White Dove Shrine, but–
The first three days of the year are always crowded, and it's really cold in the morning, so we decided to be a little untraditional and just go after noon.
Of course, even if we waited for weeks or months before visiting, our first trip to the shrine in the new year would still be a New Year's visit…
Nageki is delicate like the first flowers of spring, so I'll have to make sure he doesn't push himself!
Nageki
…you're here already.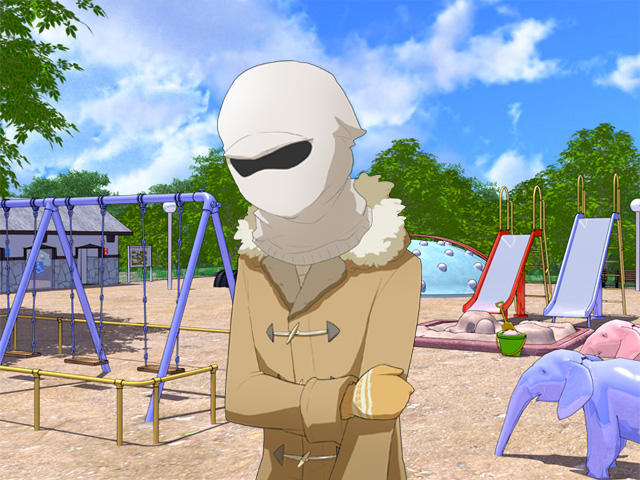 Oh! Nage… ki…??
Wait, who the heck are you?!

Uh, umm… Nageki? You sound like Nageki… you're Nageki, right?

Yes. Sorry, did I keep you waiting?
I made sure to leave on time, but…

Don't worry, you're not late!
I just came early.
I wasn't waiting too long, anyway!

More importantly, what's up?
Are we gonna go hold up a store or something?
I mean, I'd be happy to, if that's what you want to do…

…this thing really is weird, isn't it.

No, no, I think it's nice!
It's definitely nice!
It's warm and it hides your identity!
Everyone should have one!

I'm behind you whatever you're planning, Nageki!
We'll do our best together, okay?

…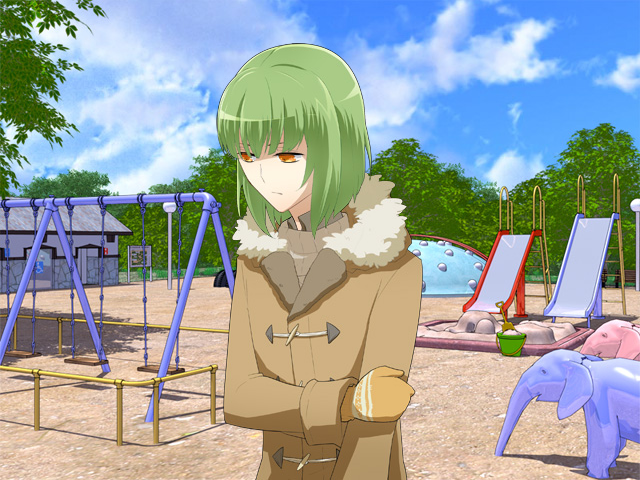 I'm not wearing it.

Hitori made me put it on.
He said I shouldn't go out without making sure I was perfectly protected from the cold.
Does that really mean wearing a balaclava, though?!
I bet you're wondering what he's wearing in bird form, right? Look no further.

He made me bring a whole bunch of hand warmers, too.
I don't think I'll run out for a week.

Mister Uzune does seem to worry about you a lot…

He's overprotective.
I barely managed to convince him he didn't need to come with me today.

I wouldn't mind if he came along…

…

I would.
I'm not a child anymore.

…besides, this is my first time with you, Miss Tosaka.
That's important to me.
I don't know if you feel that way, but I do.

Of course I do!
I'm so happy I get to be with you, Nageki!

Anyway, it's time for Tosaka-senpai's Guided Shrine Tour!
Let's la go!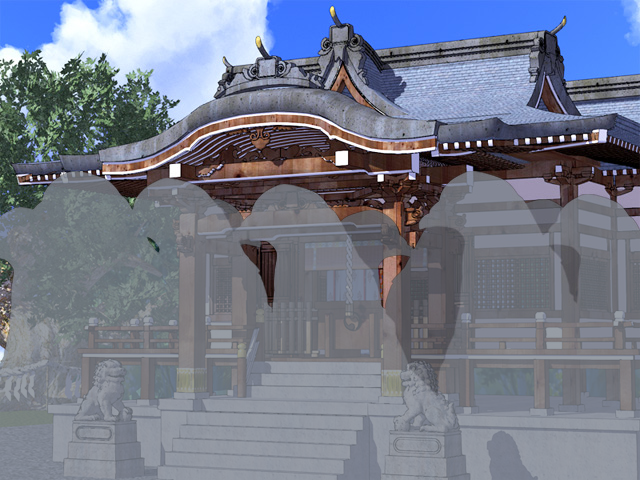 We avoided the most crowded time of day, but there are still a lot of birds in here!
I think when I came by during summer vacation there were maybe three other people…

Is this your first time visiting a shrine for New Year's, Nageki?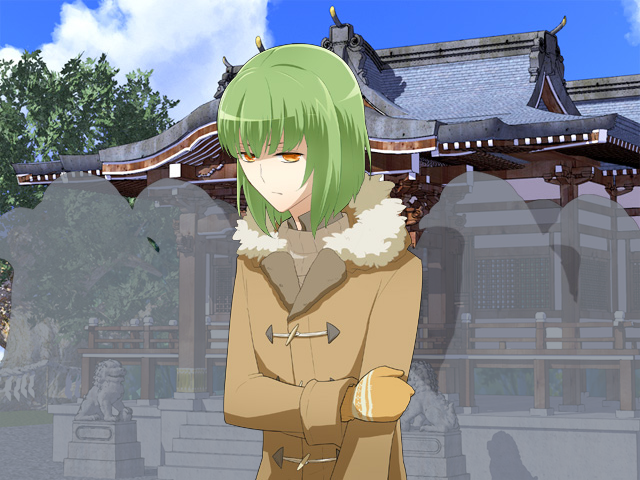 I'm not sure.
I might just not remember. At any rate, if I have, it was before I was old enough to be aware.

I see…
You should make up for all the lost time and make lots of wishes now, then!

…is it alright to be that sloppy?

It's all about your frame of mind.
You're not very religious in your day-to-day life, are you?

I'm not.

Then you can be as sloppy as you want!

That seems a little haphazard… but I guess you're the one to know, Miss Tosaka.

Take this! Super coin-toss! Zzzzbang!

Are you supposed to throw the offering money rowdily like that?

The gods will have an easier time hearing your message if you put a lot of spirit into it, right?

I don't think I need them to hear it that well.
Hey! He just threw his like a normal person!
He stared at me with cold, disdainful eyes and threw it like a normal person!

…

…

…what did you wish for, Nageki?

That's a secret.
Oh.

I don't really have to tell you.
It's between me and the gods, right?

Aww, that's no fun!

No one else needs to know about it.
So it's a secret.

Well, okay… I guess if you go around shouting your wish to everyone it sort of feels like a god is going to pop out and revoke your right to a divine miracle.
I'm curious about what he prayed for, but it doesn't look like he'll tell me.

There's a tea shop up ahead that sells really good mochi, Nageki.
Let's go!

…okay.
We fade to black for a moment and the music halts as we come back.

I wished–

I wished to stop being the person that's only ever protected.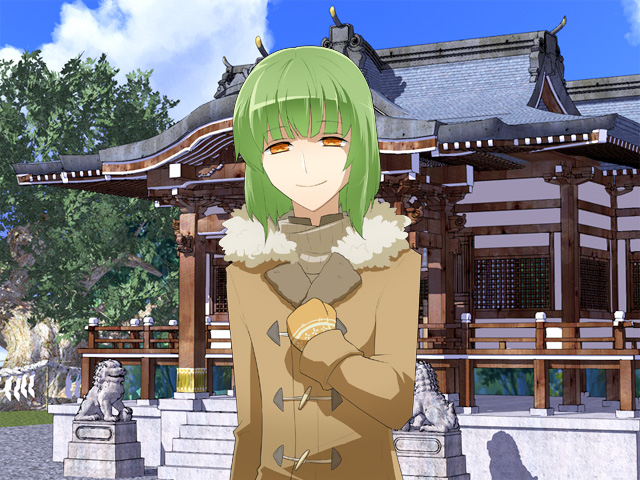 Thank you, Miss Tosaka.
I'll become stronger, and one day I'll be able to thank you with more than just words.
---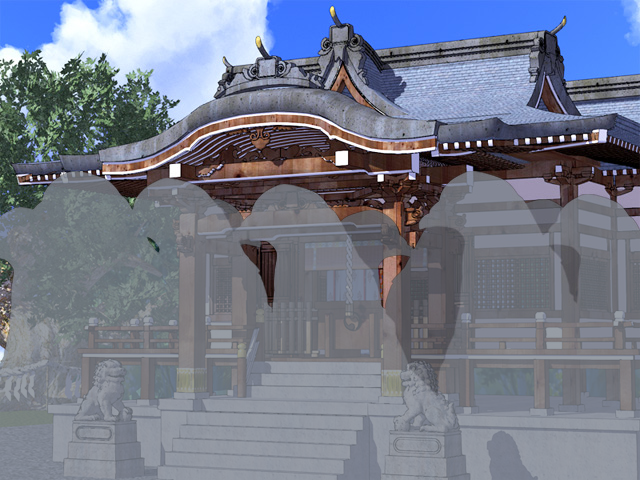 Wow, what a New Year's! Wow!
I decided to drop by the shrine for a visit since I was here anyway, but… it's really crowded!
Where do they all come from every year, anyway?
The shrine is usually so empty!
I want to at least make an offering, but standing around waiting like this i breaking my heart…
It's cold! And waiting by myself is so lonely! Maybe I should go home and come back again some other day.
…wait…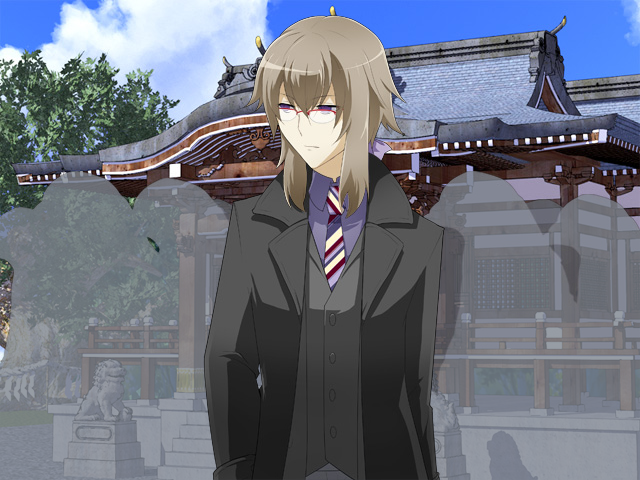 Doctor Iwamine? Is that you?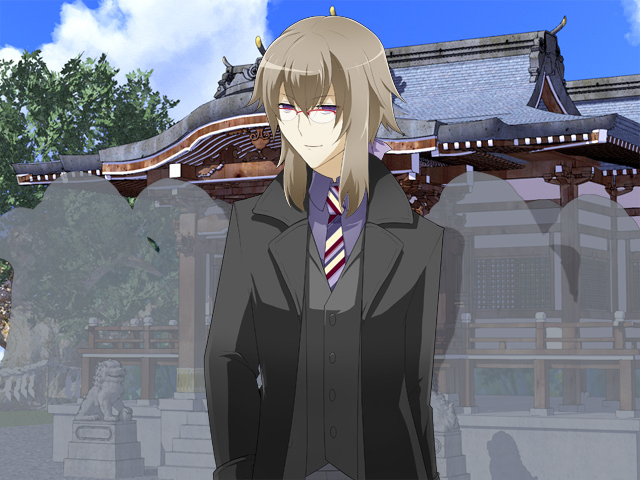 …
Yes, it is me. Hello, Miss Tosaka.
Don't tell me he's here to make an offering, too?!

Happy New Year, sir!
I'm surprised to see you here!

I never would have expected to bump into you in a place like this.
You're kind of like a devil or something, so I always figured you'd get purified into nothingness if you went into a shrine!

I see you are as fond of foolish superstitions as always.
Unfortunately, there is nothing at all unusual about a bird passing unharmed beneath a Torii.
Oh, okay! So I don't have to worry about him getting hit by some stray exorcism and evaporating!
Yay, I'm so relieved!

But why are you here, sir?
Are you making a New Year's offering?

No.
I feel no need to plead with hypothetical gods for help.
As I'm sure you know quite well.
OH? YES, I KNOW.

Umm… why are you here, then?

I heard there was a corpse.

There isn't!!
Please stop hearing about corpses that don't exist, sir!

But I was told there was a crowd here because they found a rotting corpse in the pond.

Shrines are always crowded on New Year's!
No one said anything about a corpse.

I see… that is truly unfortunate. It seems I have been misled by a falsified report.

Oh! Are you going home already, sir?!

There is no reason for me to stay, is there?

But you're already here, and it's New Year's!
Want to make an offering with me?

It's cold and there's a line, and I was thinking of giving up and going home, but if I got to wait with you then I wouldn't mind!

So you are deliberately placing yourself in unpleasant circumstances, wasting time in idleness and then throwing money away to no foreseeable benefit?
The mind wobbles.
He gives me an amazed-looking sneer.
Geez, don't you have any hopes or dreams, you diabolical partridge? Any romance?!
Getting turned down like this every time I try to do something with him makes my hunter-gatherer blood boil! I'm starting to want to look up a walkthrough for him on a wiki or something.

But this is a special day!
And if I'm with you, then even if I catch cold you'll be able to give me pertinent advice!

Please do not treat me as your personal medical advisor.
I am not fond of selfish children.

Aaaah, I'm sorry… I got carried away…

Now if you would be willing to take the place of that rotting corpse for me, then I might be interested.
I think that's the creepiest thing you've ever said, Shuu.

You want to make an offering with a rotting corpse?!
What kind of pervert are you?!

Won't you be my rotting corpse, Miss Tosaka?

That's too much, sir!

…hoho, don't worry.
I was only joking.
Yes… joking.
Were you, sir?
That sounded an awful lot like you were asking, just on the off chance…

Perhaps we can come to an arrangement.
I shall offer a very simple contract, with only one condition.

If you do catch cold this winter, you shall become my test subject for my new medicine.
That is all. You don't lose anything at all, now do you?
It sounds like I could be in serious danger of losing everything, including but not limited to my life?!
But if I don't come down with a cold it should be fine.
That should be okay… I guess…?

All right, sir!
I promise!

I'm in the process of developing the drug now, but I haven't had much luck finding test subjects.
I am so glad to have a student as cooperative as yourself.
Hohoho…
Oh how my heart leaps when I hear that laugh!
And so I spent New Year's Day with a non-believing partridge.
I'll be fine as long as I can endure until spring… I wouldn't mind paying him back, but I'd rather not risk my life, so I'll pray to make it through the winter without getting sick!
---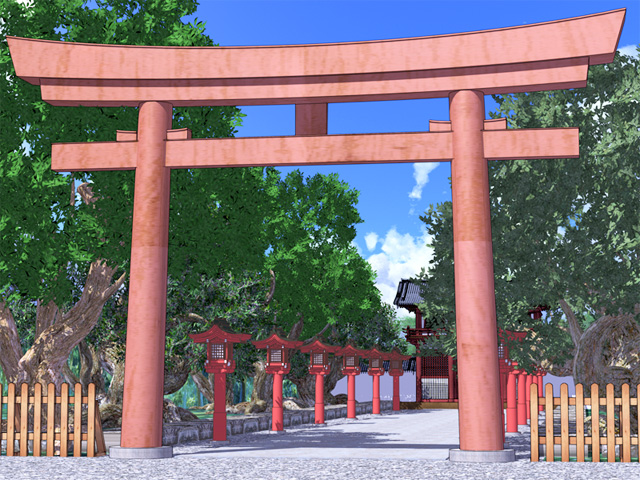 Anghel invited me to visit the shrine for New Year's today!
Isn't he really Catholic, though?
I hadn't expected to be invited out for something like this!
Maybe it'll turn out that he lives in the shrine!
Anghel
That is incorrect, Edel Blau.

Oh, Anghel!
Happy New Year!

My parents in this world… are not engaged in the business of shrines.
They are of a clan whose august duty it is to market the Silver Beings to the world!
Silver beings?
What are those?

So, they're not shrinekeepers… how do people usually refer to their job?

…fishmongery.

Oh! I see!
I see but I can't imagine Anghel going home every day to a fish store.

We must not let time slip by, Edel Blau.

We must obtain the Legendary Sacred Bow, Holy Slasher, before it falls into the hands of the other side!

But weren't we going to visit the shrine?

Agh…!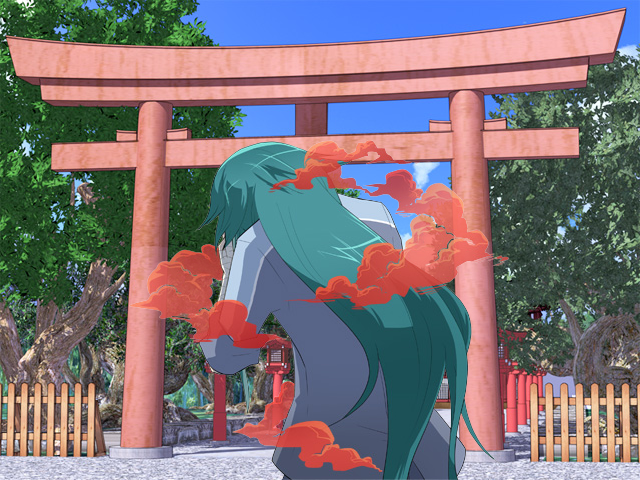 My flesh… is cursed…
I can feel my crimson breast throb just from approaching the sacred ground…!
Blessing is forbidden to me.

I only need a blade.
Let us go, Edel Blau.
Anghel bravely enters the shrine premises.
I guess I'll be in for another year of having no idea what mister eccentric Fillipino dove is talking about…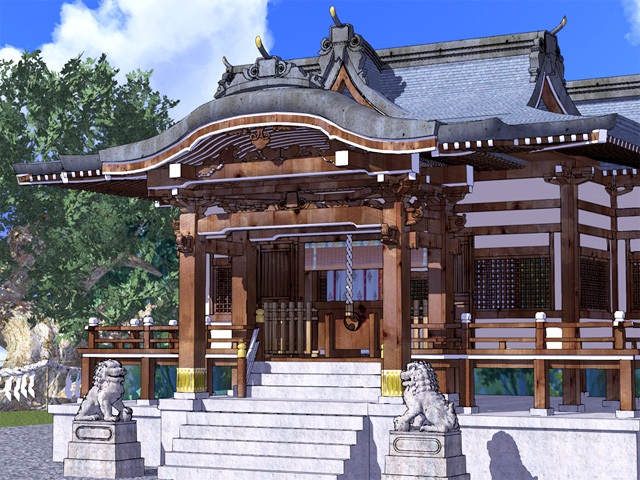 So?
Do you see what you're looking for, Anghel?

…
Anghel silently rummages around the shrine office.

What are you looking for?

Did I not tell you? I seek the Legendary Sacred Bow, Holy Slasher.
Sacred bow?
Shrines aren't weapon shops… they probably don't have anything like that.
Actually, in a shrine office, maybe…

You mean a hamaya?
A hamaya is a "demon breaking arrow", sold at shrines for good luck in the new year!

That is the name the people of this world have given it.
I'm a person of this world too, Anghel! Just call it that from the start!
And maybe next time bring me a dictionary, and have subtitles!
It's important to note that Anghel speaks in a classical old style of Japanese that is difficult to understand. This makes following his logic and especially translating his logic incredibly difficult. Kudos to the translators for tackling this monster. Think about Anghel using Shakespeare nonsense, except maybe not quite that bad. Less metaphors.

Umm, hamaya… they usually sell them here…

Oh!

They're sold out, Anghel…

…

No… this cannot be…!
The Sacred Bow has fallen into their hands…?
Anghel sits still, looking terribly shocked.
Are hamaya that popular?
I don't think I've ever bought anything from a shrine aside from charms and the occasional votive picture.

It's okay, Anghel!
Maybe they'll be back in stock tomorrow.

…are you suggesting we stand and fight on through this suffering despite having met with the deepest sorrow and despair, Edel Blau?

I don't mind.
You invited me because you'd be lonely on your own, right?

I'll come looking for hamaya with you whenever, if you want!

Edel Blau…!
He seems relieved.
So this is what it means to recover a soul from an eternity of painful solitude.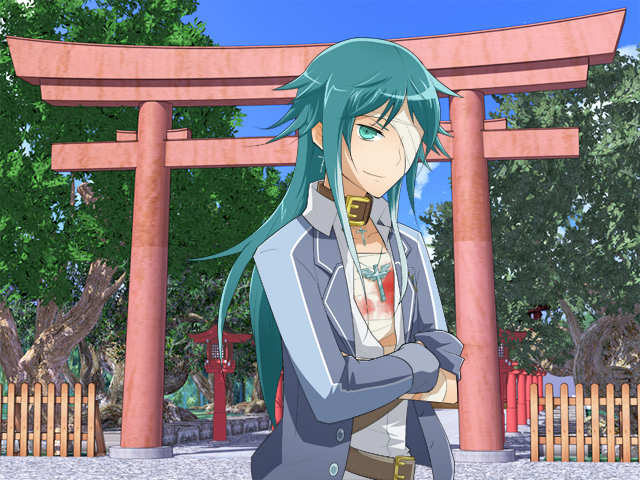 I thank you, Edel Blau.
I am glad we were able to fight alongside one another today.

It was nothing, Anghel!
I hope we can find a hamaya for you tomorrow.

…indeed.

See you tomorrow, then!
Bye-bye!

…wait, Edel Blau.
?

Do you not feel something?

Something?
Umm… like, the winter cold…?

No!
A creeping dread, a growing malaise… or perhaps, a light.

A light?
The sky is the same winter sky as always, and the lights from the shop windows don't look any different.
What's he talking about?

A world is but the light reflected from a fragment of a broken mirror.
The fragments write out the destiny of every star in the heavens.

Is your Azure Soul satisfied with the world and the fate you see before you now?

Or perhaps it has been charmed by the fate written by a different shard of the mirror. If that is the case, then I shall…
 *~ Return to Gateway ~*