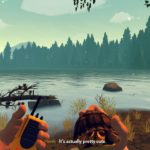 I've been catching up on my games from 2016 before I go to GDC at the end of February. I just got through Firewatch which ran on my sad laptop at about 4fps, but I pushed through for Delilah. I'd do it again for Delilah.
Firewatch is played from the perspective of Henry, a 40-something married man whose wife is wasting away with early-onset Alzheimer's. He takes a job in a park in Colorado where he is stationed in a tower on the lookout for forest fires. His only company is a voice on the radio – his supervisor, Delilah.
This is not a review. I assume most of you who are more on the ball than me have already played it. I'm just going to talk about Delilah's character arc and motivations, so beware of spoilers below.