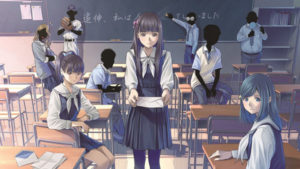 Root Letter by Kadokawa Games is a game that sparked my interest after I saw ads for it on twitter. It is one of few visual novel mystery games that has an official localization, which excites me. As you probably know by now, I love a good story, and I'm interested in visual novels as an art form. So, I contacted the PQube marketing department and asked for a review copy (thank you very much!).
So far I am 2 for 2 out of games I've requested for review that I haven't liked and I feel really terrible about it. So I'm going to try to keep this brief.
Anime Tourism
There is a mystery visual novel game localized as Higurashi When They Cry (ひぐらしのなく頃に / When the Cicadas Cry). It was a big hit in Japan and adapted into an anime, which you're more likely to know about. Higurashi takes place in a sleepy village in the countryside called Hinamizawa. Higurashi is a mystery/horror story, and so the things that happen in Hinamizawa are pretty terrible. Higurashi turns this little village in the country into an eerie, and sinister place. Regardless of that, the town that Hinamizawa was based on – Shirakawa-go – receives many tourists.
Anime tourism is real and if you ever thought to yourself "I would love to spend my money on a game that makes me want to visit somewhere in real life to spend more money", you might be interested in Root Letter. The game takes place in Matsue, and I suspect there was some funding by the Shimane tourism board that made that happen. This sort of… 'product placement' or whatever isn't something that I usually let bother me, except when it causes other elements to suffer.
Leisure and Suspence Don't Mix
The plot of Root Letter is the story of a guy who finds a letter by his old penpal where she confesses she was involved in a murder, so you go to Shimane to look into it. The stakes are high, and there's no way to know if your old penpal is even alive. Is she dead? Did she kill someone? Would you like to take a leisurely boat ride to tour Lake Shinji? YES let's have a lovely stroll while we contemplate a possible murder. You have no choice in the matter.
Higurashi has a story to tell that uses its setting to the fullest, crafting an atmosphere that makes even a sunny countryside feel dangerous. It sets up the right conventions of mystery and horror that causes Silent Hill fans to feel a thrill when going down a foggy street.
Root Letter is far too preoccupied with painting Matsue in a beautiful light to use the setting to build any suspence. The mystery is entirely carried on the shoulders of the characters involved. Once you encounter someone who you need to question about your penpal, you've had such a lovely day around town that it's easy to forget what the hell you were doing. Or, in my case, you're so bored of not doing mystery stuff that you go back to bed.
There's a way to make a story that uses it's environment, and Root Letter is trying so hard to overcompensate and make you want to visit Matsue, that it tarnishes overall experience.
If you want to read a good mystery that takes advantage of it's setting, just read Higurashi.