After a long and perilous journey over valley and mountain, hill and dale, through dungeons deep and caverns old, Nageki and I arrive at Mount Pudding.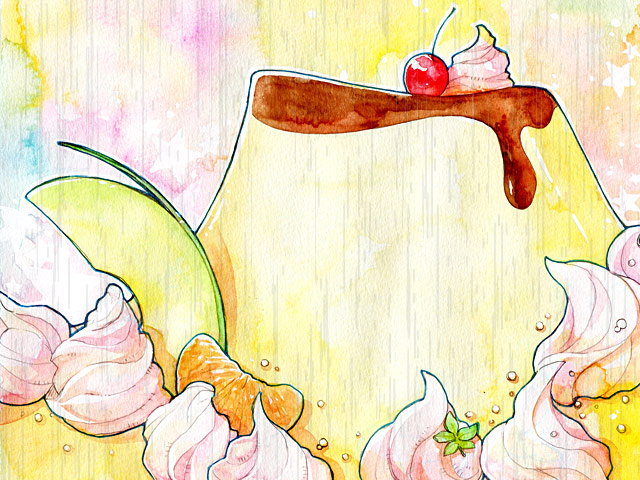 It is even more pudding than its name had led me to imagine.

Looking at it, it… well… I really can't think of any name other than "Mount Pudding".
San
Coo, coooooo!
Ryouta
Calm down, San!
Going berserk now won't fix anything!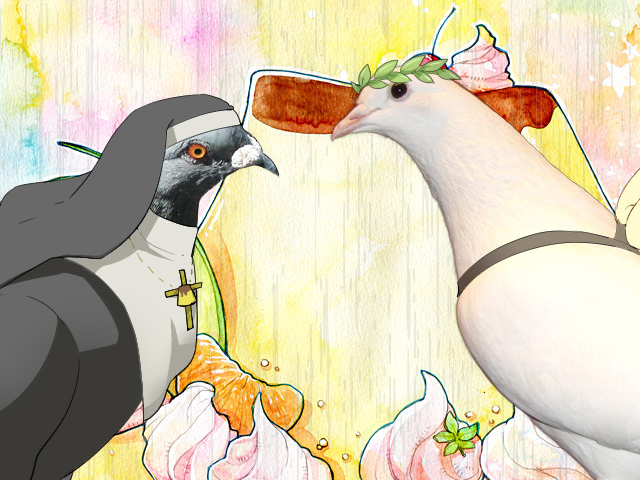 Okosan!
I knew we'd see him here!

I thought Okosan would be here, but I hadn't quite expected you, Ryouta!

Oh, Hello, Hiyoko!
So you're here, too? And… Nageki?

So it would seem.

I see… I guess you two are together even in this dream, then?
Jealousy rears its ugly head.

We arrived on the same train!
We're a dynamic duo, on a quest for The King. What about you?

I… guess I'm a Votaress of pudding.
I'm a religious studies student and I've never heard this word in my life. You can probably tell by the context what he is (and the nun's habit) but a votary is someone who is vowed into a religious life. 
And the role comes with a new costume!
This time he gets to be a nun!

So that means Okosan is–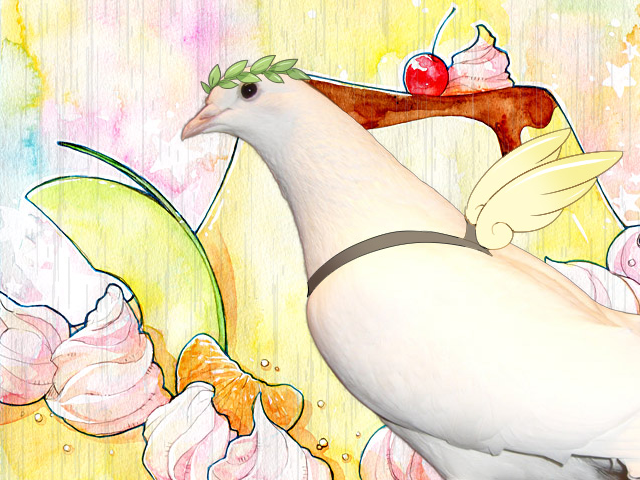 Cooooo!
(Okosan is the beloved deity of Mount Pudding!)
Incidentally, what does he need those things on his back for?

Aren't gods supposed to be calm and composed?

Coo, coooooo!
(It is not the time for being calm!
The rain is coming!)

Weather usually changes quickly in the mountains, so if we wait it should be clear again eventually…

Cooooo!
(Waiting is not an option!
Okosan's pudding will be rendered gooey!)

Sounds like the rain would be a problem for you too, Okosan.

The King said rain has never fallen here, so there must be something behind it.
It might not go away, even if we wait.

Coooo!
(Rain is bad! Okosan shall blow the clouds away!)

You're never going to get rid of rain clouds by flapping at them, San!

And if the clouds get blown down the mountain, The King will be sad.
We need to think of another way.

The clouds are coming from the summit…

Let's climb the mountain and see what's up there, Nageki!

All right.
---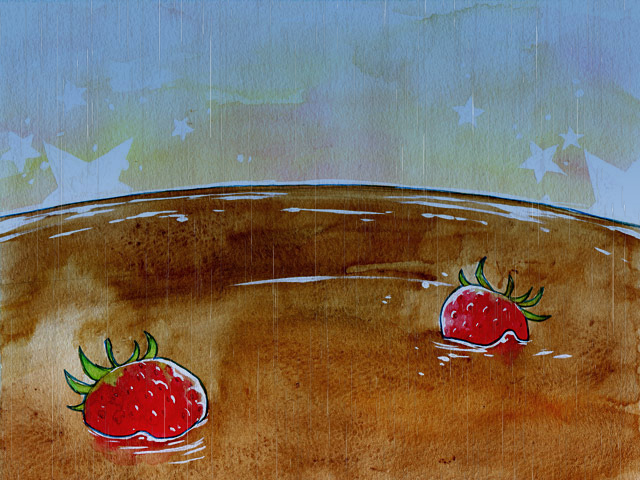 Aaah! That was more of a climb than I had expected!

I never realized pudding was this hard to climb up!

I suppose it is very slippery.

Are you doing okay, Nageki?
You didn't get tired?

Not at all.
I flew.
This… this is the true separator of birds and men!

Well, we're at the top…

And there's something suspicious right over there.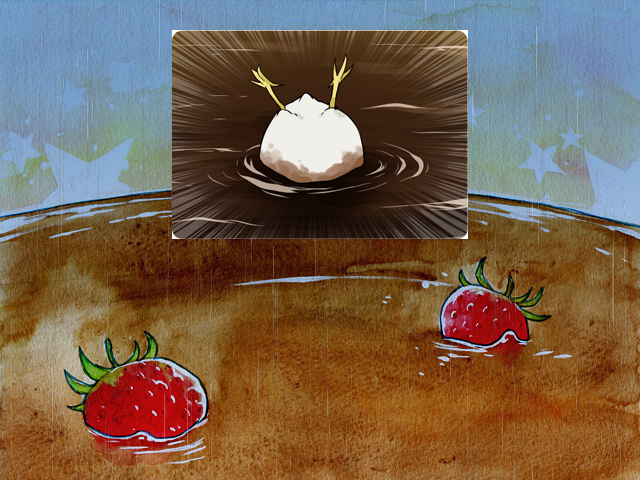 It's just like in the Inugami clan!

N-Nageki! What do we do?!
This isn't a fairy tale, this is a murder mystery! It's Sukekiyo!

The corpse upside-down in the water was a diversion by the real culprit.
People get it mixed up all the time, but Inugami Sukekiyo wasn't the man in the white mask or the corpse in the water.
So this is what the spoiler warning was for!
But even with a warning it's bad form to go telling people the answers to puzzles in mysteries, Nageki! Don't do that!
We've come upon the spoiler we were warned about in part one. Here's what moa has to say about it, and the link she gives is this one. You can see the resemblance (WARNING: the image linked above is quite disturbing.)

Anyway, if he stays stuck in the caramel for too long, he'll suffocate.
Let's help him.

Right! You take one leg, I'll take the other!
---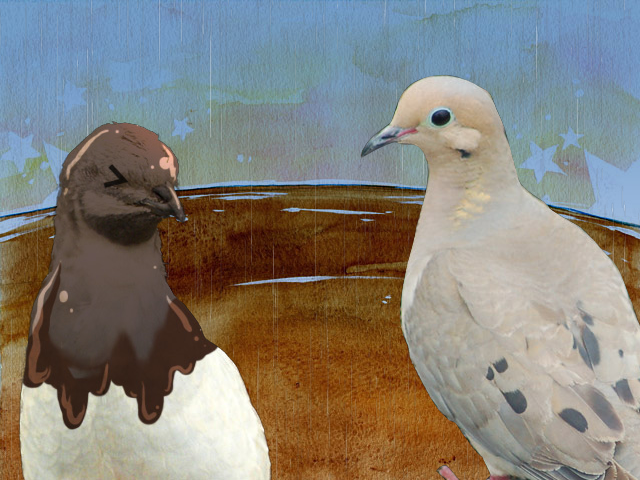 Aaah, I can breathe again at last.
Thank you.
Wow, he's covered in caramel!
He's like a walking ant trap!

Umm… we've been bumping into people who were at the observation so far, so…

You're Mister Nanaki… right?

No, that's not right.
I'm Nemo.

Nemo?

So your name is… Nemo?

Yes. Yes, that's right.
I'm Nemo, and I've lost something.

I've lost something, and I can't find it…
So I think I might cry.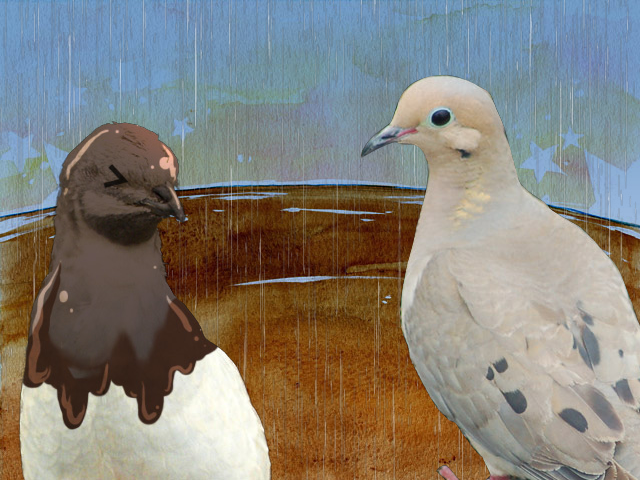 …

Hey, Nageki… don't you think that the rain's getting a little heavier?

Definitely.
And more clouds are gathering.

Aaah… where should I look…?
I think I dropped it in this swamp…

I look, and I look, and I don't find it.
And now I feel sad.
The music fades.

The sky sheds tears for you, Mister Nemo.

How poetic!

Well, think about where we are.
There's no need to think realistically.
So to get rid of the clouds maybe we need to solve Nemo's problem?

What are you looking for, Mister Nemo?
We'll help you find it!

You will? Really?
That's so nice of you…

I've lost my name.

Y-your name…?!

Hence "Nemo".
"Nemo", while a cute name, actually means "nobody", in latin. 
How do you lose your own name…?

I just told you, Miss Tosaka.
Logical thought will get us nowhere.

What does your name look like?

Ummm… I wonder what it does look like?
I'll ask the questions here, bub!

I don't know. I can't see anything.

Because your eyes are full of caramel?

No, no, that's not it.
Because I don't have eyes.

I ate them, you see.
WHAT!!!!!!!!!!!!!!!!

If a bird eats its own beak it will die, but if it eats its eyes it will be fine.

N-Nageki…!
Every time Sukekiyo here opens his mouth he does terrible, terrible things to our fairy-tale atmosphere! Everything he says is way too surreal!

Not really.
The macabre is a long-standing tradition in fairy tales, after all.

Anyway, I think I heard my name falling into the mud here…

Hmm… but we can't see anything through this caramel sauce…
Do I just so happen to be carrying any convenient tools perfectly suited for the job?
Umm…

Nageki, I have a pond-fishing set with me!

…you keep one of those on your person?

Doesn't your tummy ever get the rumblies that only raw pond smelt can cure?

No.
No one ever understands me… waaaah!

Anyway, maybe we can catch Mister Nemo's name with this!
---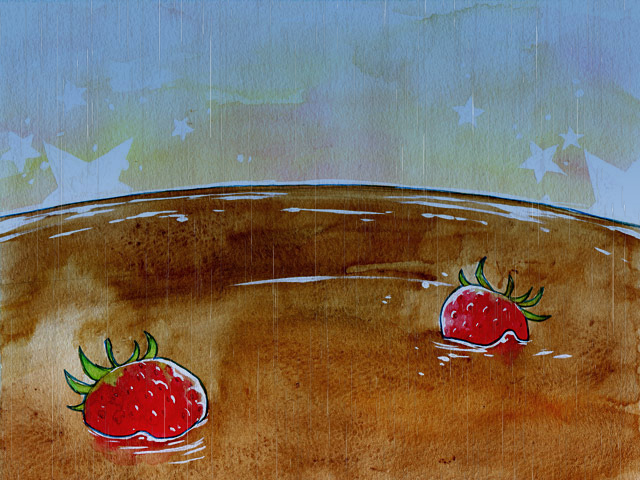 …
…
…

I've got something!
I've got something!

That's impressive, Miss Tosaka.
What is it?

Hang on, I'll have it up in a second… ha!

Look! An Early Alice!

A strawberry in the pudding…?

Mister Nemo!
Your name is Early Alice!

Err… I don't think it is…
I'm pretty sure that's not it.

Oh, well.
I guess there's nothing for it.
Catch, release, and try again!
---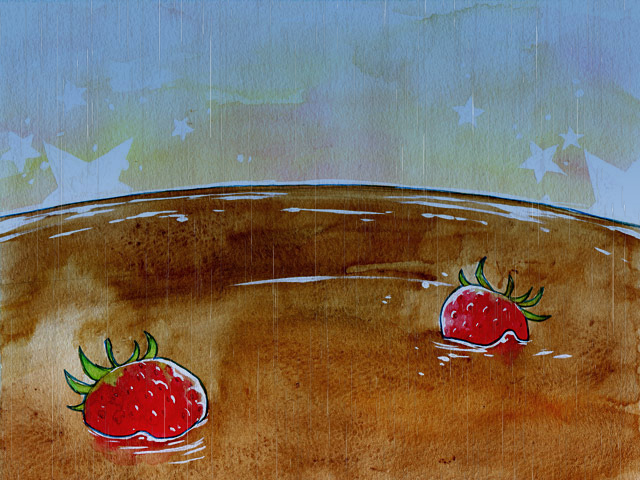 …
…
…

A bite!
This is a big one!

It's certainly pulling quite hard. Here, let me help you.

Please do!
Graaaggghhh!

We got it!

This is…

Everbearing Alexandria!

Mister Nemo, Mister Nemo!
Your name is Everbearing Alexandria!

U-um… no… I'm not a strawberry…
Beggars can't be choosers, Mister Nemo! Geez, how stubborn can you get?!
---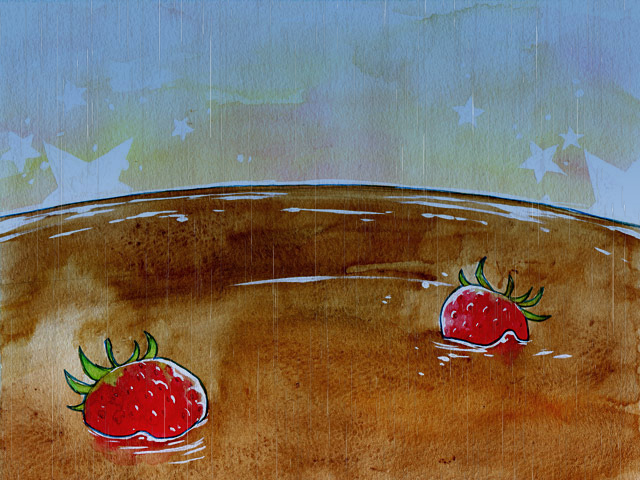 Nageki and I continue fishing for a while,  but we only ever catch strawberries.
Just what is Mister Nemo's name?

I guess we're not finding it…

Don't start feeling down, Mister Nemo!
You'll make the rain worse!

We might not find it, at this rate.
Maybe we should give you a new one?

A new name for Mister Nemo?
Would that solve the problem?

I hadn't thought of that…
I guess I'm empty from the eyelids back.
What? That's all we needed to do?!

A new name, a new name… how about Late Lucy? Early Rosie?

I told you, I'm not a strawberry…
Oh no! I got stuck in strawberry mode by accident!

Umm… hmm… I can't think of anything…
What about you, Nageki?

You're leaving something that important to me?

It was your idea, right?
You can probably come up with a better one than I could, anyway.

Hmmm…

What about… Hitori?
Arrrghhhh musical manipulation!

Hitori?
That's an odd name.

I can't remember well, but I think… a long time ago, when I was alive, someone very important to me was named Hitori.

Are you sure you want to give me a name that precious to you?

I don't mind. I can't remember, anyway…
You might as well have it.

Hitori, Hitori… Hitori.
Mmm.

I am Hitori.
Yes, that's right… thank you.

I can't see you, but I can tell that you are the two most wonderful birds I have ever met. I won't ever forget this.
I'm not a bird!

I wonder how I can thank you… do I have anything…?

Oh. Here, let me give you this.
Please take it.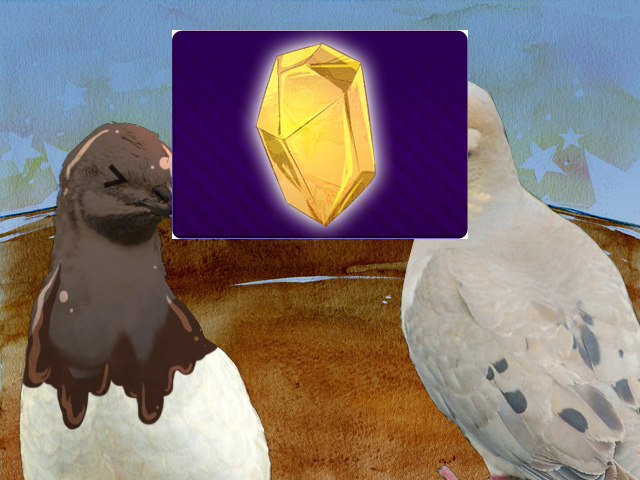 Aaah! Another pretty stone!

It's a topaz.

I feel very sunny and warm now.
I always have to take a nap in the forest when I feel like this…
The thoroughly carameled Hitori (nee Nemo) happily leaves the mountain.

The rain has stopped.
The King and the guardian deity won't have to worry about it now.

The King is probably shaking and crying in his castle right about now.
Let's go give him the good news!
---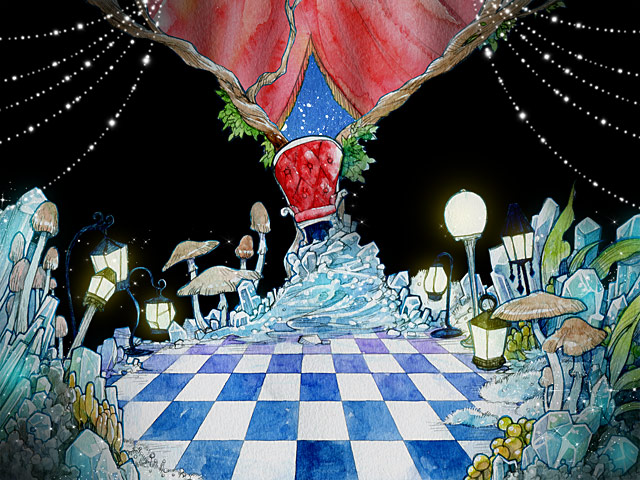 Your highness! Your highness!
We're back!

We're not exactly going into a friends' house, Miss Tosaka.
Shouldn't you be a little more decorous?

Should I?
I'm already thinking of The King as a friend, though…

You must have an awful lot of friends.

His Royal Highness, The King!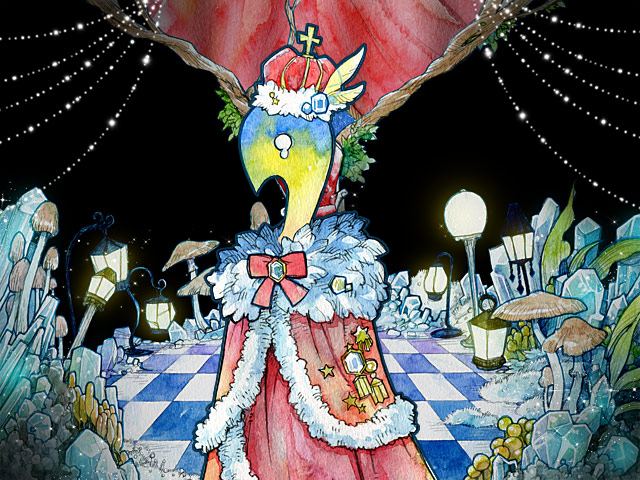 The King was very scared of the rain.
The King cried.
I knew it!

Don't worry, your majesty! The rain's all gone now, so it's okay!

Is it truly so?

Take a look outside, sir.

The King is relieved.
The King was afraid the fire would go out.
The fire?
That must be the light we saw earlier.
I got confused about this so I went to check. The light she's referring to is the one at the top of the tower over The King's castle at the beginning of Part 2. Maybe it was obvious for you but typing out LPs takes some time, so I totally forgot.

Thanks to you two, The King's land is now peaceful once more.
The King has no more troubles.

The King said, will you hear The King's final request?

Even though you're out of troubles?

The King… really wants that planisphere.

Mine?
No. I was told not to give it away, no matter what.

-sniff-

Puppy eyes won't help you, your majesty!
No means no!

The King was very sad.
Could you give The King just one star from the planisphere's face?

One of the stars…?
The stars are represented by gemstone shards.
We could probably pull one out…

What do you want to do, Nageki?

…even a single star is still part of the planisphere. What do you think, Miss Tosaka?

I suppose that's true… but The King has been giving us gems the entire time, so just one would be fine, right?

That's reasonable enough.

The King asked, will you give The King a star from the planisphere?

All right. I will.
Pick one.

The King said, The King would like this one here.

The King was very grateful.
Thank you, guests from away.

You're welcome.

I guess we're really done with The King's requests now, Nageki!

Yes.
The night is almost over, Miss Tosaka. Let's go outside.
---
The abyss of the night sky is a little brighter when we get outside.

The sky is so beautiful just before the dawn…
And I love the air at this time of day!

Do you always get up before dawn, Miss Tosaka?

A hunter has to be awake and ready before the first light touches the ground!

I see.
That must be tiring.

Dawn…
yes? Hello? I'm listening.
…

When morning comes… this dream, too, shall pass.

Nageki!
I'm really happy we got to have this adventure together, even if it was just for one night.
I'll always remember this dream!

Really?

Cross my heart and dare to die!

…I'm glad I got to walk with you, too.
Thank you.
In the real world, Nageki can never leave the school.
But one day… one day, I want to take him out like this again.
There's so much of the earth that I wish he could see.

It's the start of a new day, Nageki.
And I'll see you in the library soon!

Yes.

Nageki
…it's dawn.
Goodbye, Miss Tosaka.

…
…
Huh?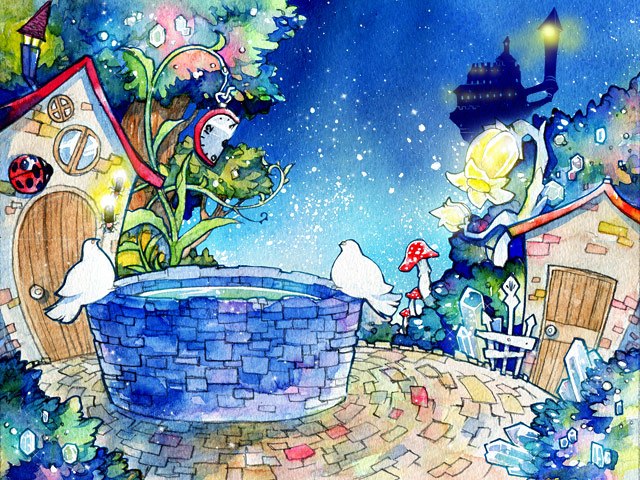 W-w-wait a minute!
Where's the sun?
What about our dramatic buildup?!

Hmm, that's odd.
Dawn is supposed to come after predawn, isn't it?

Whatever are you travelers talking about?

Everyone knows midnight comes after predawn.

And after that dusk, then midnight again, then predawn, then midnight.
Time swings back and forth like a pendulum, after all.

The sun will not rise.
This dream will never end.