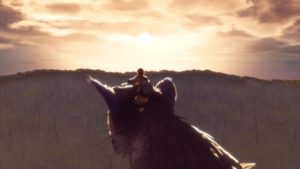 If it's not game of the year I guess I'll have to play some other games.
I don't want to talk too long about The Last Guardian. I do want to waste a little time on the storytelling, so I'll get the gripes out of the way:
I agree with some of the typical criticisms. The camera was annoying, but it was the beast from an old system that was tried and true for Team ICO. In the future I'm sure they'll try different ways of doing things. It doesn't make the game unplayable to me. Let's stop talking about it.
It appears that major criticisms of the game are polarized on Trico's animal behavior. Your companion is a creature that doesn't understand your language, although Trico is very intelligent otherwise. If you hate animals, especially cute ones that you're working together with to get out of danger, I'd take a pass on The Last Guardian.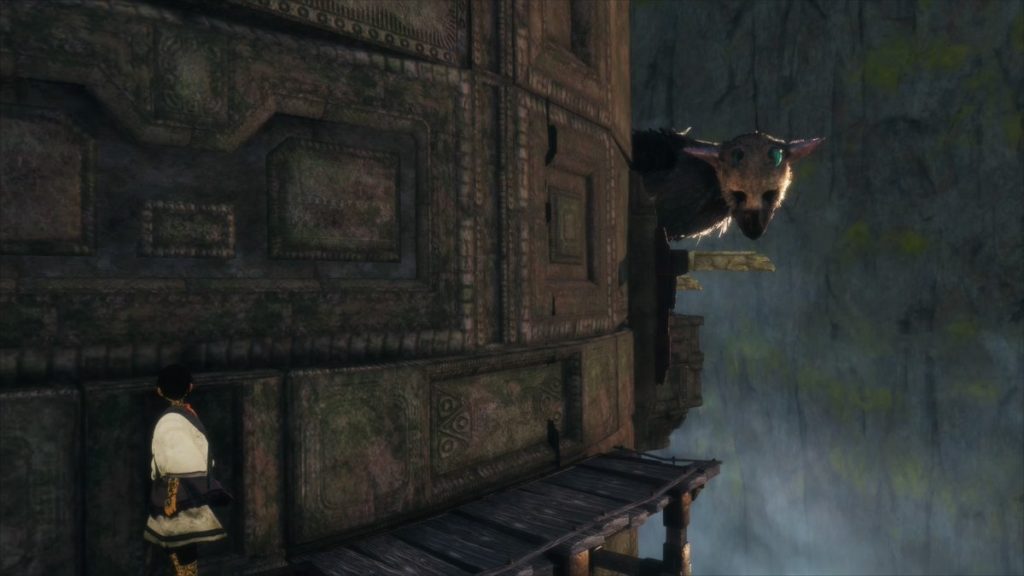 My major criticism is that there was too much old man narration. His puzzle tips were helpful, but I sometimes felt like he was spoon-feeding the story to the player. In fact, I bet that it was something they were forced to put in. Shadow of the Collossus had very, very little dialogue. Team ICO is good at telling a story without using words, but maybe gamers don't have the patience to put it together over several playthroughs. I wonder if The Last Guardian suffered for being a triple-A game.
Sitting at my desk now, thinking about my experience with The Last Guardian, I feel a little overwhelmed. Team Ico is to games what Studio Ghibli is to film. Animated feature films have an older and more complex stake in the greater art world, but The Last Guardian features many aspects that Miyazaki incorporates into his own works. The Last Guardian and other Team Ico games hang tenaciously onto a sense of wonder and exploration. I believe anyone could pick up a system and learn how to communicate with Trico, if given the tools. They're surrounded by a land that is wonderful, dangerous, and mysterious. What Ghibli has that Team Ico doesn't is lengthy dialogue.
When I was playing, a friend of mine, Rachel, was also playing. When I finished it, she asked me, excited, what I'd thought of the plot.
I couldn't think of what to say. It felt to me that the way The Last Guardian was built, proceeded, and came together at the finale.
The plot was clear, but the story was the play. It does, absolutely, tell a story, but The Last Guardian is even more interested in giving you stories to tell. Your adventures with Trico are yours, because you sat down and picked up your controller and engaged with it. The Last Guardian was about teamwork with an unlikely friend in order to flee to safety. The game doesn't need to explain that much to you with words (although it does).
If you're confused by anything in The Last Guardian, that's okay. Take a break. Put it away. Next time you have the time, play it again, and your depth of understanding will increase. You'll learn more, every time, and put the pieces together on your own. This is what the game wants from you, and it's okay.
In fact, I'd say it's great.