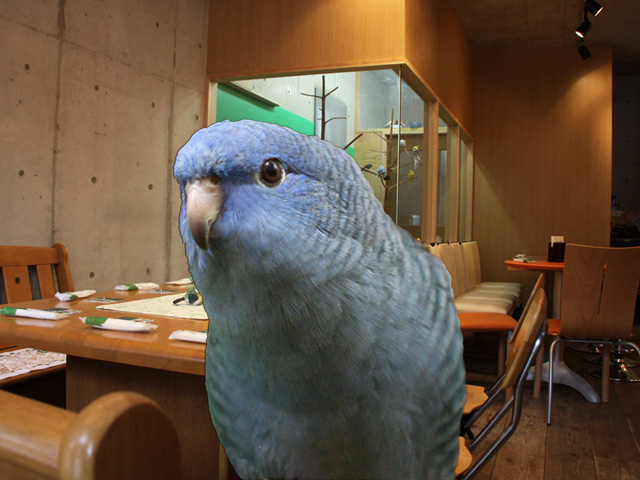 Thank you for your efforts.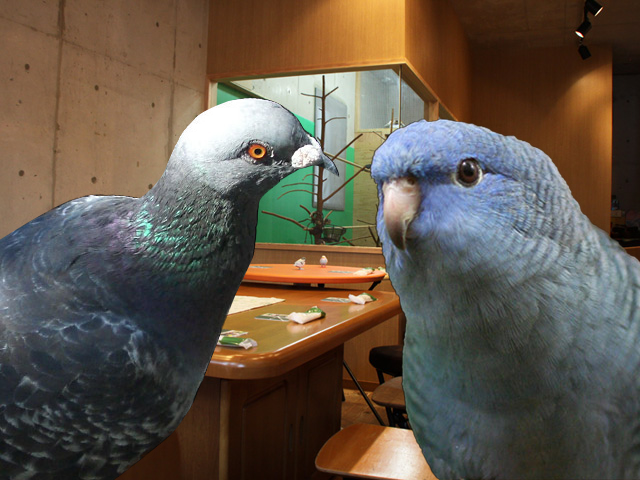 We searched around where we had the tree, but we couldn't find any clues… I'm sorry, Mister Urushihara.

You didn't see them either, Mister Urushihara?

Correct.
By the time Mister Kawara and I got outside, the tree was already gone.

That said…

Was there something else?

Please, look at this.
Mister Rabu sent it to me a few minutes ago.
Mister Urushihara proffers his cellphone.
A smartphone! Fancy!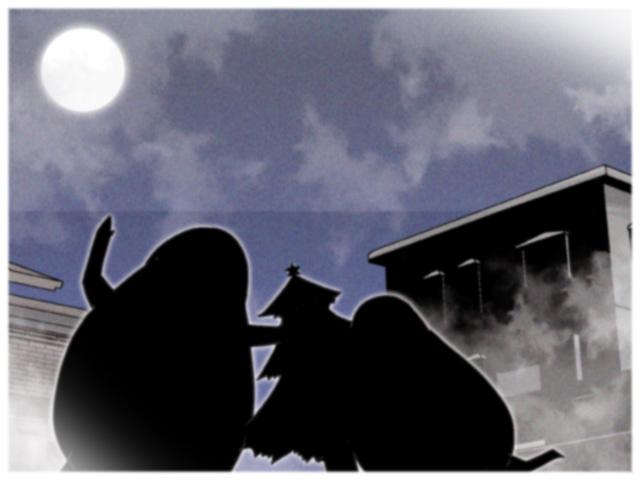 What a nostalgic tune.

Y-you mean, these shadows are…!

Mister Rabu said he took it just before he was rendered unconscious.

Suspicious shadows carrying away the tree…
they must be the culprits!
Those silhouettes look awfully familiar…
but maybe it's just my imagination.
Probably nothing! I wouldn't have gotten this far in the viscous food chain if I worried about little things like that.

There are two of them, then.

They're awfully small… though, it's a little hard to see in this picture.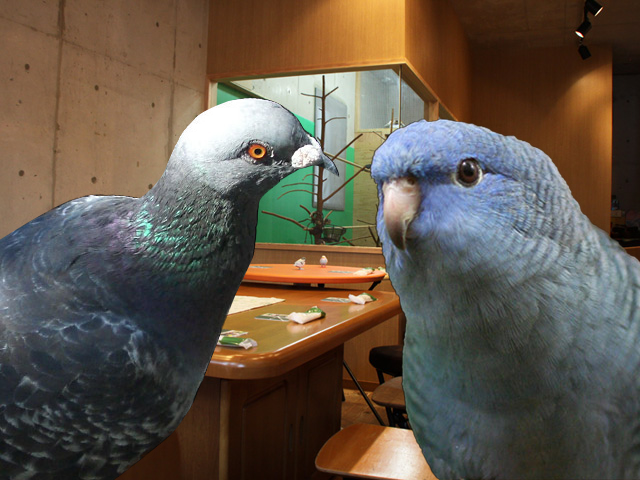 Mister Rabu has always been one for strange local phones, so it would seem that the resolution is not particularly high.
That does seem like him.

This will help us a lot, Mister Urushihara.
Thank Mister Rabu for us, too!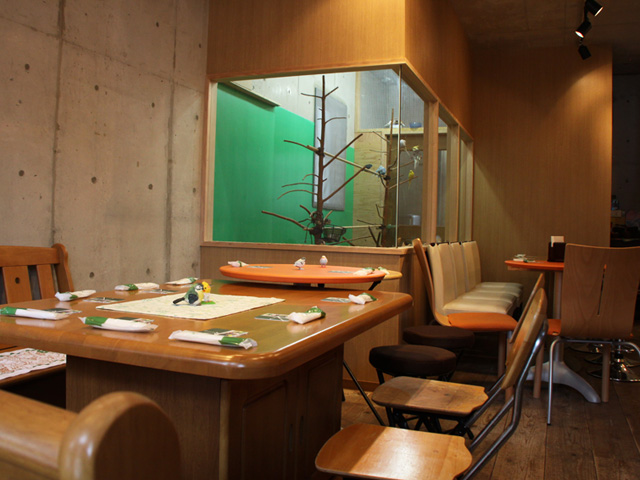 How is he doing right now?

Azami is taking care of him.
Rabu always seems a little bit incapable, or like he's in a subtly bad position…
Sort of like he's always stuck being a background character.
It's not much, but we've found a clue.
We'll pick up the trail tomorrow morning!
---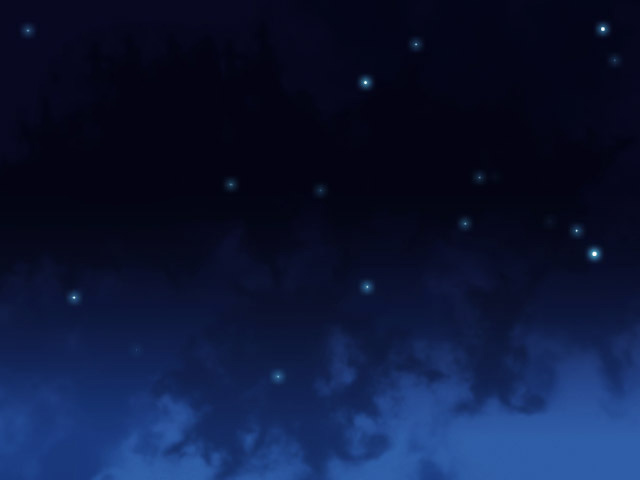 Later that evening, at Saint Pigeonation's….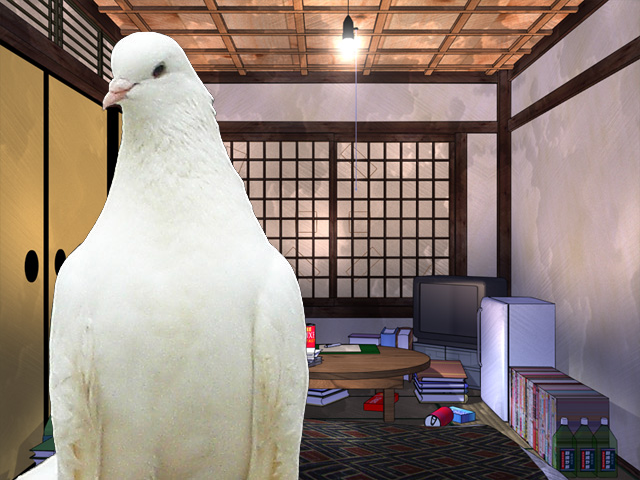 My favourite!!!!!

Salut, Mister One!
It is rather chilly tonight, isn't it?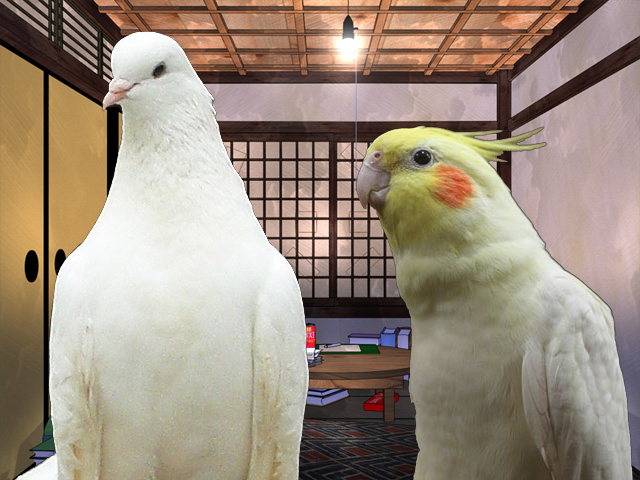 …you're still here, Sakazaki Yuuya?
Haven't you been instructed to leave with the other students, excepting emergencies?

There is a little something going on, actually.

Aside from the usual?
And what would that be?

There've been orders to investigate the Christmas Thieves. High priority.

That's the string of thefts involving Christmas trees, isn't it?

It's not as if they're growing legs and walking away, after all. And it's a little hard to imagine them spontaneously disappearing.

And what is a night of sexy and luxurious discussion of sweet holiday love without a sparkling tree?

I'm quite happy to take up the job to defend everything the ladies and gentlemen have worked so hard to prepare for this special season.

You certainly seem eager enough.
It's good to have a little zeal, but don't go letting your guard down just because the case in question is completely idiotic.

We never know who may have laid traps for us where.

Roger that.
I'll carve it into my pigeon heart, Mister One.

I'll go take a look at a few things, then. There is a tree here on campus, after all.

First I've heard of it.
Where's it set up?

In the student council room.
You can see it from the grounds.

Sakuya must want to show off with his big, fine, all-natural tree. He doesn't let anybirdie touch it, but you can always see it in his window.

It's really quite childish.

Nothing wrong with a little vanity while he's still young.
To a point, at least.

Anyway, I'll go take a look at the council room and then head into town.
I'll send my report to HQ later.
Adieu!
The music stops.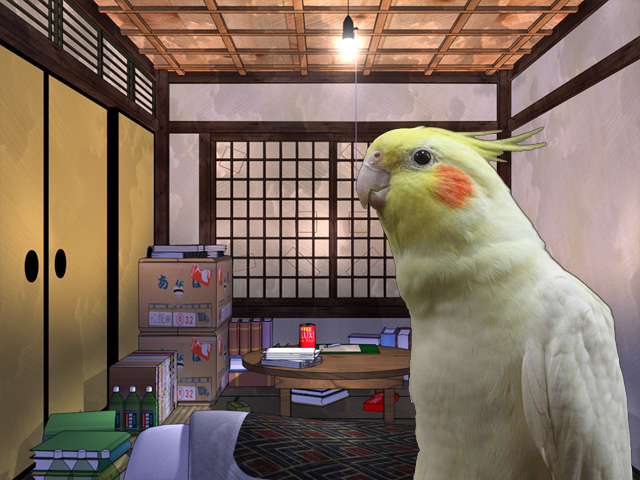 The Christmas Thieves…?

Stealing the town's festivity is hardly an admirable pursuit.
I suppose I'll see if I can rustle up any gadgets to give Sakazaki a hand…
---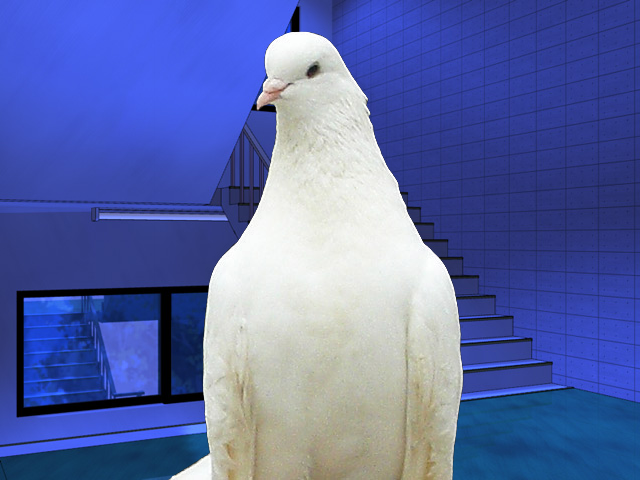 Hmm…
The council room has certainly gotten some fancy reservations since Sakuya arrived.

But this is him I'm dealing with.
It'll look like sneaking in is going to be hard, but knowing him he'll have overlooked something obvious.
The screen shakes.

?!

What… was that?!
The screen goes black.

Bah, this could be bad.
I smell explosives…

Wh-what–
---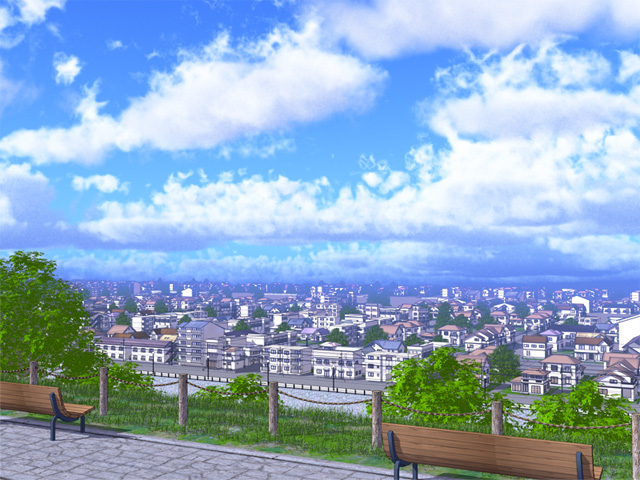 It's cold! Really cold!
The morning air this time of year is dangerous indeed.
It makes my nose hurt.
The birds are all in full winter plumage… I wonder if it's like wearing a down comforter everywhere.
I wish I had winter plumage.
Sadly my skin is as bare and tender as my heart, so I might as well hurry and get to school.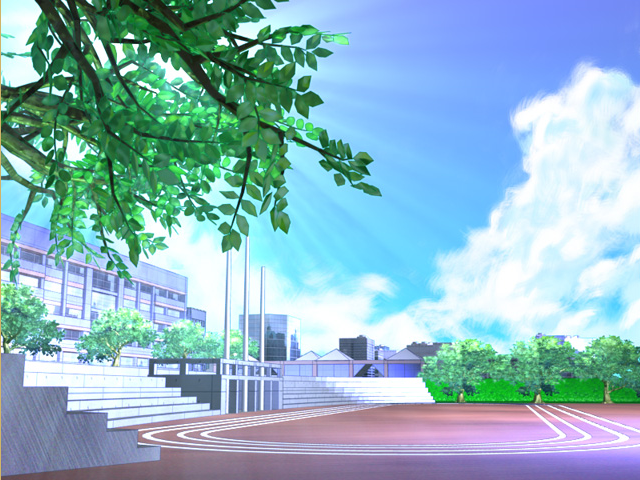 …huh?
There's an awful lot of activity on the grounds today.
A crowd of birds is milling around the side of the building.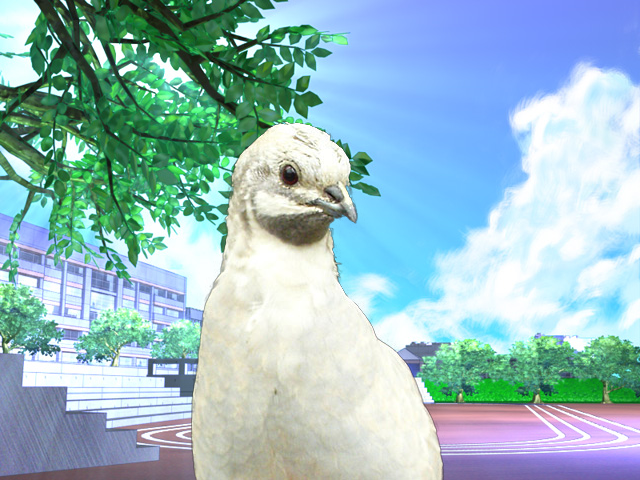 Stay calm, everyone.
It may be dangerous, so don't get too close.
Let's make sure nobirdie gets hurt, all right?

Mister Nanaki!
What's happened? It must be bad, if you're up and about and wide awake at this time of day!

Oh, good morning, Tosaka.

Well, hmm… it looks like the thieves… broke in, I suppose…

The thieves…?
Could he mean…

That's right, the Christmas Thieves… apparently they broke in last night.

It seems they took the tree from the student council room.
Nice work, Sakuya! Nice flag retrieval!

But Sakuya looked so self-satisfied when he was talking about his perfect security! What happened?

Mmm… well, look up.
Up?
As in, up at the council room?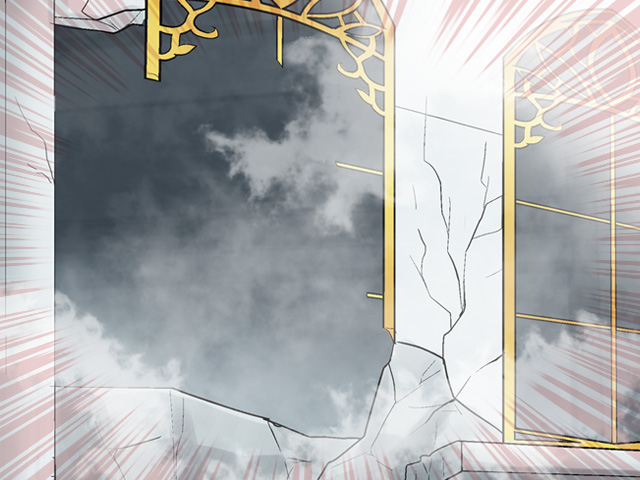 With this image we get the "game over" jingle from the first game, which I evidently don't have saved anywhere.
The council room's window… or rather, its wall is blasted open.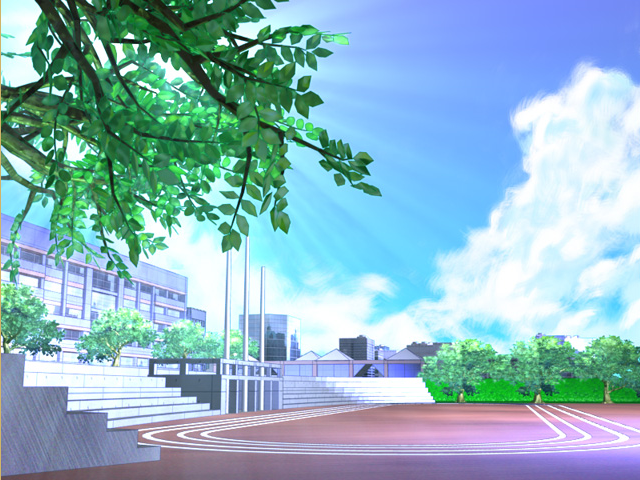 Wow! They're not just thieves now! I bet they had to break at least five more laws to pull that off!

They certainly do seem to want Christmas trees… they would have been better off just asking him, though.
Huh?
The tree was placed near that window, right?
If they broke in like this…
…

Ah!
I let my gaze drop as I was lost in thought, and I see something white on the ground.
It's extremely hard to tell with it mixed in with the broken glass and bits of plaster, but it looks like some sort of fur.
It's… not a feather.
It looks like something that came off of a stuffed animal, or maybe some sort of mammal.
But I'm the only mammal in the school… This could be a valuable clue!
Standing here won't help me find anything out, though.
I need to get Sakuya to tell me exactly what happened. I might as well check a few other things along the way.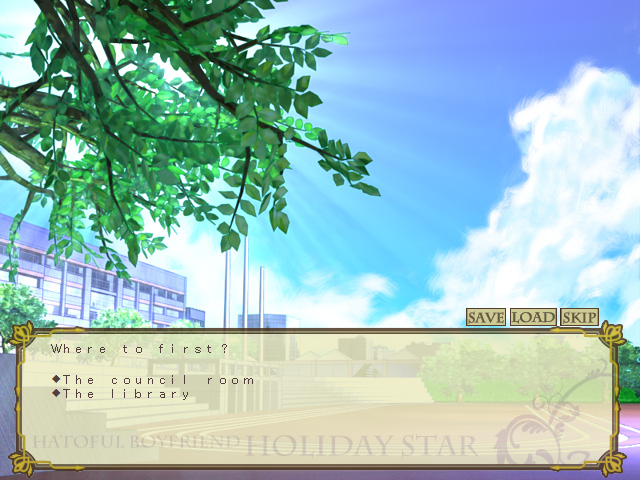 To the library!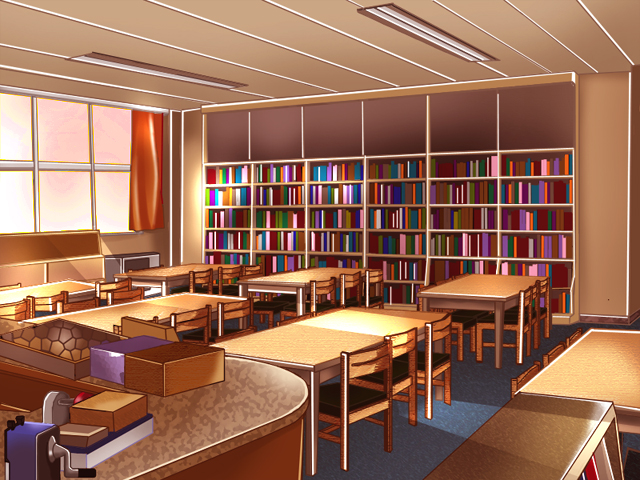 Aah, it's cold… The library is cold enough to kill someone, in the winter.

You're looking pale.

!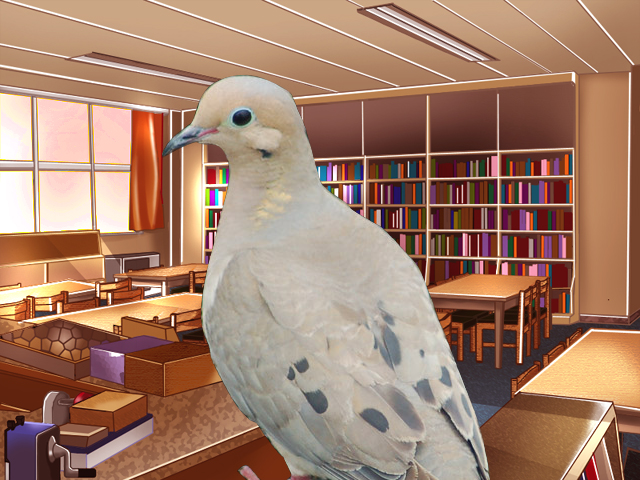 Oh good, you're here!

…did you expect otherwise?

I always come to see you around lunch and after school… I wasn't sure you'd be here this early!

I'm always here.
In the morning, and the evening.
And every time between.
Is there a problem?

Of course not!
I'm here to see you, after all.

Even though you're clearly uncomfortable in here?
You've been shivering since you came in.

Aah… it really is cold in here.
They don't turn the heating on until later, after all.
I think my ears are frozen.

Don't you want to do whatever you came here for quickly and go somewhere warm, then?

U-um! Yes!
Some thieves broke into the building last night.
I was wondering if you saw them?

Thieves…?

Yup! They came sometime between evening yesterday and morning today… I think?
Anyway, they broke into the student council room.

I haven't seen anything.
The council room is somewhat removed from here.

Okay…

…sorry
I guess I can't help.

No, don't worry about it!
Sorry for bothering you this early, Nageki.

…oh!
Here! You can have this!

…?

It's a disposable pocket warmer.
I was going to use it today, but I forgot all about it…

Even with your feathers, you shouldn't let yourself get too cold! Use it if you feel chilly.

…all right.

Bye!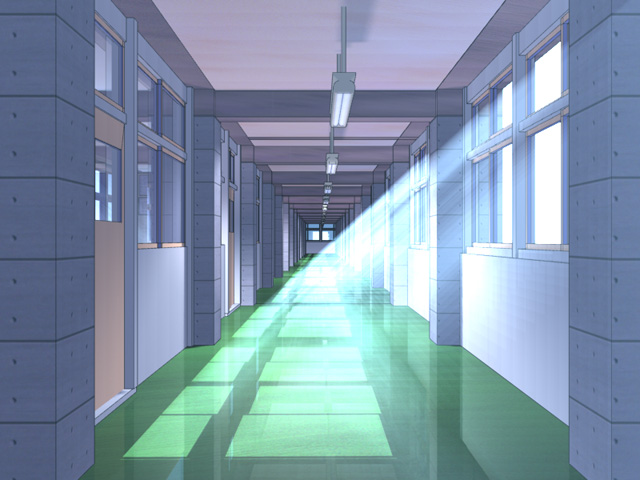 Cold is still cold, even with winter plumage, after all!
…wait…
Nageki doesn't seem anywhere near as fluffy as the others. Am I imagining things?
Or maybe he's just the slender type.
---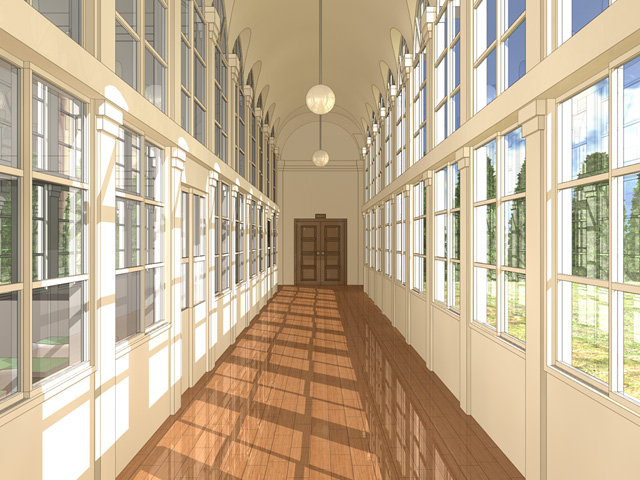 The council room is wrapped in an usually serious atmosphere.
As if a robbery wasn't enough, there was even a bombing… out of those two, the latter is certainly more worrying.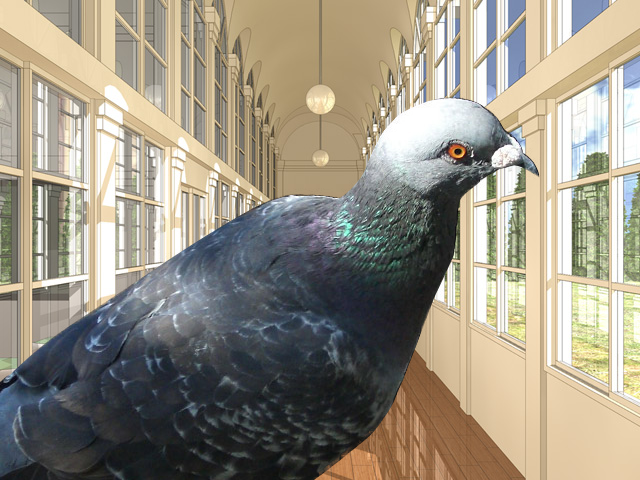 Hiyoko!

Oh, Ryouta! Good morning!

As you can see, Sakuya has magnificently recovered the flag he raised the other day.
As expected of an aristocrat!
I'm amused by the way this is all phrased. I've heard the term "flag" used before about narratives that say big damning things like "it'll never happen!" or "let me get into my backstory!", but to say that it's retrieved after being posted by you is pretty funny. Wouldn't someone else steal your flag, when your words are what posted it? I wonder if this is the literal concept translation.

Aah… yeah, that was definitely a first-class flag retrieval.
He's certainly got me looking at the thefts more seriously

Now, then! Onto the crime scene!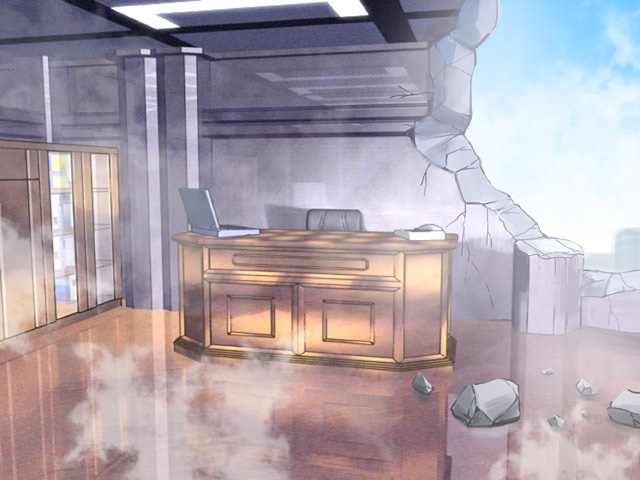 Woooooow…
Sakuya's flawless security has been completely destroyed.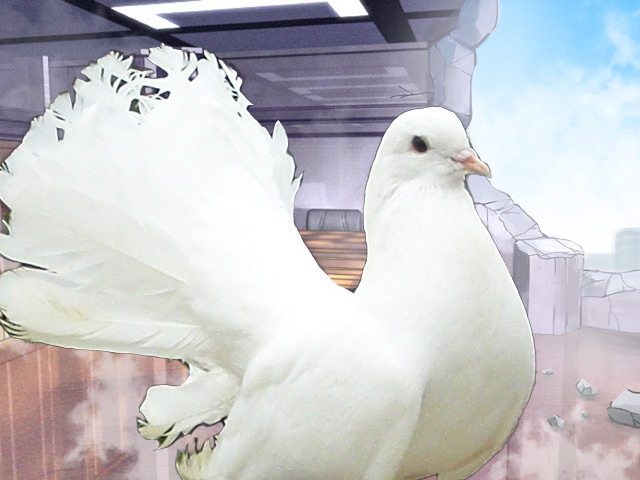 What is this lunacy?!
Do you mean to tell me that bombing school buildings is a common practice in this barbaric land?!

Umm… no, I don't think it is.

I've never seen anything like this before.

This is beyond the pale!
Who conceived this wretched plot?! Who!?

Wasn't your security perfect, Sakuya?
I thought you said it was on a completely new level compared to our primitive concepts.

Arrrrgh… it was perfect!
Around the door, at least!

What kind of rascal blows their way through the wall?!
If they're going to break in, why not act with some semblance of decency and come in through the door?!
Blowing up the window isn't exactly a common way of forcing entry, but isn't it a little bit of a problem if there's only security on the front door?

Did you see the criminals at all, Sakuya?

No.
I, too, only learned about this upon arriving this morning.
But…

Look! Look at that.
He gestures at the corner by the window.
There's a pile of blackened stuff on the floor… what is that?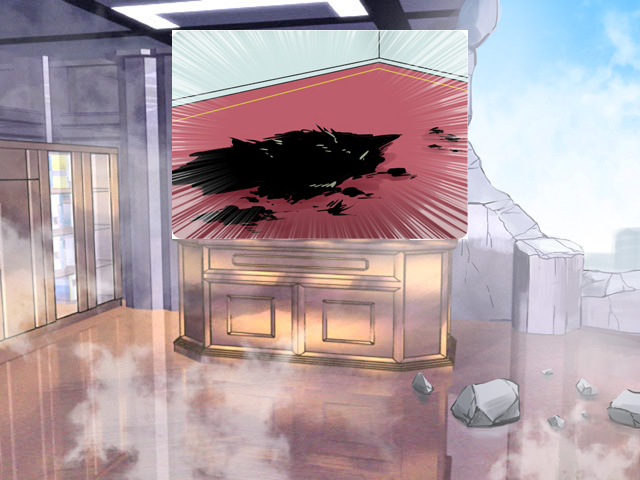 A crow?

…w-wait… is that…

The Christmas tree?
Or what's left of it…
Looks like it got blown up along with the window!
I was wondering if something had happened to the tree.
It was right next to the window and wall that got blown up, after all.

Nothing left but ashes…

They've left a criminal ultimatum next to it.

An ultimatum?!
They haven't done that before, have they?
Let's take a look.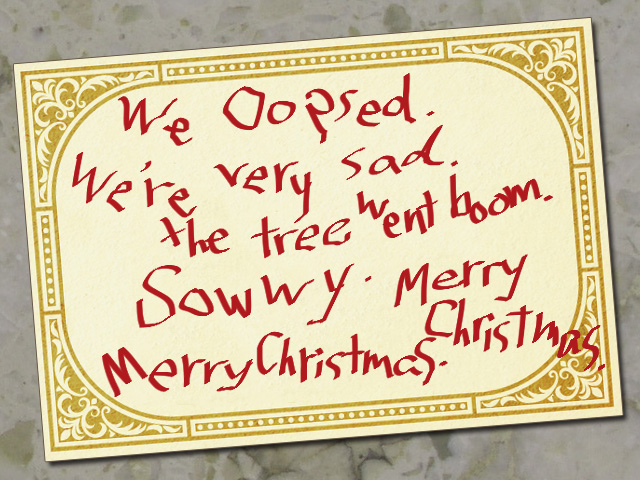 HAHAHAHHAA

Umm…

We oopsed.
We're very sad the tree went boom.
Sowwy

It's a little lonely but we're taking mister sparkly star.
Merry Christmas.
Merry Christmas.

That's… the ultimatum…?

It reads more like a kids' note apologizing for breaking Auntie Mildred's antique vase…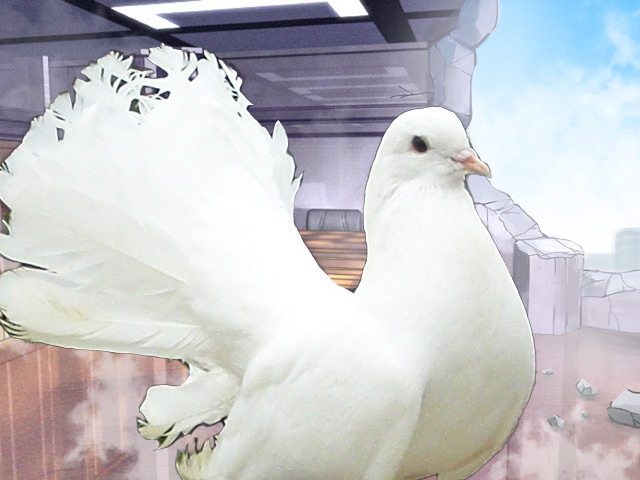 Those scoundrels!
To take the tree topper, the most valuable part, and run…!

Tree topper??

The star that sits at the very top of the tree.

Oooh!
So that's what it's called!
I'm curious about what it is in Japanese. Apparently not "thing that you put on the top of a tree". Unless it's like, torii tappaa

They destroyed the tree, and stole the topper…
This is a dreadful affront to my illustrious name.
I swear I shall seek them, find them, and impose on them strict judgments!

That would be vigilantism, Sakuya! Japan is a constitutional nation! You can't do that!
But it's not as if I don't see where he's coming from.
If I spent that much time and effort decorating something just to have someone blow up the room it's standing in, I'd be pretty angry, too.
Mister Urushihara's tree stolen, Sakuya's tree reduced to cinders and the topper stolen…
We have to make sure these tragedies don't repeat!

…but we can't really find the culprits just from this apology, or Christmas Card, or ultimatum, or… whatever it is.

Let's ask Mister One if he saw anything. He's on night shift, so he should have been here.

Oooh, good plan!

Lead us there, Tosaka.
Stop treating me like your underling, you satin-pantsed prairie chicken!

You two go ahead. I'll stay here and see if I can find any more clues.

See you in a little while, Ryouta!
---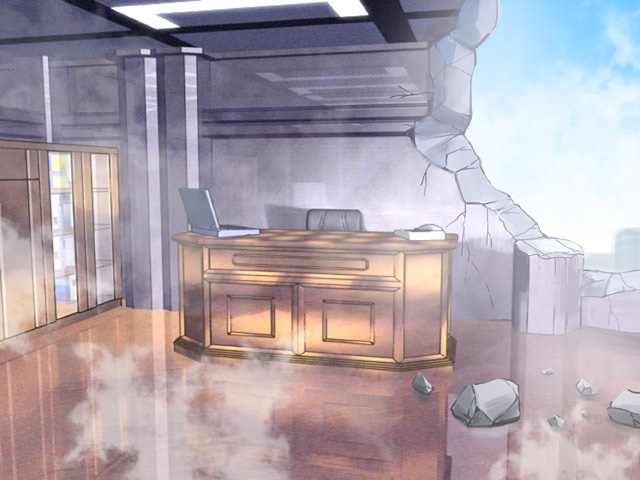 It's awfully cold in here…
I guess with a hole that large in the wall, I might as well be outside.
There's the sound of a door closing.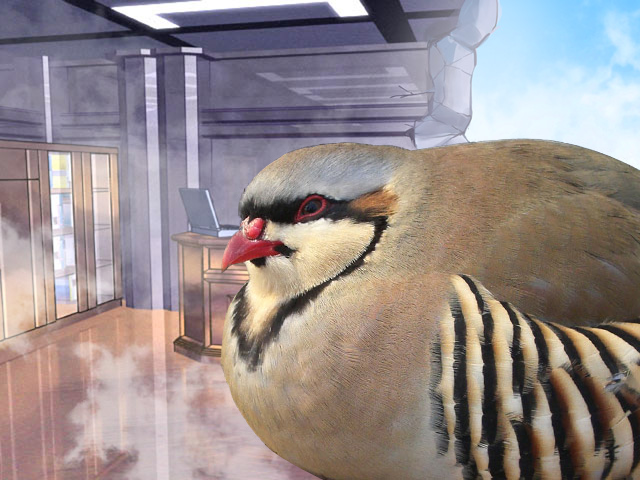 Doctor Iwamine…?
I hadn't expected to see you here.

I came to see the corpse.

Wh-what corpse?!
Where'd you hear there was a corpse?!

Oh, no corpse?
And here I had my hopes up…

Please don't say that with such a genuinely dejected look on your face.

Well, no matter.
It still is quite the fascinating crime scene. I suppose I shall look around.

Please, don't mind me.
I have no intention of interfering with you. I see no reason to tamper with the evidence… just yet.

Hohoho…

Alone with the Doctor in a half-collapsed room… I hope I make it out of here alive.

---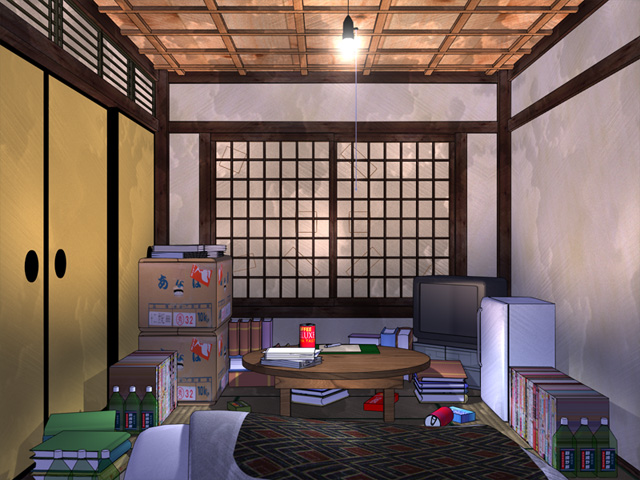 Excuse us…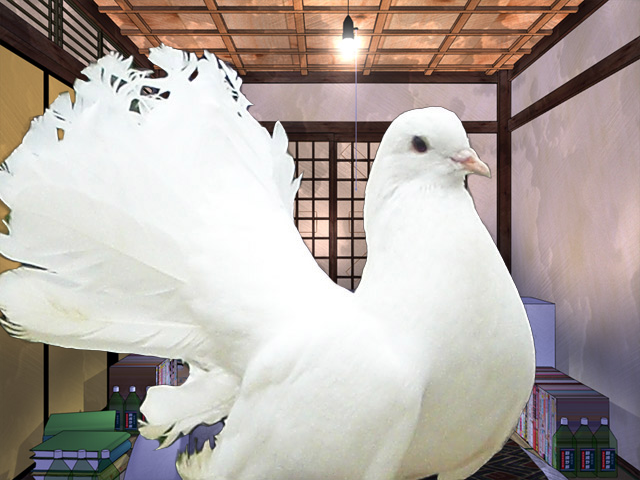 What is this depressing room?

It's the maintenance office.
Mister One's night quarters are here, too.
I think it's comfy! It feels very lived-in.

Comfy?
Hmph!

Let us do whatever we are here for and leave, before the poverty and reprehensibility rub off.

Mister One!
Are you in here?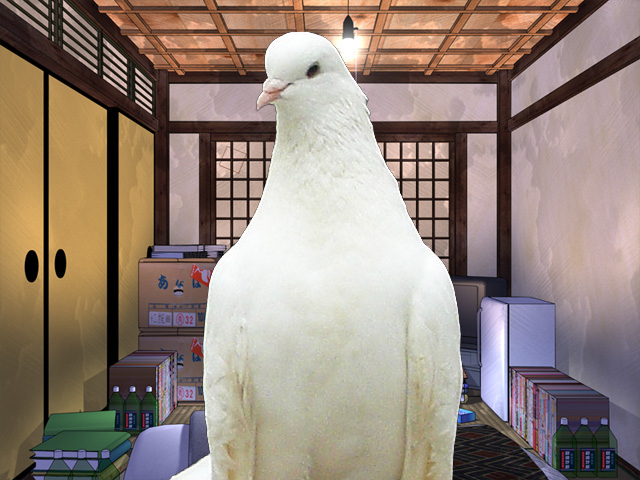 Salut, mon amie.
Did you come to visit me?

Yuuya?!
He's sitting at a low tea-table.
Oh no… the irresponsible and slightly worn-out Yuuya might be just a little bit too attractive…
Me, too, Hiyoko…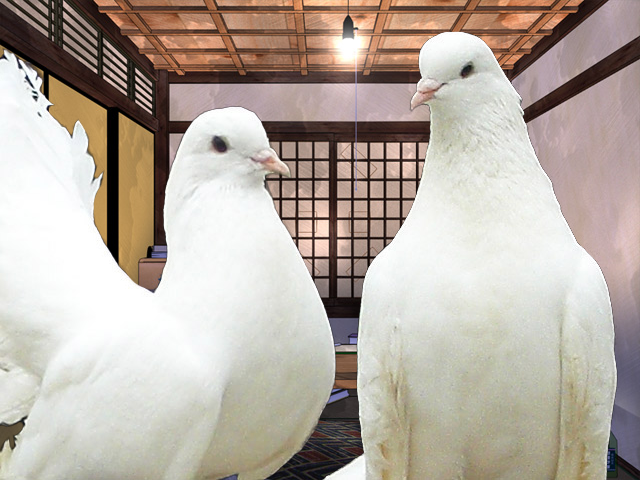 I knew it! A place as disgusting as this is bound to draw disgusting company.

And a very fine morning to you too, Sakuya.

We came to talk to Mister One…
What brought you here, Yuuya?

I'm holding down the fort while One is out.

Out?
Immediately after a break-in?

Suspicious indeed!
I suggest we apprehend him at the first opportunity.

You misunderstand.
He's taking care of a few things so our investigation of the theft can go more smoothly.

After all, he and I both saw…
Yuuya and One…?

You saw the crime in progress?!

Wh… what…?!

We did indeed.
It's not easy, being a hero of justice… trouble seems to come to you.

Why did you not notify me immediately?!
Filthy mongrel!

Notify you how?
I've been asking for your phone number for months, and you always blow me off.

Gah…!

Did you see the culprits, Yuuya?

Yes… fearsome foes, indeed.
Stick your beaks too far into this and you could lose them.
Don't say I haven't warned you.

Hmph! How like you, mongrel, to cower in this filthy hovel out of fear. I, for my part, shall find these wrongdoers and have my revenge!

I, too, swear to retrieve the stolen trees, on my honor as a hunter-gatherer!

How brave of you.
Let me reward your courage with a little evidence.
Yuuya picks up one of a number of photographs lined up on the table, and holds it out to us.

They were already on their way out when I arrived at the scene, and alas, I was unable to keep their trail.

But I am a professional, and I couldn't just let them get away.
I made sure to capture them on film.

These… are the culprits.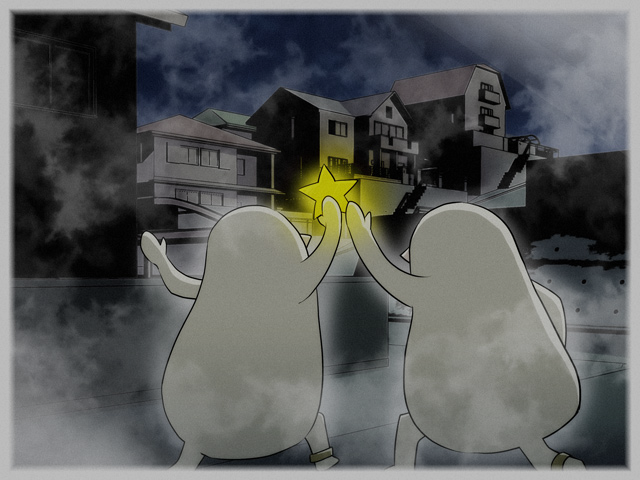 …

…

Wh-what are these… white things?!

…OH!!!

See? They shock even a bold lady of hunter-gatherer origin.

That's not it, Yuuya!
I know these creatures!

Oh? Are they friends of yours?

Who are they, and where do they live?!
Tell me this instant!

I don't know who they are, exactly…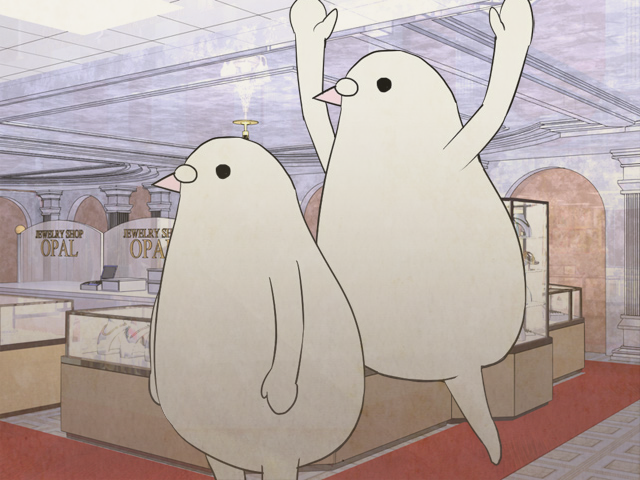 Merry Christmas!!
Merry Christmas!!!!

You two… where are your parents?

Merry! Christmas!

In any case, I'll have to take you to the employees' lounge.
High Society does have rules.

Merry…? Christmas…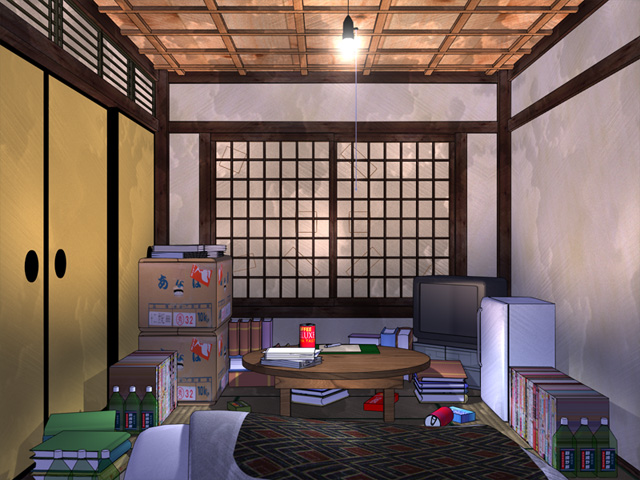 Those are the two things that got scolded by the security guard in the High Society Seagull Department Store… aren't they?

They were caught breaking things in the Christmas section of a department store yesterday and got taken away by security.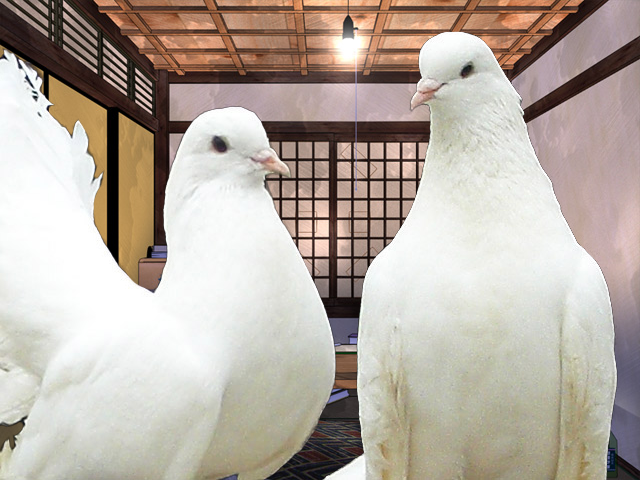 What in…

Looks like they'll go after anything with "Christmas" on it, hahah. Though I can sympathize with their enthusiasm for the holy night.

We'd thought they were only going after easy targets, but it looks like once they get a sight of something they won't rest until it's theirs or destroyed!

The entire city is filled with Christmas decorations. We have no way of knowing where they will strike next, and thus no way of ambushing them…

Not necessarily.
We could lure them easily with an extravagant tree in an obvious place, don't you think?

They've got guts, but they don't seem particularly intelligent.
I agree with Yuuya, I think we should try to bait them.

Then it's settled. And the best bait would be the finest tree in the city… right, Sakuya?

…

The finest tree in town… Do you know of a good one, Sakuya?

Are you suggesting we use the Le Bel family's Christmas tree as a lure, mongrel?
Of course!
Given how much work he put into the council room tree, he almost certainly has a gorgeous and decadent tree at home!

It seems like the best choice.
And you aren't about to just let them get away with having burned your other tree, are you?

Of course not.

Where is your tree set up, Sakuya?

In the main salon.
It is not visible from outside.

It would take a great deal of time and labor to move it outside and redecorate it.
I do not think that is a realistic option.

Hmm… we'll have to rely on newspaper ads and word of mouth, then.

"The Le Bel family, moved here to Littledove Hachiman City from France, is displaying its gorgeous Christmas tree to the public!" or something.

Who said anything about opening the mansion to the public?!

Why not take the opportunity to show off a little?
It's your first Christmas here, after all. And it should help spread the Le Bel family's reputation.

Hrrm…

Come on, Sakuya.
Open it up to the whole city!
Let everybirdie know you have an extravagantly decorated tree at home.

The thieves should hear the rumours, and they'll come to see.
And then we can catch them.

…

Very well. I shall assist you.

Cool.
I'll get everything ready for an announcement in the evening papers.

Something like "The Le Bel family's Christmas Tree is open for public viewing tonight! All Christmas enthusiasts welcome!" will be fine, right?

That sounds good… but what kind of super high school student are you, to have that much clout with the local newspaper companies?

Any male dove would become super for a lady as lovely as yourself, mon amie.
I shall be off, then. Adieu!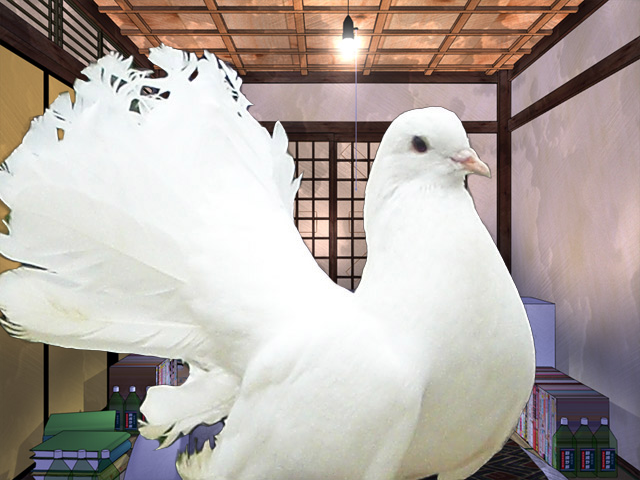 …loose-tongued cur!

Yuuya's laying the bait for us, so… should we work on a plan to capture the thieves at your house, Sakuya?

A reasonable suggestion.
We shall plan our strategy after school, then.
---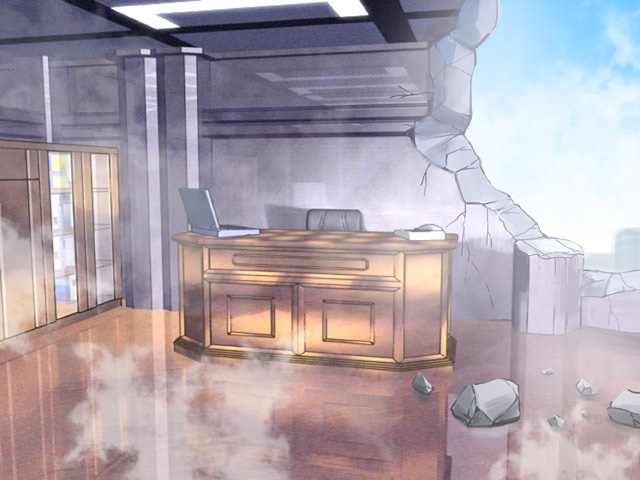 It's still midday, but the wind is cold.
At least today was a half-day. It would be freezing in here if it were already evening!

Why are we having the meeting in here, Sakuya…?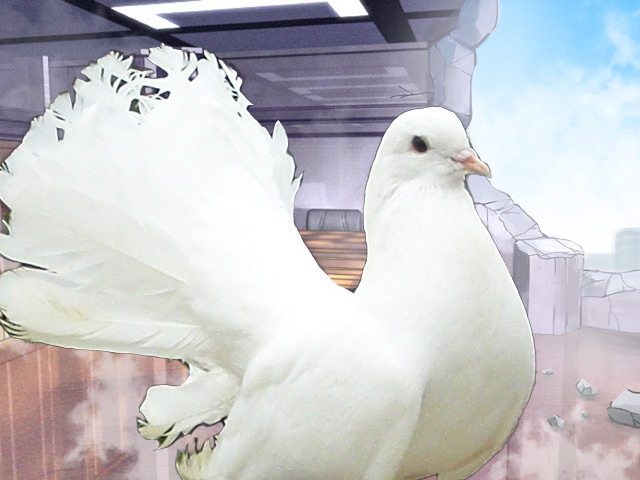 Is it not obvious?
Because this is my domain.

Your domain, though despoiled?

Scum!
Do you mock me?!
There is no 'despoiled' in the dictionary of Le Bels!
This is cute. It's like a line from Sakuya's tanabata wish, which is a quote by Napoleon. THERE IS NO IMPOSSIBLE IN THE DICTIONARY OF THE FRENCH. There is no despoiled in the dictionary of Le Bels.

Whatever! Let's just make our plan already.
Sakuya is unexpectedly good at getting off-topic.

They used explosives here. How do you think they'll attack the mansion?

They might pretend to be normal guests, and sneak in the front entrance.

They might, yes… but their goal is the tree, so even if they get inside–

They will not be able to move the tree. Yuuya's photograph showed them to be quite small, so there is no way the two of them could carry it out.

How could they get it outside, then?

I think they would need some sort of heavy machinery.

So you think they'll… show up in a truck or something?

Any suspicious vehicle approaching the mansion will be neutralized immediately.

So we need to have guards watching in all directions for any sort of truck or crane.

The mansion opens at seven.
Should we be there this evening, too?

Yes.
That should help things go the most smoothly.

I'll see you two there, then.
We need to catch these thieves before Christmas itself arrives!
---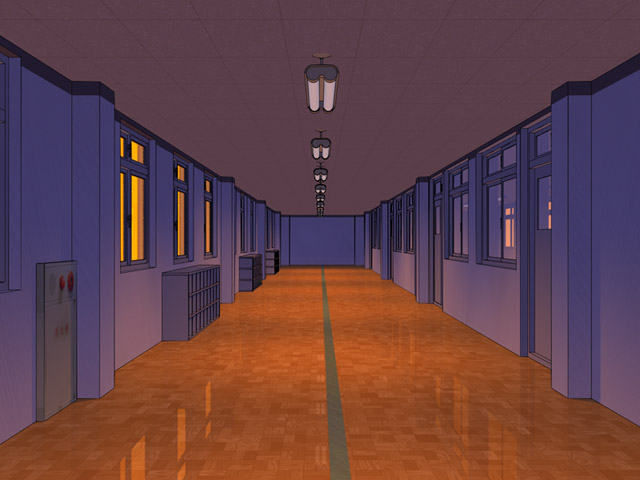 I still have some time before I need to go to Sakuya's house.
Not quite enough to go home myself… what should I do?
Maybe I should pick up some sort of weapon in town.
Didn't Anghel say something about one of the old shops in town starting to stock Excalibur?
Maybe I should go there.
This is Anghel we're talking about. Excalibur is probably a pentel brush pen.

…hmm?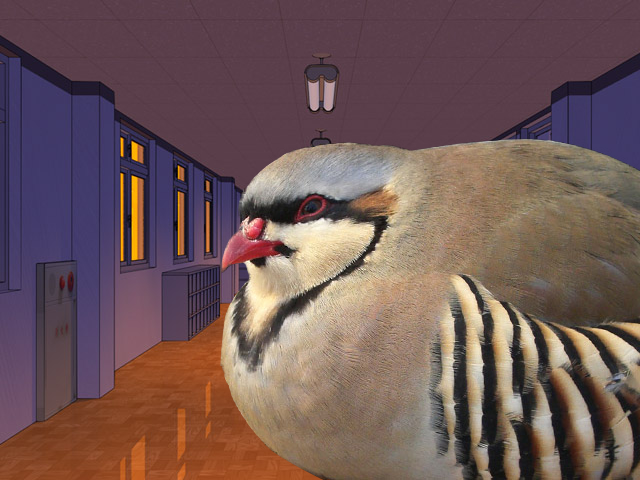 A familiar figure emerges from the chemistry lab.

Doctor?

…ah, if it isn't miss Tosaka. You are done with classes for the day, yes?
What business have you here?

I was just heading home… what about you, sir?
He appears to be trying to hide the large rack of test tubes he is carrying.

I was doing some… tests.
To confirm some… things.

…to think that I would only get access to these samples now.
It is simply unreasonable.
He looks genuinely displeased.
Has he ever been this openly emotional before?
Maybe the tests went badly?

Well, I'm not sure what's going on, but… cheer up, sir! I'm sure something good will come of it!

Something good?
That is the last thing I want.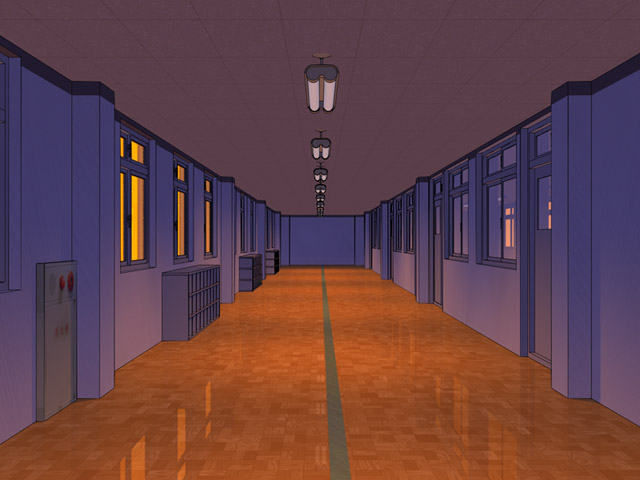 And with that blunt remark, he heads off towards the infirmary.
I wish I could share some of my cheerfulness with him.
I have so much I could brush my teeth with it!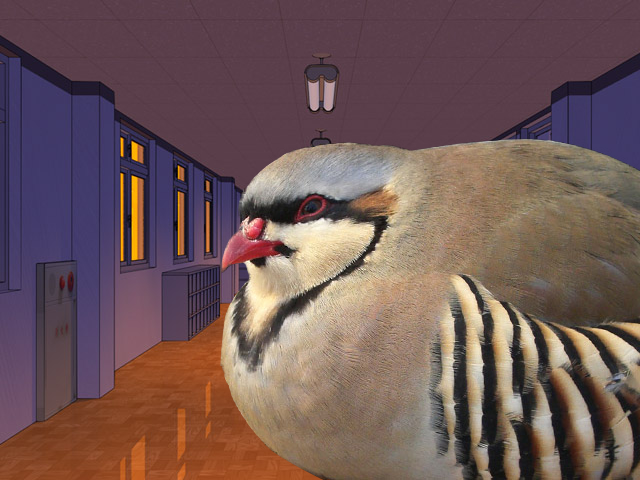 …tell me, Miss Tosaka.

Y-yes sir?!
He stops, and turns around.

Do you have any food allergies?

Umm… allergies…?
Like to peanuts, or fish?

To soybeans… for instance.

No, I don't… I don't think I do, at least.

Is that so?
He walks away, a self-satisfied expression on his face.
You need to explain why you're asking, sir!
If you just walk away looking pleased like that, you'll get reported!
Shuu should be reported more often.