Meanwhile, Nageki and I are–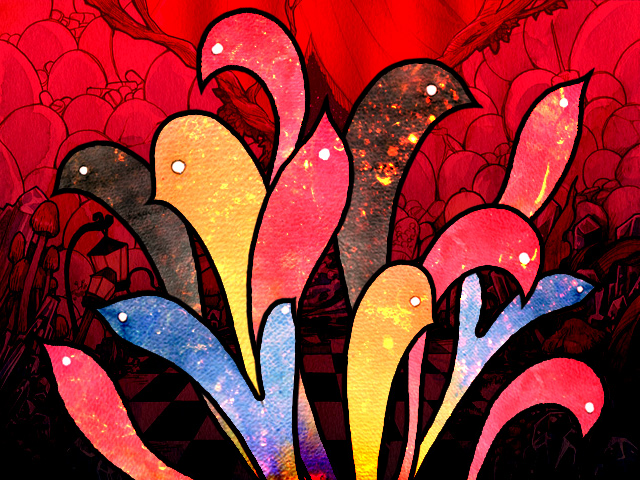 …fighting for our lives with a physically revolting incarnation of The King!
The King
Thhhhhhhhhhhhe K-K-King sssssssssssssaa-aa-aai-d. d. d.

B-b-b-become.
B-b-ec-c-come.
Oooooonnne-nnne with ussss.

No, thank you!
There's the sound of Hiyoko giving it a smack.
It's no good! He isn't getting hurt at all!

I thought he'd die if we hit him enough, but I don't feel like we're doing any damage at all!
If only I'd brought a halberd or something…!

There's definitely something wrong if he's completely unfazed by your punches, Miss Tosaka.

It's not like they're doing nothing, though.
He just recovers very quickly.
Who gave this chump a regen buff?!

Wh-what do we do, Nageki…?

Perhaps it would be best to wait for Mister Sakazaki.
Maybe so, but I'm getting awfully tired of The King's incessant invitations!
Couldn't I take him out if I bypassed his regeneration by throwing all my hunter-gatherer strength into a single attack?
There's always a chance, right?
I should…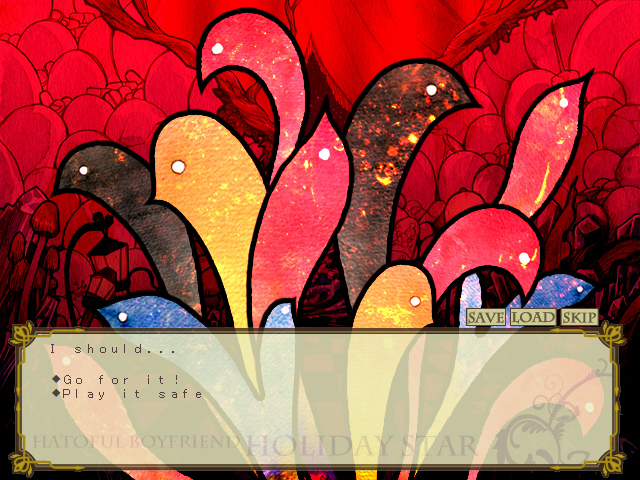 Say your prayers, Mister King!
I'll decide this one in one blow!

…were you listening to me, Miss Tosaka?

Don't worry, Nageki! If I can hit him, I can kill him!

Come to me, o spirits of my proud steppe-hunter ancestors!
My blood burns with the flames of the sun!
Grant me a single strike to split the crust of the Earth itself!

Secret technique!
Burning Amino-Shiki KIIIICK!!!
BONG, the music stops.

I did it!
He definitely felt that!

Miss Tosaka…!

Err… huh…?
My leg is stuck deep inside The King's chest (?). I can't get it out.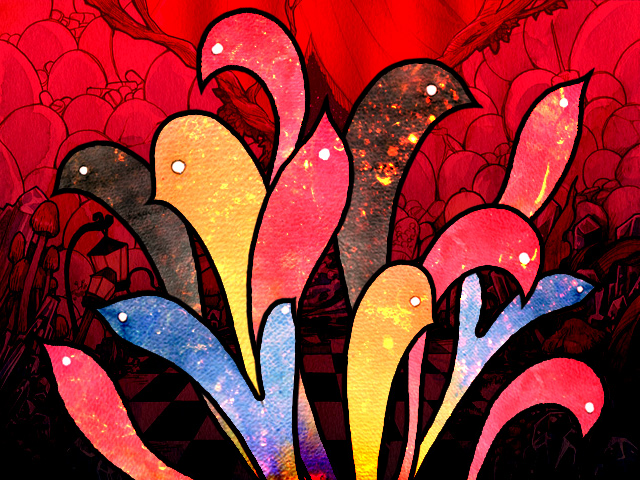 The King
W-w-w-w-w-weeeee are t-t-t-ogetherrr nowww.

There are no words for the horrible sounds the King is making.
"Happily Ever After."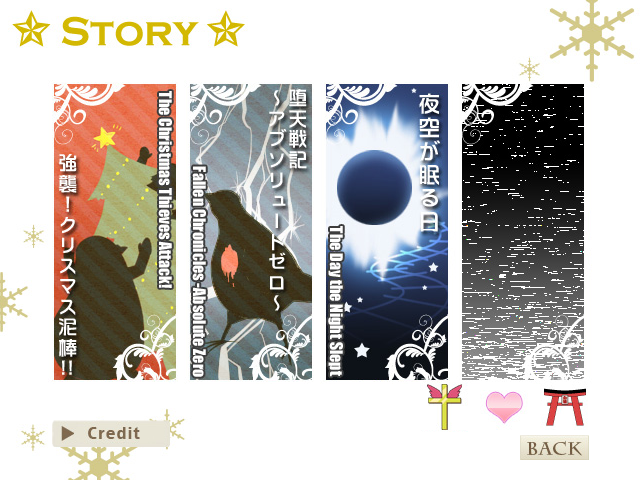 That was fun.
---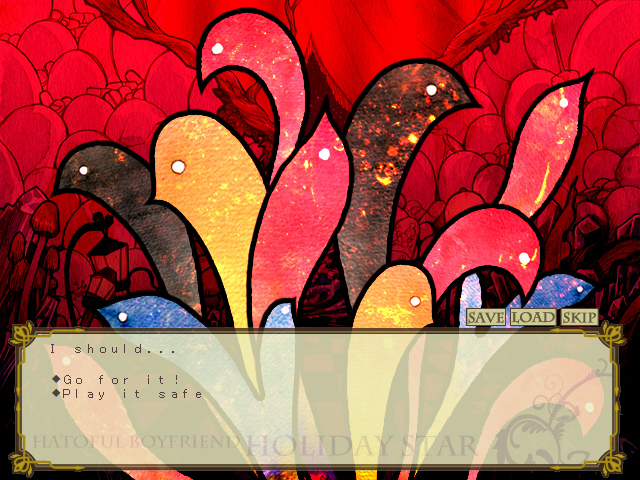 Nageki's right. We probably can't get through with force alone!
We'll have to buy time and wait for backup.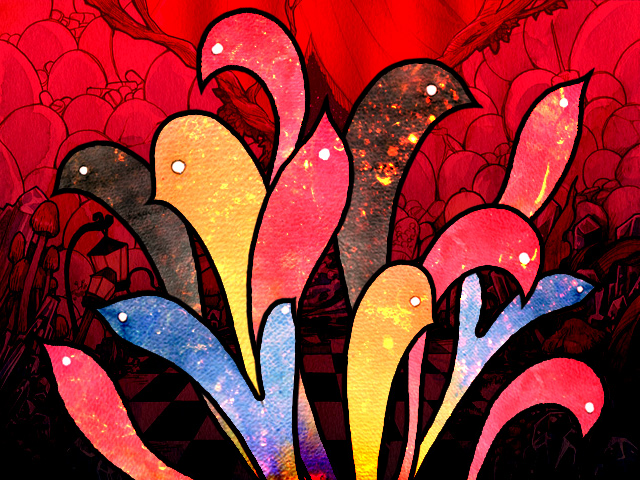 The King
M-m-m-mak-k-king, m-m-making craccccckkkkkssss is ba-a-aaad…

Look out!
The screen flashes.

Nageki, are you okay?!

Yes… sorry.

It's okay!
The King has been targeting Nageki this whole time.
Looks like maybe Nageki is his natural enemy, like the migrant said.

I'm slowing you down, Miss Tosaka.
At least if we split up I wouldn't be in your way…

Don't worry about it.
We need you to burn the lighthouse, after all!

I'll protect you, Nageki!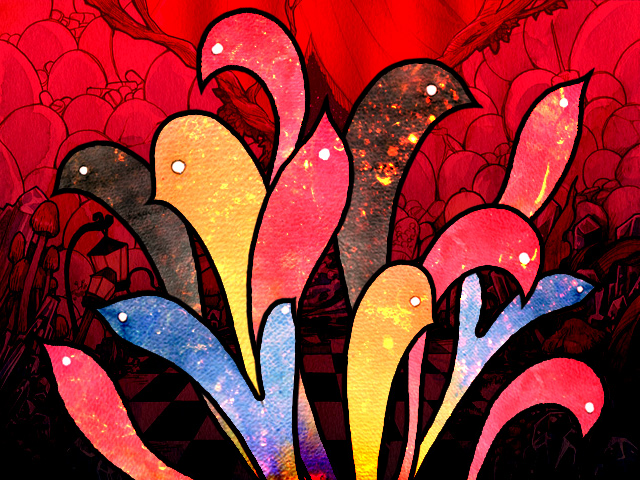 Miss Tosaka!
Ugh… I got hit bad, boss…!
This King really is a nasty man, batting the heroine of a dating sim around like that!
The King
Th-th-theeee K-Kiiing, ng, ng, sssssai…
Not in all my days and travels as a hunter-gatherer have I fought a creature like this.
But even so…
I need to get Nageki past him somehow, even if it means sacrificing myself!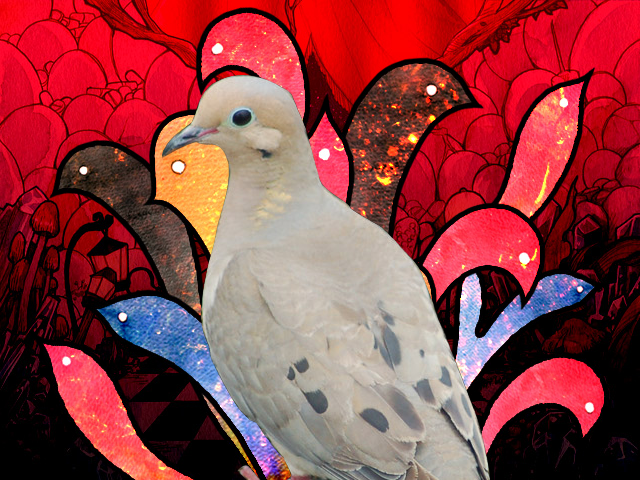 …hey, wait! Nageki, what are you doing?!
While I was reeling on the floor from the last attack, Nageki got up and placed himself between me and The King.

You're pushing yourself too hard, Miss Tosaka.
It won't be enough for me to go on alone.

I will send you home safe, Miss Tosaka.
To reality. To the school.
Because… you have a future, Miss Tosaka.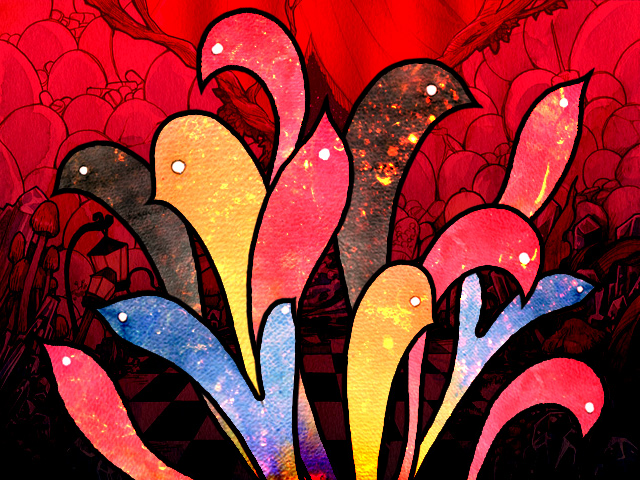 The King
N-N-Nag-g-geki, sh-sh-sh, sh-should, d-d-d-die in a ffffffiiiiiirrrrrrreeee…
The King slowly draws closer to Nageki.
He's gotten heavier, and he keeps sprouting more heads. There's no way Nageki could take a hit from him.

Your Majesty. Please don't hurt Miss Tosaka any more.
The King
Y-y-youuu mussssst not, y-you m-m-m-must n-n-not gooooo!


Nageki!

…

…?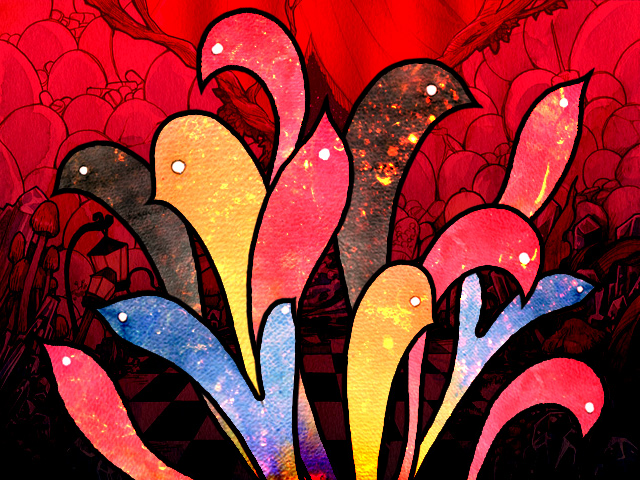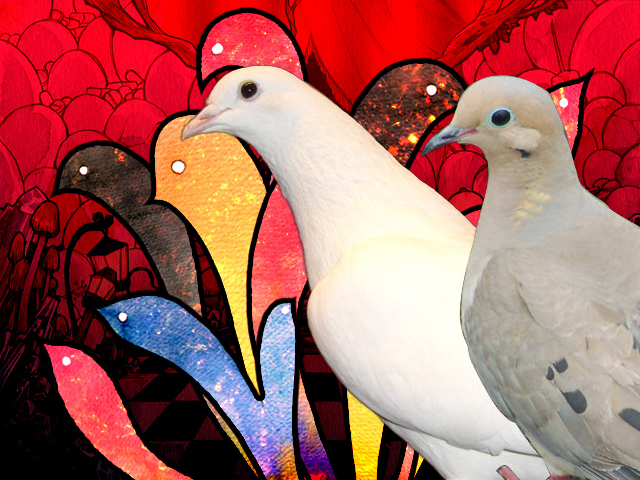 Coooooo!
(The interfering Okosan arrives COO-LY!)

Okosan!
Okosan, dashing out of nowhere, sweeps Nageki up in his wings and skids into the corner, sparks flying up from his claws.
That was pretty cool, Okosan.

…I'm dizzy.
You really are quite fast.

Coooooo!
(What did you expect?!
Okosan's legs are pure, muscly gold!)
The King
P-p-p-pooooooorrrr, p-poor Ok-Ok-Okosan. Heeeee r-r-r-runs, and he r-r-r-runs, buttttt he will n-n-n-n, n-n-never find annnnnnyth-th-thingggggg.

Coo!
(Spare us the foolishness!)

Cooooooo!
(True Pudding does exist, somewhere in the world!)

COOOO!
(Okosan will run until he finds real pudding, in the real world!)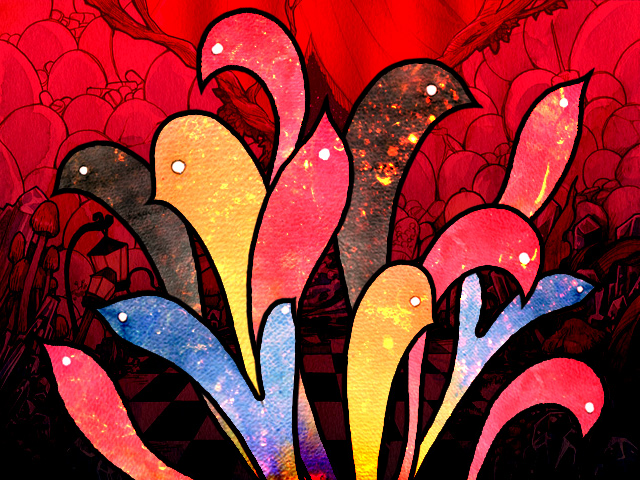 Okosan used BODY SLAM on The King!
It's super effective!

…wait, no! Fall in a different direction!
I need to get out of the way!
But my legs are still–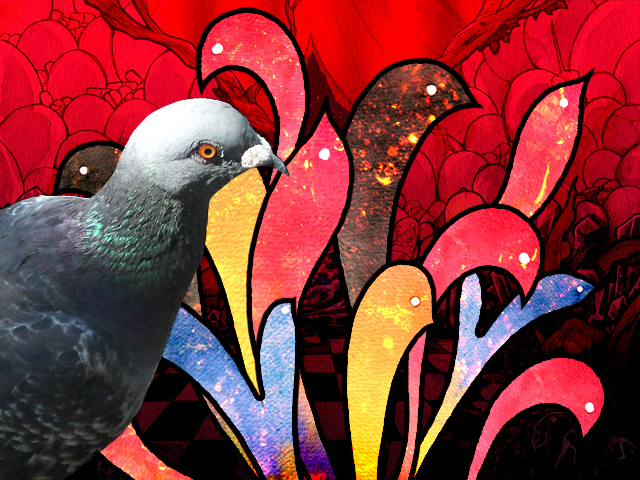 Hiyoko, grab my wing!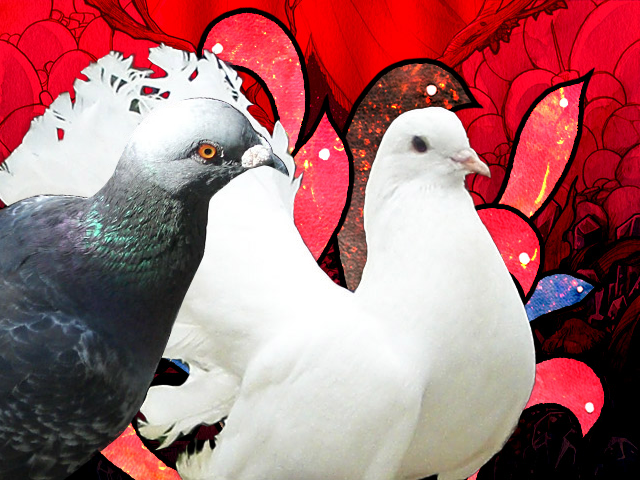 What a careless lout you are. Hold on tight!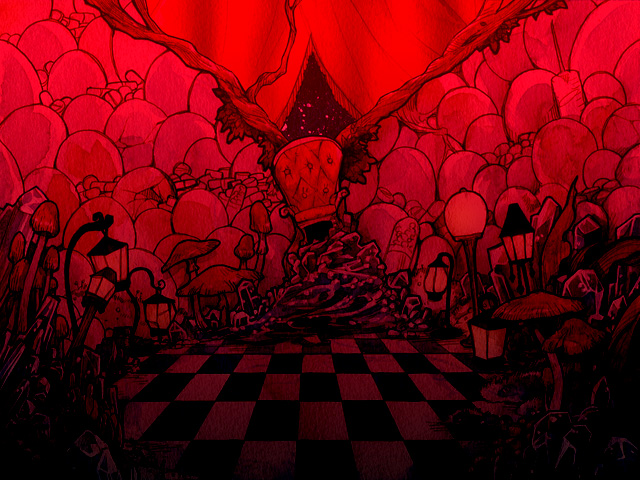 Ryouta! Sakuya!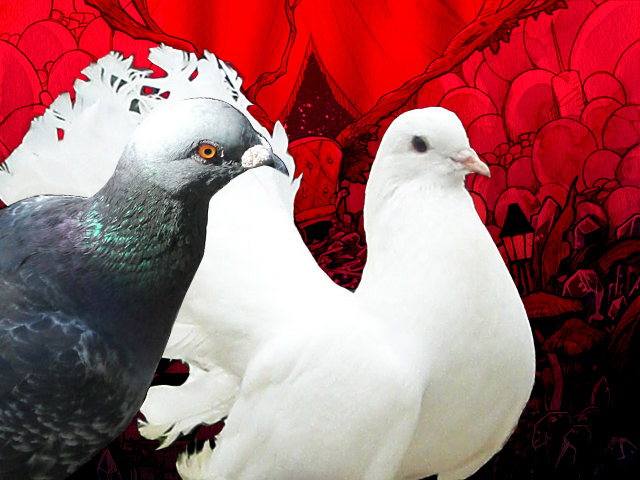 Sorry we took so long, Hiyoko.
Are you okay?

Never been better!
You're practically in tatters!
I expect better than this from my underlings!

I'm not your underling or mercenary or anything, Sakuya!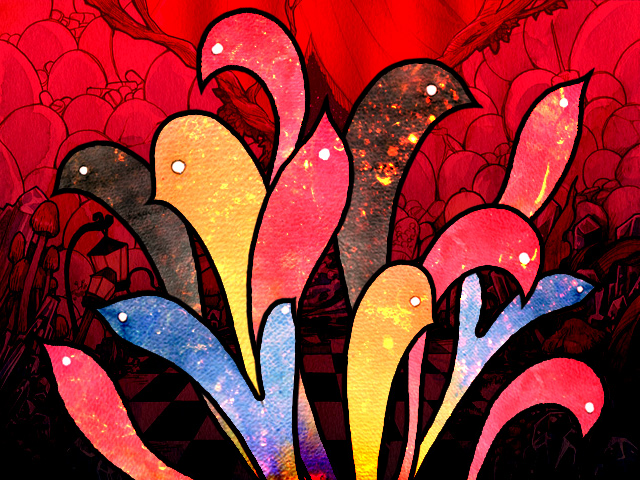 The King
Aaaaaahhh, aaaahhh… but eeeeven if y-y-you go baaaaack, th-th-the world will ooonnnnnnnly keep h-h-h, h-hurting yyyyoooouuuu!

You were right, sir. There are two birds in my heart.
And it's painful. Sometimes I think I'm going to tear apart from the inside.

But that pain is another one of the memories I've held so dear all this time!
I can't just surrender it up to someone else!

If I stopped worrying, if I stopped being in pain… I wouldn't be myself anymore!

I don't care if I don't know what tomorrow will bring!
I want to go back to the real world, and live into the future with everyone!
Have you no shame, you pathetic being? You call yourself a King, but you are as limp and weak as a boiled frog leg!

You fear contact with others?
You comfort yourself by forcing everyone into the same mindset as yourself?
You despicable coward!

A King's duty is not to indulge in sloth and indolence!
The future will come, yes, and we do not know what tragedies it may bring, but a King's duty is to stand proudly forth and do battle with them!

Coo!
(Sakuya is cool!)

Indeed.

Sakuya would be a way better King than you!
Hmhmm. But of course.

Sakuya, don't let your guard down!
The screen flashes red.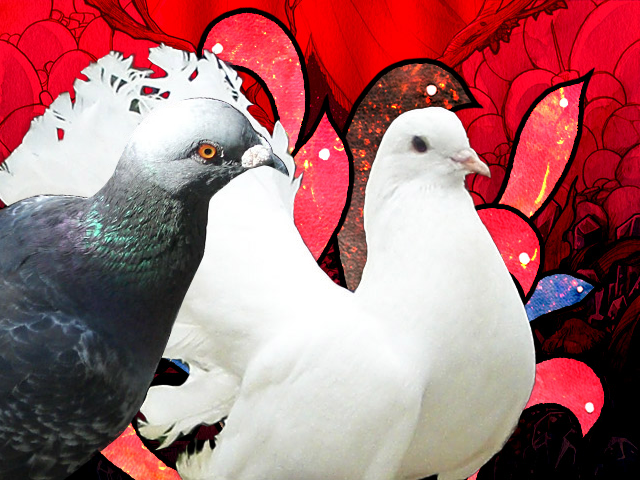 Uuuughhhhh… how dare you strike at me while I am speaking, you cad?!

A-are you okay?!
Did he get you?!
Moa your fanservice is incredible.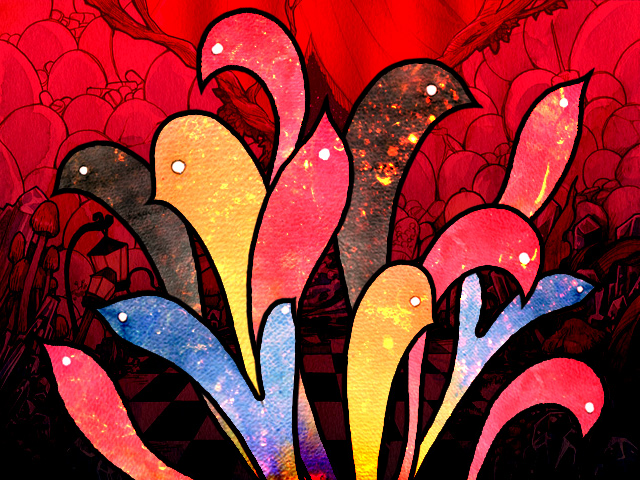 The King
Aaaaaaahhh… aaagggghhh, uuuuuhhh….

Merry Christmas!
(Miru and Kaku will take care of all your scrapes and bumps, with a wink and a twinkle and a ho-ho-ho!)
A familiar pair of white creatures tumble across the room and begin administering emergency care to Sakuya.
Hmph… it's not like I asked for this, or anything…!

Can I borrow that first-aid kit for a minute?

Are you okay, Hiyoko?

I'm great!
I knew you'd be here, Ryouta. Thank you!

Yeah.
…Let's help each other get out of here.
With… you, and Nageki, and everyone!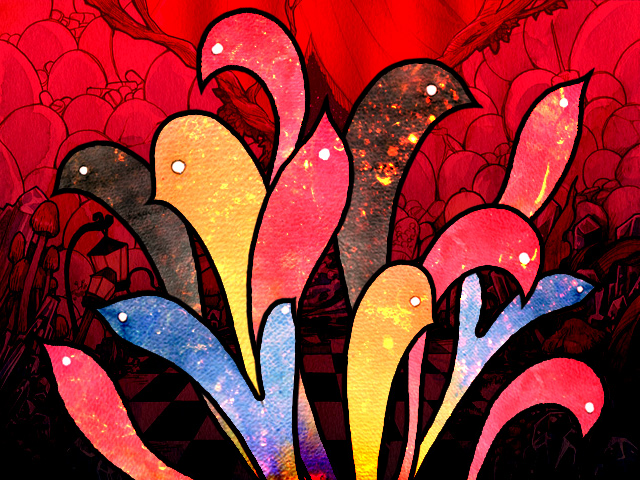 The King
Th-Th-Th K-K-K, K-King… doooooooeees not und, understannnnddddd…

Okosan, look out!
He's coming from above!

Coo?!
But instead, there's a gunshot.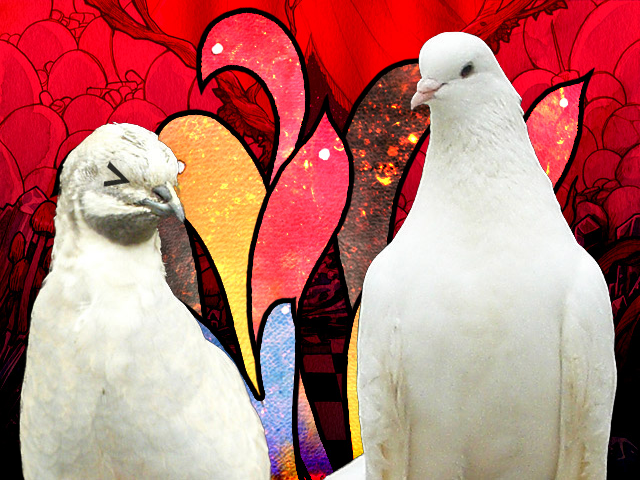 That ungainly dance of yours is hardly something to show in front of a lady, your highness.

Umm… tell me, what's happening?
Things have gotten a bit strange, haven't they?

I knew you'd show up looking like a hero, Yuuya!

So Hitori was all right?
…good.
You're late, Sakazaki!
Been off gallivanting around while the rest of us fight, have you?

Do forgive me, dear brother. I was looking for somebirdie and was unfortunately delayed.

Now, then… let's get this idealist King to step aside so we can get at the magic lantern he's hiding behind his throne.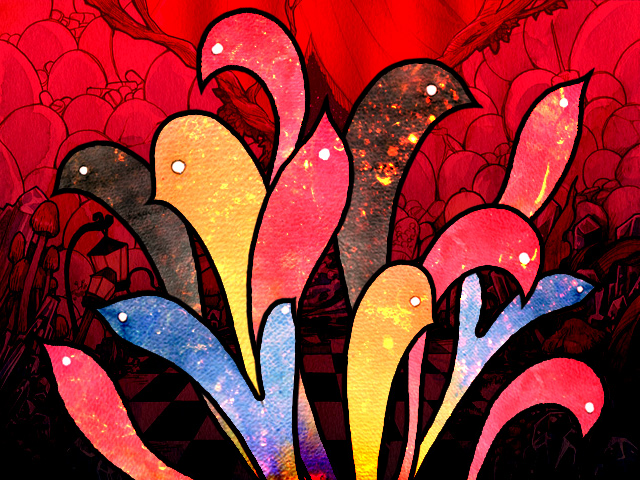 The King
Oooooh, uuuuurrrrgggh, aah, aaaaaaaahhh…!
The screen rattles and thumps a bit.

Wow! He's even more of a berserker than I am!

I think we're going to win this!

Watch out.
Someone's gotten angry.
The rampaging Okosan and the heroic Yuuya have gained the upper hand– or, have they? The King is still thrashing around an awful lot.

Just a little more and we can win! Just one more…

…one more?
Of course! I knew I'd forgotten something.
We're still a bird short!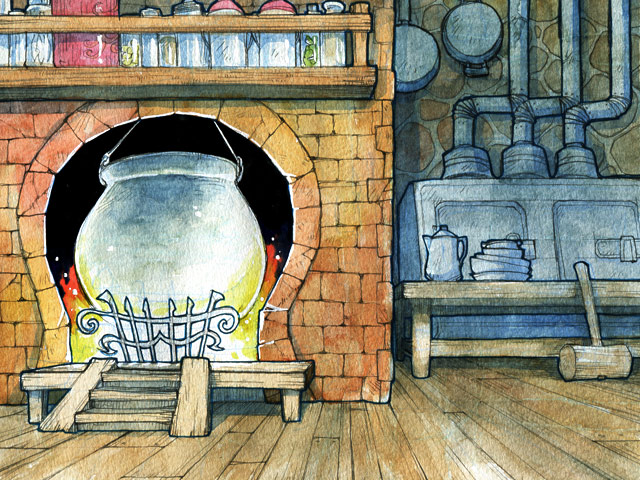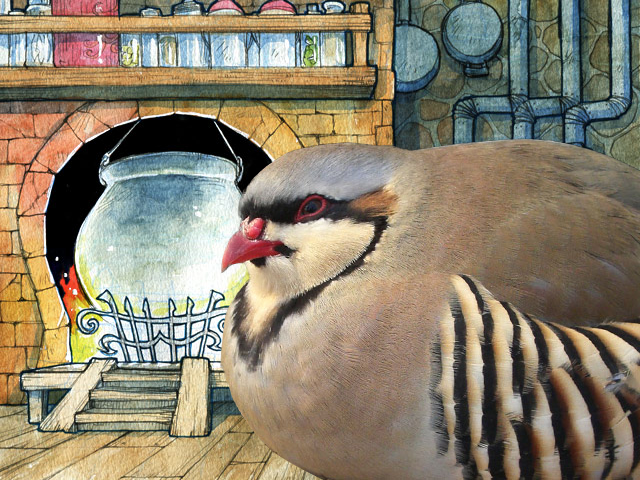 …fascinating. A fine work, indeed.
Each one possesses a physical tangibility indistinguishable from the real thing.

I am quite curious about this. How does he produce such a convincing illusion in multiple brains, all at once?

How has he gathered these experiences and memories together, and how does he project them into the minds of his visitors?
I certainly hope there is a better answer than "magic".
???
Hey there! You all by yourself?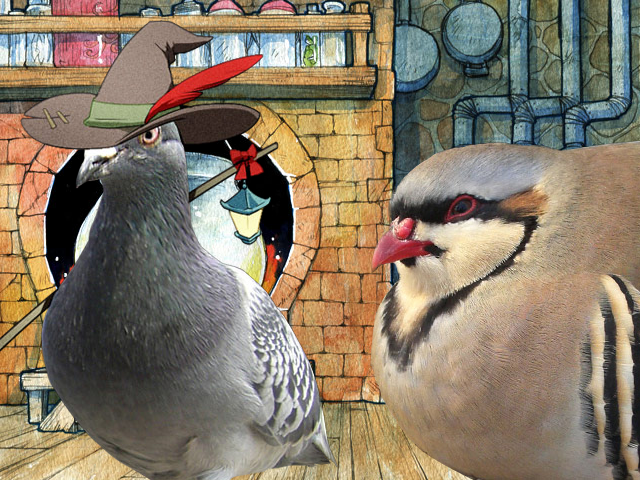 I hope you're all as excited about this as I am. If you haven't figured out yet who our migrant is, I refer you back to this.

…!
ARRGH THE MUSICAL CUES.
You look like you've found something neat!
Mind if I have a look?

…

Ah, I see.
So this place… that is to say, it seems that individual memories may resurface and manifest by themselves.
?
I'm over here, kiddo. Or were you talking to the floor?

Oh, no… please, pay it no mind.
More importantly, why did you come here?
I saw a faint light while I was wandering around the halls.
And it led me here!

Nice to meet you! I'm the migrant.
What's your name?

…

I do not have… any name to give you.
Aww, what's with the scary face?
Did I say something wrong?

Yes… yes, you did.

You are a migrant.
Why do you need to know my name, when you will soon be wandering off again?
Well, I do wander around a lot, but that doesn't mean I can't make friends, does it?

Don't mind me, then.
Go make some.
Awww, come on… I mean… but… I've got something to talk to you about.

I'm sorry, did I look like I would make good conversation?
What a terrible pity.
No! Hey wait!
Geez, you're all grown up but you still can't sit still long enough for me to finish a sentence.

What did you say?
Don't talk as if you know me, old man. You no longer know anything, do you?
Aah… I knew it!
I wasn't sure, but I thought I remembered this scent–

Hey, listen. You were my friend.
Right?

You must be joking!
No, no, nothing of the sort.

…funny, isn't it?
I made all sorts of excuses, but I suppose I waited, hoping someone would get confused and end up here.

Hohoho… let us consider each other to be complete strangers.
How does that sound?
Oh… that's too bad.
Migrants like myself never remember anything for long, so it's not often we get to meet out friends from before.

In any case, we're friends now!
Yes, that sounds very nice.

This is unfair, and I object.
Now, I know this is awfully sudden, but–

Leaving already? And what were you just complaining about me for?
Sorry, sorry.
That's not what I meant.

Don't you want to get out of here?
I'd like to go back to my travels, but The King here will throw a tantrum if anyone tries to leave.

There are some kids just up ahead doing their very best to crack the egg.
Maybe you could go give them a hand?

…hahahahhaha!
I don't even have enough breath left to sigh.
You're asking me to help you leave?
Won't you?

Yes… I suppose I am tired of wasting time obsessing over the past.


Very well.
Now, as then, I'll go along with your thick-headed plans.